If Congress Doesn't Pass a Second Stimulus for Americans, Here's What Happens Next
As members of Congress return to Washington D.C., the focus of some Democrats will be passing another stimulus bill to help in the economic recovery amid the novel coronavirus pandemic.
However, Senate Republicans are taking a wait and see approach on the economy as states and business reopen, though Senate Majority Leader Mitch McConnell said a new stimulus bill could be coming soon.
It likely won't be the $3 trillion HEROES Act, which narrowly passed the House 208-199 on May 15, and has received criticism from members of the GOP-led Senate, as well as Senate Democrats who are in no hurry to approve a new bill.
"We clearly need another big stimulus, and if we don't have it, you're just talking about the economy going off a cliff," Dean Baker, chief economist at the Center for Economic and Policy Research, told Yahoo Money. "With a big stimulus, we could talk about a horrible story. If we don't have a big stimulus, total economic wreckage is the story we're talking about."
Similar to the CARES Act, the new legislation would provide $1,200 per person or $2,400 per married couple, as well as aid to state and local governments, and extend $600 per week for the unemployed.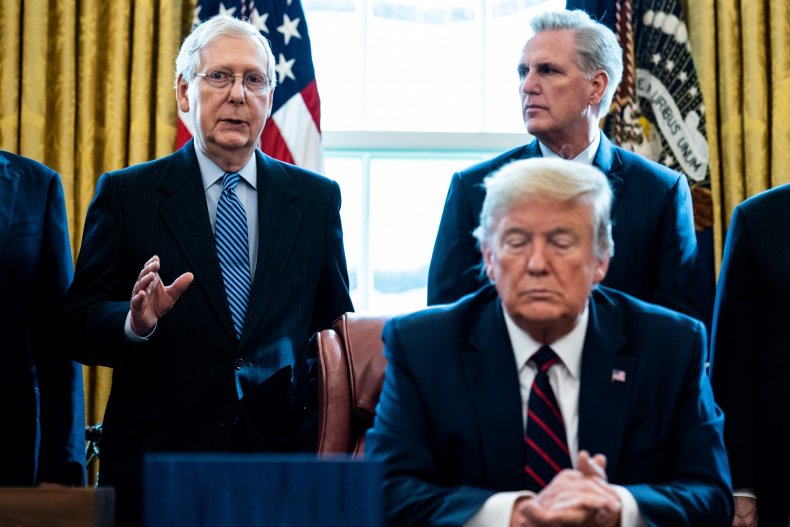 The CARES Act also created forgivable loans, such as the Paycheck Protection Plan or PPP through the Small Business Administration, provided assistance to state and local governments, and provided unemployment benefits for up to 39 weeks, plus an additional $600 credit known as Pandemic Unemployment Assistance, which expires July 1.
The HEROES Act, according to a Kiplinger report, provides provisions to extent the PPP through the end of the year and would increase the eight-week loan use period to 24 weeks, extend more aid to state and local governments, and extending unemployment compensation measures to January 31, 2021
McConnell, who has called the HEROES Act a liberal wish list, said on May 29 that if a second stimulus bill is approved, it would be the last one.
"We're taking a careful look at a fourth and final bill," McConnell said. "You could anticipate the decision being made on whether to go forward in about a month. And it will be narrowly crafted, designed to help us where we are a month from now, not where we were three months ago."
In a letter sent Friday, Senate Minority Leader, Chuck Schumer praised legislative efforts with the passage of the CARES Act in March but ridiculed Republicans for failing to act with any sense of urgency to pass any new legislation.
"Watching our Republican colleagues over the last few weeks, you'd never know our nation was in the midst of a crisis," Schumer wrote. He went on to call Senate Republicans a "conspiracy caucus," that is wasting "precious time on right-wing judges and nominations completely unrelated to the crisis at hand" and accused two GOP-led committees — Judiciary and Homeland Security — of going after "wild conspiracy theories to appease President Trump."
The U.S. labor market has experienced record unemployment since the start of the new coronavirus pandemic earlier this year, with nearly 40 million unemployment claims filed since March.
According to the U.S. Bureau of Labor Statistics, the unemployment rate rose to 14.7 percent in April, which hasn't been seen since the end of the Great Depression.
McConnell said he was taking a wait and see approach as businesses continue to reopen after being shuttered since March before passing a new bill, adding that the next stimulus bill would be written in the Senate and will need input from Democrats to move forward.
Schumer and McConnell have not responded to interview requests from Newsweek.