If GOP Wants 'Healing,' Trump Should Admit Biden Won Election: Senator Chris Coons
Two days after a group Republican lawmakers urged President-elect Joe Biden to stop their Democratic colleagues from pursuing Donald Trump's impeachment in the spirit of "healing," Senator Chris Coons proposed that accountability is necessary to achieve the same ends.
Speaking to CBS News' Margaret Brennan during an appearance on Face the Nation Sunday morning, the Democratic senator from Delaware urged Trump and his supporters to acknowledge Biden's presidential victory ahead of Inauguration Day. Trump has repeatedly pushed unsubstantiated allegations of rigged election proceedings and refused to concede the presidency, even with the January 20 inauguration rapidly approaching.
"I think the single most important thing that Republicans in Congress who helped facilitate this widespread conspiracy theory that somehow the election was stolen—and the most important thing that President Trump can do in these remaining 10 days—is to stop those lies and to persuade their followers and supporters that President-elect Biden is the duly elected president of the United States," Coons told Brennan on Sunday.
"That's what Mike Pence certified on Wednesday night once we returned to the Capitol. That's what Senators Blunt and Klobuchar certified," he continued, referencing the electoral vote ratification that took place after thousands of Trump's followers stormed the U.S. Capitol building, sparking chaos and prompting the federal complex to evacuate personnel while some portions entered lockdown. "That's an important next step if we are, in fact, going to have any healing."
Earlier, the congressman said he believes "there can only be reconciliation with repentance" in the aftermath of attacks on the Capitol.
His remarks followed Trump supporters ransacking the U.S. Capitol Wednesday, resulting in five deaths and numerous injuries. The president's backers traveled to Washington at his request to attend a rally protesting the election's outcome. The event took place as Congress held joint sessions to certify Biden's Electoral College win, the final step to confirm his forthcoming presidency.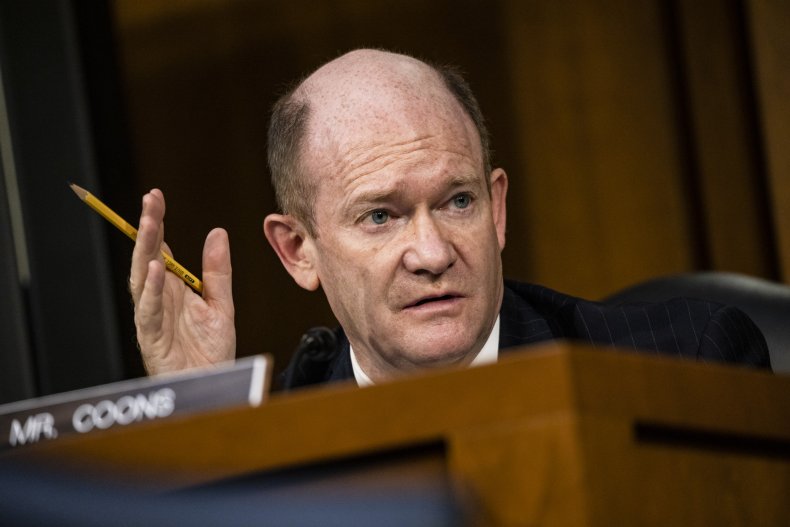 In the days since Trump has faced widespread condemnation for the ways in which his inflammatory rhetoric surrounding Biden's win—characterized largely by baseless claims related to voter fraud—precipitated the Capitol riots. Critics also denounced his failure to recognize the severity of the siege or assume responsibility for it thereafter.
Congressional leaders have answered public calls to remove Trump from office ahead of his presidential term's formal expiration on January 20. Democratic lawmakers, including House Speaker Nancy Pelosi and Rep. Alexandria Ocasio-Cortez, are openly pushing for his departure via impeachment if he fails to resign. Coons advocated for the same on Sunday, telling Brennan that Trump "has lost the right to be president."
"It is up to Congress in the next 10 days to work to ensure the safety and security of our country, to press successfully, hopefully, for President Trump to resign, or for Vice President Pence to enact what he can do under the 25th Amendment," said the lawmaker. "President Trump, by his actions over the last two months since the election, has lost the right to be president and by the actions this past Wednesday and his failure to take any responsibility or show any remorse for its significance...I think he doesn't deserve to be president."
Newsweek reached out to Coons' office for further comment but did not receive a reply in time for publication.