If Justin Trudeau Loses Canadian Election, U.S. Could See Tightening of Northern Border
Outside of sharing a border, the U.S. and Canada appear to have found little common ground when it comes to their immigration approaches in recent years.
As President Donald Trump has raced to build barriers across the U.S., Prime Minister Justin Trudeau has appeared equally determined to knock them down in his own country.
However, with Canada's federal election underway, all that could be set to change if Trudeau's Conservative rival Andrew Scheer succeeds in his bid to unseat the prime minister.
Get your unlimited Newsweek trial >
While Trudeau's Liberal Party has managed to maintain a slight lead on the Conservatives in an average of polling published by the Canadian Broadcasting Corporation, Trudeau is unlikely to secure another majority government.
Meanwhile, the possibility that Scheer could soon be Canada's next Prime Minister cannot be ruled out.
If Scheer does claim victory after Monday's vote, Americans could soon hear some all-too-familiar rhetoric coming from north of the border, with the Conservative candidate vowing to oversee a crackdown on immigration at the country's southern border.
Scheer, who made history as Canada's youngest House Speaker, unveiled his immigration plan earlier this month.
Get your unlimited Newsweek trial >
Calling Canada "the greatest country on earth" Scheer's plan accuses the Trudeau administration of failing to protect Canadian values.
"In four years, they have not only undone the progress the previous Conservative government made to strengthen our immigration system—they have managed to undermine the long-standing consensus that immigration is indeed a positive thing for this country," the plan states. "Sadly, under Justin Trudeau, a record-high number of Canadians believe that immigration should be reduced."
Vowing to "restore fairness, order and compassion to the immigration system," Scheer's party has promised to "put an end to illegal border crossings" at unofficial points of entry along the Canada-U.S. border.
Part of that effort would be to close a so-called "loophole" in Canada's Safe-Third Country Agreement with the U.S.
Under the current deal, asylum seekers cannot claim protections in Canada if they arrive at a border checkpoint from the U.S. and vice versa, as both are considered "safe" countries.
However, Scheer has vowed to close one caveat, which does allow asylum seekers to make immigration claims if they are already in Canada, regardless of how they got there.
The Conservative candidate's plan maintains that the "loophole" encourages asylum seekers to cross into Canada outside of designated entry points and allows them to "skip the line and avoid the queue."
What is not clear is how Scheer would go about negotiating a new deal with Trump seeking to tighten Canada's borders. It is unlikely that the U.S. leader would be willing to consider any agreement that could risk hampering his own immigration crackdown.
However, Trump may see aspects of his own plan reflected in Scheer's, particularly with the Conservative candidate's interest in ramping up security at Canada's southern border. He plans to hire an additional 250 officers to join Canada's Border Services Agency.
Of course, while Scheer has vowed to exercise "compassion" when strengthening enforcement at the border, his approach would still be a departure from Trudeau's, with the Liberal government focused on boosting Canada's immigration intake with a plan to accept 350,000 immigrants a year by 2021.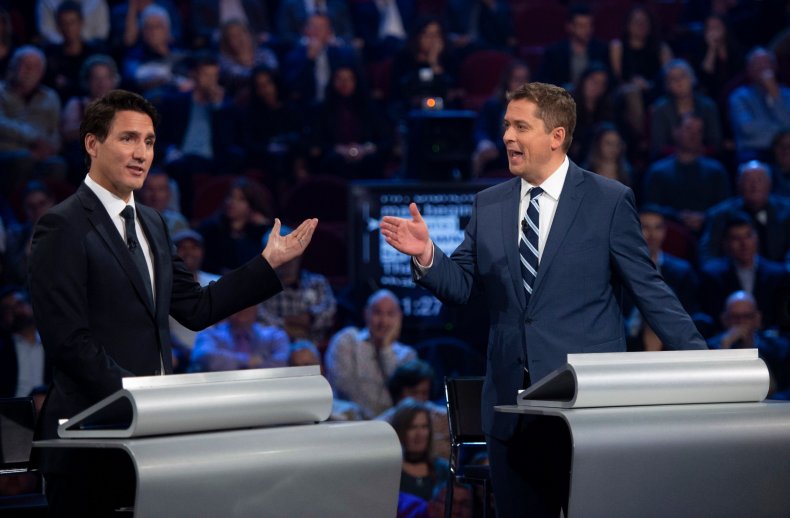 If Justin Trudeau Loses Canadian Election, U.S. Could See Tightening of Northern Border | World