If SCOTUS Strikes Down New York's Gun Permit Law, What Other States Could Be Affected
The Supreme Court is set to take up its first Second Amendment case since its new 6-3 conservative majority, and gun rights advocates are hoping that it will not only rule New York's permit laws as too restrictive, but pave the way to strike down similar laws in California and other Eastern states.
While gun owners in most of the country don't face obstacles to legally carry weapons in public, experts predict that a Supreme Court ruling could profoundly impact major cities not only in New York, but also in California, Massachusetts, Hawaii, New Jersey, Maryland and Rhode Island—where some of the nation's strictest gun laws are imposed.
Currently, only a small number of residents in places like Los Angeles and Boston have permits to carry firearms in places where people gather, such as subways, airports, bars, churches and schools.
Hannah Shearer, the litigation director at Giffords Law Center, estimates that 25 percent of Americans could be impacted if the high court were to strike down the law in New York.
"About 25% of Americans live in states that regulate the concealed carry of loaded guns with laws similar to New York's, including California, Hawaii, Maryland, Massachusetts, and New Jersey," Shearer told Newsweek.
"A Supreme Court decision striking down New York's law would threaten these other laws as well," she added. "An adverse ruling is likely to have a ripple effect across the nation that jeopardizes the safety and security of people living in places where legislatures have followed the historically accepted practice of requiring proper cause for a license to carry concealed weapons."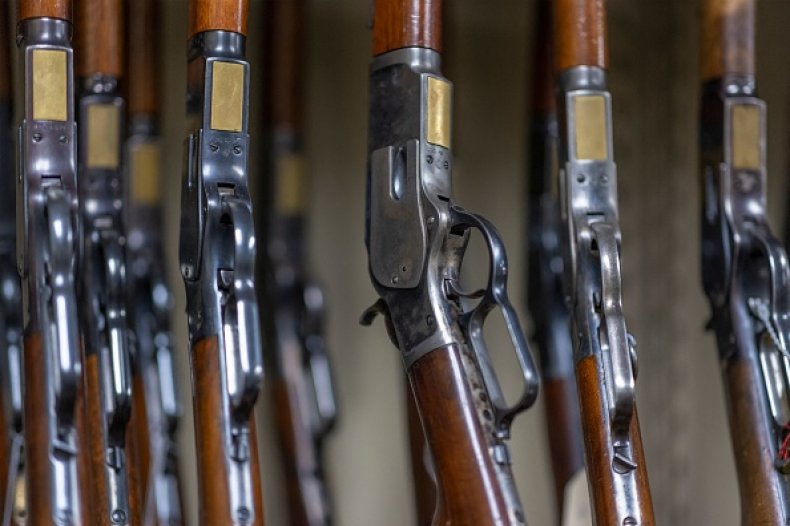 Connecticut and Delaware also have "may issue" laws, but they are somewhat different from those in other states.
On Wednesday, the Supreme Court will hear oral arguments in a new case challenging a 100-year-old New York law that requires a person applying for a gun license to carry their firearm outside their home to demonstrate "proper cause."
The New York State Rifle & Pistol Association and two private citizens are arguing that "the state makes it virtually impossible for the ordinary law-abiding citizen to obtain a license."
Gun safety advocates worry that if the justices decide to strike down the law in New York, it may lead to more guns on the streets of six other states as well.
"A broad ruling by the Court in [New York State Rifle & Pistol Association Inc. v. Bruen] could nullify not just New York's ability to protect its citizens, but effectively change the nature of firearm regulation throughout the United States," Max Markham, Legal Director at March For Our Lives, told Newsweek.
Markham argued that New York's gun permit law is "a century-old law in support of public safety that creates guidelines for firearm permitting."
"A state's right to devise solutions to social problems, including gun violence, is a sacred role of government, and many states have similar such laws—including Illinois and DC—that are also at risk," he added.
Eric Tirschwell, Executive Director of Everytown Law, also told Newsweek that the ruling could be particularly dangerous at a time when gun violence has surged in five major U.S. cities—Chicago, New York, Washington, Los Angeles and San Fransisco—three of which are located in states with restrictive permit laws.
"The stakes are incredibly high any time the court considers a challenge to public safety laws, particularly amid the increased gun violence we're seeing, and the fact the court even took up the case should give all of us cause for concern," Tirschwell said.
Shearer suggested that if the Supreme Court were to rule in favor of the New York State Rifle & Pistol Association, it could also put other gun laws on shaky ground as well.
"If the NRA-affiliated petitioners succeed in getting the Supreme Court to recognize a broad right to carry concealed guns in public, gun rights extremists are likely to next target laws restricting open carry, as well as laws allowing states any discretion to deny carry permits (even to people with dangerous criminal histories, like an arrest record for domestic violence)," she said.
"This could lead to laws being declared fully or partly unconstitutional in many of the 29 states that currently require a permit to carry loaded weapons—as well as a greater share of concealed carry permits being issued to dangerous people," Shearer added.