A former U.S. ambassador to the United Nations described Chinese tactics as "shameful" on Tuesday, saying the country's state-affiliated media was exploiting American and Afghan lives to threaten Taiwan.
Kelly Craft, who served as the Donald Trump administration's envoy to the UN, spoke of her belief in U.S. commitments to Taiwan's security and highlighted the island's geopolitical significance by quoting Douglas MacArthur.
In a keynote address at the top of an annual security forum hosted by Taiwan, Craft said she was "proud to support our commitment to Taipei during the Trump administration" and "proud to see the Biden administration continuing that policy."
She spoke of her values-based "personal relationship" with the democratic island, which Beijing claims is part of its territory despite having no jurisdiction over it since the founding of the People's Republic of China in 1949.
Craft rebuked Chinese Communist Party-owned tabloid The Global Times for using the U.S. withdrawal from Afghanistan as fodder for a campaign, which continues to suggest American assurances to Taiwan cannot not be trusted—and that the people of Taiwan will eventually be abandoned by Washington, D.C.
"Shame on them. Shame on them for using the lives of brave men and women as propaganda," said Craft. "I am here to assure you that they are wrong. I am here to assure you of my belief in the firm U.S. commitment to Taiwan's defense."
"I believe that from our standpoint we practically lose the Pacific Ocean if we give up or lose Formosa," she said, offering a quote by the late General MacArthur, who used Taiwan's historical name during remarks to the U.S. Senate 70 years ago.
"America must stand with our friends, our allies, the forces of freedom. Not to do so is indeed cowardice," Craft added. "If Taiwan is lost, we lose, too."
The former ambassador also encouraged the people of Taiwan to place more emphasis on their own defense.
"The U.S. is committed to Taiwan's security, but there's no better guarantor of freedom than one's own people. Taiwan needs a military that is strong, confident and a first line of defense against external threats. Now is not a time for complacency," Craft said.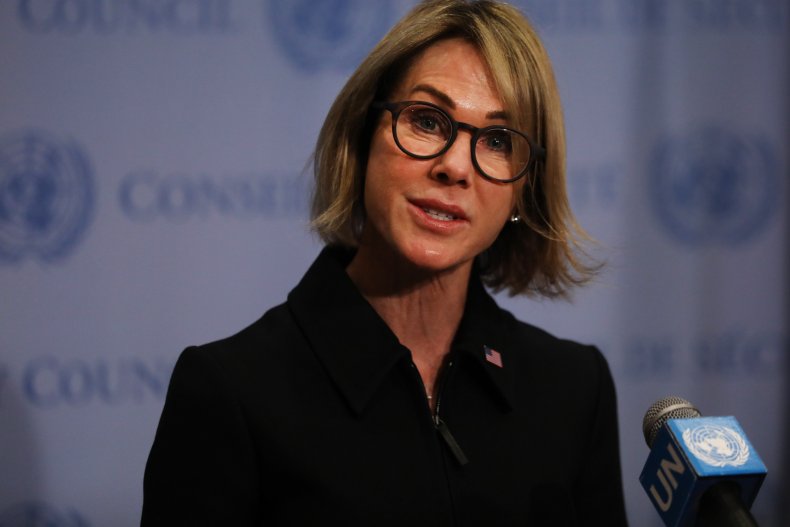 The fifth Ketagalan Forum—2021 Asia-Pacific Security Dialogue was held throughout Tuesday and was hosted virtually for the second year running.
In her opening remarks, Taiwan President Tsai Ing-wen said her country would be "part of the solution" for the world in the post-pandemic era. "Taiwan is well positioned to serve as an indispensable partner in democratic renewal and in sectors such as biotechnology, renewable energy and the semiconductor industry," she said.
"Not only that, Taiwan is committed to working with regional actors to ensure regional stability. We are willing to shoulder our share of the burden, and we will not take our security partners' cavalry for granted," added Tsai.
She added: "Taiwan is also fully committed to collaborating with its neighbors to prevent armed conflict in the Taiwan Strait and the East and South China seas. While we don't seek military confrontation, and hope for peaceful, stable and beneficial existence with our neighbors, we will always defend our democracy and way of life."
U.S. attendees also included Randall Schriver, former assistant secretary of defense for Indo-Pacific security affairs and chair of the Project 2049 Institute, and Michael Green, a Japan analyst with the Center for Strategic and International Studies.