Vatican Exorcist Too Busy To Banish Your Demons? Now You Can Order One Online
If there's something strange in your neighborhood, who you gonna call? Certainly not the Vatican—the Holy See's switchboard is jammed with people wanting exorcisms.
But fear not: you can now order an exorcism online from independent service providers.
There has been a three-fold increase in the number of people resorting to exorcism because of demon problems, reported Italy's Vatican News. The church is trying to train up more of its priests in the dark arts.
In Italy alone there are 500,000 requests for exorcisms every single year, claims one Vatican-sanctioned trainer of exorcist-priests called Friar Benigno Palilla, whose job it is to tool up the clergy in their fight against demonic possession.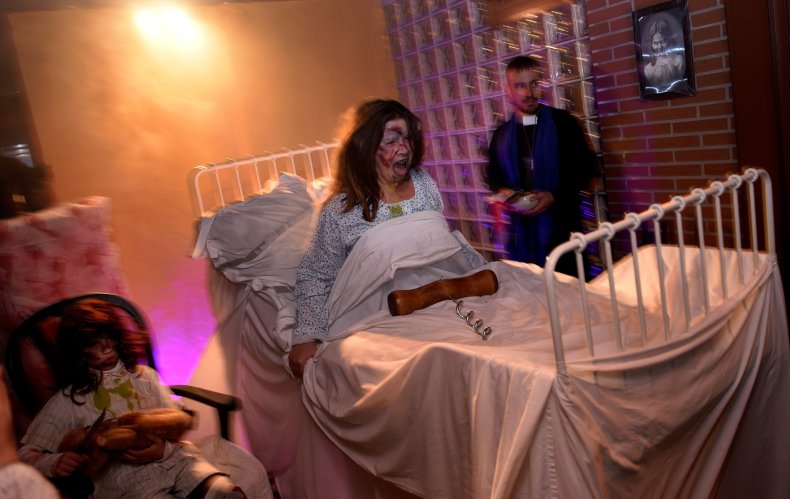 "A self-taught exorcist certainly meets errors," the friar told Vatican News. "I will say more: it also requires a period of apprenticeship, as happens for many professionals."
It follows a call from one Irish priest and exorcist for more help from the Vatican in his fight against demons amid a sharp rise in demand for his ghoulish services.
"It's only in recent years that the demand [for exorcisms] has risen exponentially," Father Pat Collins said, adding that anyone who doesn't see the need for more exorcists is "out of touch with reality."
Collins wrote an open letter to Irish bishops asking them to begin training more priests to deal with exorcisms, and he cited the International Association of Exorcists' belief that demonic activity has increased substantially in recent years.
But for those who don't have a Vatican-sanctioned exorcist nearby, there's a sort of black market for ghostbusters. One of those offering services is "The Sacred Order of Saint Michael the Archangel-Order of Exorcists"—and you can even order an exorcism online via a simple contact form, which they encourage the "family or person needing help" to use, reported PJ Media.
Set up by a man calling himself "Archbishop Ron Feyl" in the early 1980s, The Order claims on its website to be "affiliated with 21 jurisdictions, 22 parishes, and 61 paranormal exorcist investigators in many states and countries." It's based in Ontario, Canada.
"Members are from many religious orders; priests, seminarians, paranormal investigators, and bishops of many jurisdictions, from around the world," it says. "They make up the membership of the Order of Exorcists at The Sacred Order of Saint Michael the Archangel.
"Our priests are available, after the medical and psychological reports are reviewed, with the approval of their bishops, to perform the rite of exorcism. Our Investigation & Assessment Team are paranormal exorcist investigators.
"They make the initial first contact with the clients that are requesting a demonic investigation and/or exorcism. In staying within the biblical teaching 'That which is freely obtained should be freely given', the exorcism will be done without charge."
However, it makes clear that Feyl—who says on his Facebook page that he is retired though The Order continues its work without him—and the organization are "NOT under the Vatican. It is an autonomous and independent branch of the Catholic faith which derives from the ancient Old Roman Catholic Church of the 12th Century."
Feyl's LinkedIn page says he he was awarded a PhD in Psychology from the Saint Michael Catholic Seminary South Bay in 1981. While there, Feyl says he was an "apprentice in the ministry of exorcism. Sacred traditional rituals for exorcism. Demonic research/investigation. Demonic assessment."
He adds that he was "trained by many exorcists over the years who were his mentors and former bishops".
Back in 1999, the Catholic church revisited its centuries-old guidelines on exorcism. The first set was issued in 1614. The Vatican's updated version is 90 pages long, written in Latin, and bound in leather.
"The Devil goes around like a roaring lion looking for souls to devour," The Guardian reported at the time the new rules were unveiled.
And Catholics believe he likes to cause troubled by possessing people, whose symptoms include "speaking in unknown languages, discerning distant or hidden things, and displaying a physical strength that is at odds with the possessed person's age or state of health".
However, the updated rules do what those written in the 17th century didn't: acknowledge that some, if not most, people claiming to be possessed are just mentally ill.
So it says an exorcism can only be performed "after diligent inquiry and after having consulted experts in spiritual matters and, if felt appropriate, experts in medical and psychiatric science who have a sense of spiritual reality".
What's more, the rules say exorcists should avoid the ritual "becoming a spectacle" so conduct it behind closed doors and with absolutely nobody from the media present.