Ilhan Omar Calls Marjorie Taylor Greene 'Hypocrite Cult Leader' Over Masked Airplane Photo
Representative Ilhan Omar, a Minnesota Democrat, criticized Representative Marjorie Taylor Greene, a Georgia Republican, and accused her of hypocrisy after a photo of the right-wing congresswoman wearing a mask on an airplane circulated on social media.
Greene has been highly critical of mask mandates and other public health guidance amid the ongoing COVID-19 pandemic. The photo posted to Twitter showed Greene aboard what a Twitter user said was a Delta Air Lines flight in first class. The GOP congresswoman appeared to be complying with federal law, which currently requires masks to be worn at all times aboard airplanes regardless of vaccination status unless a passenger is actively eating or drinking.
"Champion for the people against the elites is in First Class on a gov purchased ticket (tax dollars)! @realmarjoriegreene on liberal DELTA wearing @nike who gave @kaepernick7 a sponsorship? Complying with mask mandate?! Leaving DC day before #MAGA rally 4 #jan6 insurrectionists?!" Twitter user Thomas McIntyre captioned the photo showing Greene.
Omar retweeted the post and attacked her Republican colleague.
"I love how she walks around railing against mask mandates but time and time again complies when no one is paying attention. Typical hypocrite cult leader," the Democratic congresswoman tweeted.
"Her rhetoric has endangered the lives of so many people. It's a public pandemic and all public health measures should be followed and encouraged. For her to tell others to go against mandates but follow them herself when no one is watching is hypocritical and needs to be exposed," Omar wrote.
While she appeared to be complying with the mask mandate aboard the aircraft, the Republican lawmaker has been fined at least twice for not wearing a mask on the floor of the House of Representatives. On September 8, the House Committee on Ethics announced that Greene had received a fine from the Office of the Sergeant at Arms in early August. That was the congresswoman's second fine, USA Today reported. Under the current House mask mandate, violators receive a $500 fine for their first offense and a $2,500 fine for a second offense.
Greene has previously compared mask mandates to the Nazis' treatment of Jews during the Holocaust, drawing substantial backlash from Jewish groups, leading Republicans and many Democrats.
"You know, we can look back in a time in history where people were told to wear a gold star and they were definitely treated as second-class citizens, so much so that they were put in trains and taken to gas chambers in Nazi Germany," Greene said during a May interview with Real America's Voice, discussing the mask mandate for House members.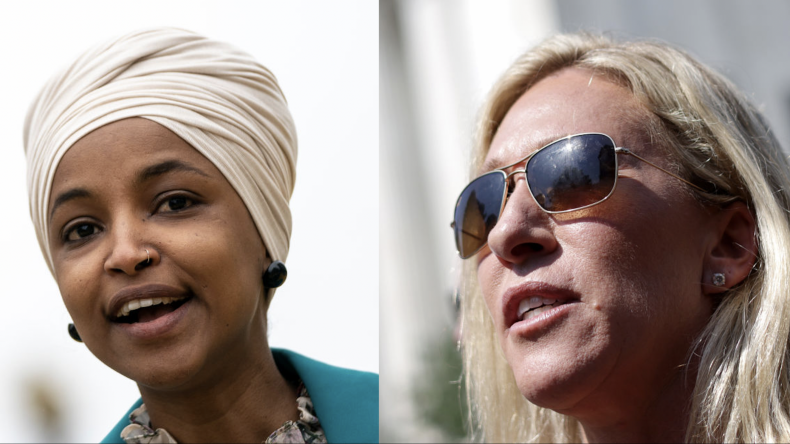 Several weeks later, Greene apologized for the controversial comparison. "I'm truly sorry for offending people with remarks about the Holocaust," the Georgia Republican told reporters. "There's no comparison and there never ever will be."
Greene, along with many other Republicans, has also been highly critical of President Joe Biden's recent vaccine mandates, which will reportedly directly impact tens of millions of Americans. In a Saturday tweet, she blasted Biden and Democrats for being "angry with people, who choose to trust their own immune systems against covid & reject authoritarian vaccine mandates."
Newsweek reached out to Greene's press secretary for comment but did not immediately receive a response.