Ilhan Omar Close to Being Removed as GOP Invokes Emergency Procedure
Republicans' calls to remove Ilhan Omar appear to be gaining momentum, as House Speaker Kevin McCarthy said he's confident the Minnesota Democrat could be taken off the Foreign Affairs committee under emergency procedures as soon as Wednesday.
McCarthy himself confirmed to CNN on Tuesday that he voted to oust Omar from the committee, keeping up with a promise he had made last year before the Republican Party won control of the House. Heading into the midterm elections, the California Republican had pledged to strip Democrats Adam Schiff, Eric Swalwell and Omar of committee assignments.
Now, McCarthy and the House GOP leadership are optimistic that they'll get enough votes on Wednesday to remove Omar from the Foreign Affairs committee, despite the narrow majority the party enjoys in Congress.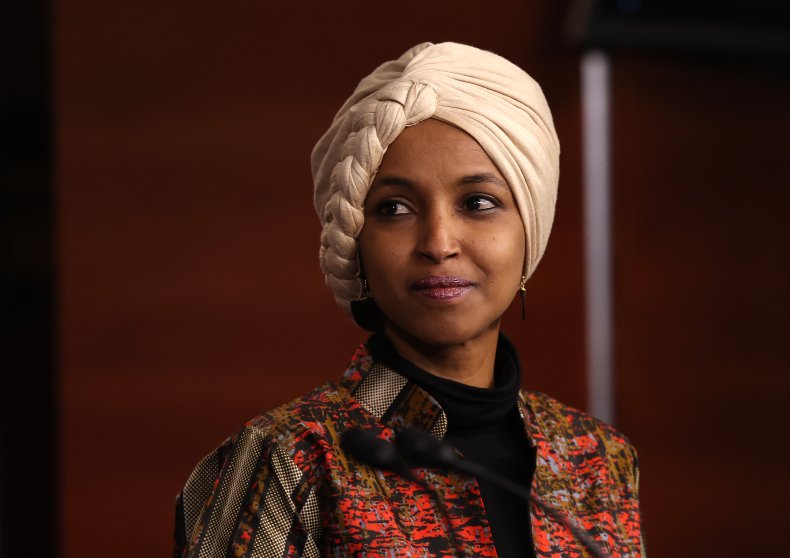 It would take less than a handful of defectors for the motion to remove Omar not to pass, but McCarthy and the party leadership seem to have managed to convince House Republicans initially reluctant to support the move.
Republican Representative Victoria Spartz of Indiana, who had initially opposed removing Omar, saying that the initiative was lacking "proper due process," said she's now ready to support the resolution as McCarthy has added "due process language" to it.
Two other House Republicans—Nancy Mace of South Carolina and Ken Buck of Colorado—said that they would oppose removing Omar from the committee. House Democrats, who have harshly condemned the resolution to kick the Minnesota representative out of the committee, are expected to oppose the move.
The resolution released on Tuesday asks to remove Omar because of some controversial statements criticizing Israel and pro-Israel lobbying she made in 2019 and 2021, which many on both sides of the political spectrum said were antisemitic. Omar has denied the claims and has since apologized for making the comments.
According to House Majority Leader Steve Scalise, the resolution to remove Omar will be introduced after another resolution to outline each party's committee picks is approved.
Calls to remove Omar from the Foreign Affairs committee come at the same time as Republicans Marjorie Taylor Greene of Georgia and Paul Gosar of Arizona were given committee assignments after being banned from covering any committee roles for the past two years over their controversial views and online activities.
The resolution to remove Omar also appears particularly hypocritical, according to House Democrats, as embattled New York Republican George Santos was placed on two committees despite being entrenched in scandals over lying about several aspects of his biography and career.
Santos, who has resisted calls to resign from several House Republicans and Democrats, said on Tuesday that he will pause his committee assignments "until he could clear everything up."