Ilhan Omar Fires Back at Fox Guest Who Says She Should Go Back to Her Country: 'Desperate'
Representative Ilhan Omar, a Minnesota Democrat, fired back after a Fox News guest said she should "go back to her country" during a Friday interview.
Maximo Alvarez, a Cuban-born businessman from Florida, claimed during a Friday interview with Fox News morning show Fox & Friends that President Joe Biden and progressive Democrats are bringing "communism" to the country by their efforts to provide Americans with free preschool and community college, free school meals, paid family leave, and higher taxes on the rich and corporations.
In reality, these proposals have long been the norm in other wealthy developed nations around the world. But Alvarez suggested that Omar and other progressives are working to ruin the country when he was presented with her tweet promoting the policies.
"Very scary. And why does she not go back to her country to try to push that. Because she came to this country to run away from totalitarianism. She came to this country for freedom. And now, people like that, it is absolutely incomprehensible—betraying the very country that accepted us just like our children, just like we are born here," Alvarez said.
Later on Friday, Omar retweeted a clip of the Fox News interview, mocking and dismissing the businessman's criticism.
"Nothing says 'betraying' your country like *checks notes* paid family leave, pre-k & school meals," Omar tweeted, in an obviously sarcastic response.
"Their bigoted attempts to spin our ideas as un-American is getting really desperate. I serve in Congress, progressives policies are popular and you are just going to have to deal," the congresswoman added.
Omar was born in Somalia back in 1982 and fled with her family as a child refugee to Kenya. Her family later secured asylum in the U.S. in 1995 and she became an American citizen in 2000, at the age of 17. The progressive lawmaker was first elected to the House of Representatives in 2018.
Notably, the House of Representatives formally condemned former President Donald Trump as racist after he suggested on Twitter back in 2019 that Omar and several other progressive congresswomen of color should "go back" to their countries. Four Republicans voted with their Democratic colleagues to condemn the president's remarks with that resolution.
Many Republicans and conservatives regularly claim that Democrats, and particularly progressives, are pushing the country toward communism. In reality, progressives are promoting policies that are the norm in strong Western democracies, such as Canada, Norway, Sweden, Denmark, Germany, France and many others.
In a Wednesday address to a joint session of Congress, Biden unveiled his American Families Plan. The proposal would provide Americans with free universal preschool; two years of free community college; extend tax cuts for families and workers; address teacher shortages; and provide other forms of financial support to children and their families.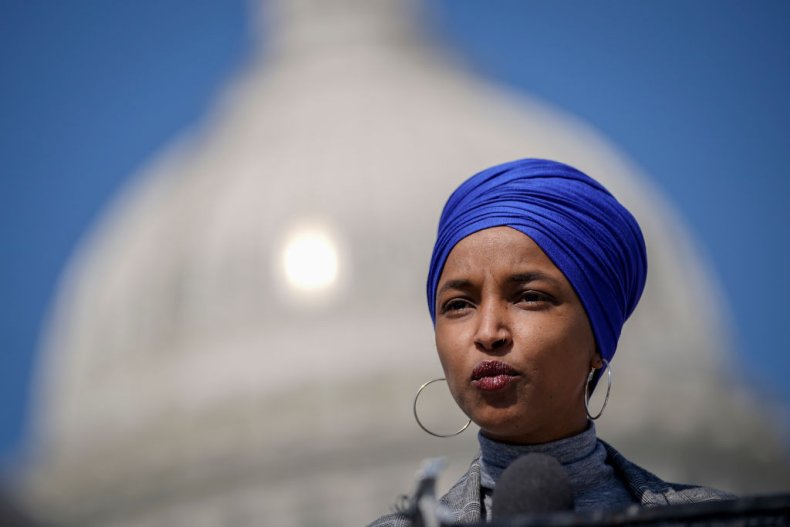 "To win that competition for the future, we also need to make a once-in-a-generation investment in our families—in our children," Biden said during his Wednesday evening speech.
"That's why I'm introducing the American Families Plan tonight, which addresses four of the biggest challenges facing American families today. First, access to a good education. When this nation made 12 years of public education universal in the last century, it made us the best-educated and best-prepared nation in the world," he continued.
"But the world is catching up. They are not waiting. Twelve years is no longer enough today to compete in the 21st century. That's why the American Families Plan guarantees four additional years of public education for every person in America, starting as early as we can," the president explained.
Newsweek reached out to Omar's office for further comment.