In a move that forced Republicans to go on the record about Donald Trump's recent racist tweets toward minority congresswomen, the president of the United States was condemned with the passage of a House resolution stating that he "legitimized and increased fear and hatred of new Americans and people of color."
But ultimately, all but a few House Republicans balked at condemning the president's actions, a resolution that one GOP member said was unnecessary and only sought to add "fuel to the fire."
Four Republican members of the House — Will Hurd of Texas, Susan Brooks of Indiana, Brian Fitzpatrick of Pennsylvania and Fred Upton of Michigan — joined all 235 Democrats in voting for the resolution, a direct rebuke to Trump's weekend tweets that four freshmen lawmakers should "go back" to the "crime infested places" they "came from."
Representative Justin Amash of Michigan, who became an Independent after becoming the first and only Republican to call for Trump's impeachment, also voted for the resolution.
The lack of Republican support was to be expected, as only a handful of House GOP members echoed Democrats' condemnation of the president's tweets, a signal that few would break from party ranks to condemn Trump. Representatives Chip Roy of Texas, Paul Mitchell of Michigan, Mike Turner of Ohio and Tom Cole of Oklahoma were among the Republicans to offer public condemnation of Trump's remarks but who still vote against the resolution.
Three of the progressive lawmakers targeted by Trump's racist remarks — Alexandria Ocasio-Cortez of New York, Rashida Tlaib of Michigan and Ayanna Pressley of Massachusetts — were born in the United States. The fourth — Ilhan Omar of Minnesota — immigrated to America as a Somali refugee when she was a child and is a naturalized U.S. citizen.
Leading up to the vote, some Republicans conceded that the president used a poor choice of words in ridiculing the outspoken group of freshmen known as "The Squad," who fired back on Monday to accuse Trump of ushering in the "agenda of white nationalists." Still, they did not support the resolution of condemnation.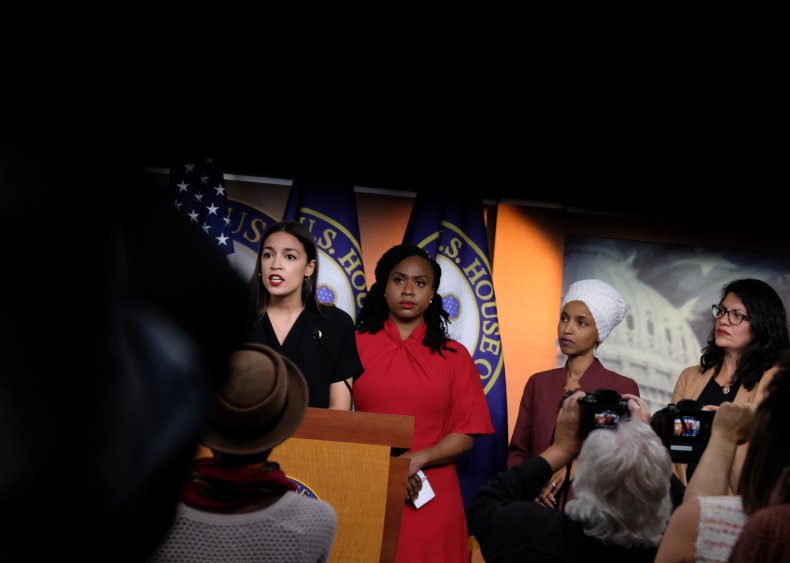 "This has got to stop, but it's got to stop on both sides. This is fuel to the fire, it's not a way to actually bring closure to the issue," said Cole, a member of Republican leadership. The deputy minority whip said that while he would not personally use the words chosen by Trump, he believed they were "inappropriate rhetoric" rather than racist.
"I would not use that language. But I don't think this is an appropriate response either," Cole said. "Particularly, if you're going to just simply apply the rules to one side and not to your own, you don't have any credibility when you do that."
Democrats have advocated for their GOP counterparts — both publicly and privately — to support the resolution.
"This is, I hope, one where we will get Republican support," House Speaker Nancy Pelosi said during a closed-door caucus meeting Tuesday morning, according to an aide in the room. "If they can't support condemning the words of the president, well that's a message in and of itself."
"What we are asking our colleagues, Republicans and Democrats to do," said Democrat Tom Malinowski, who filed the condemnation resolution, "is extremely simple to decide. Do you stand with the vision of President [Ronald] Reagan? Or do you stand with the darker or fearful vision of President Trump? It's a very simple choice."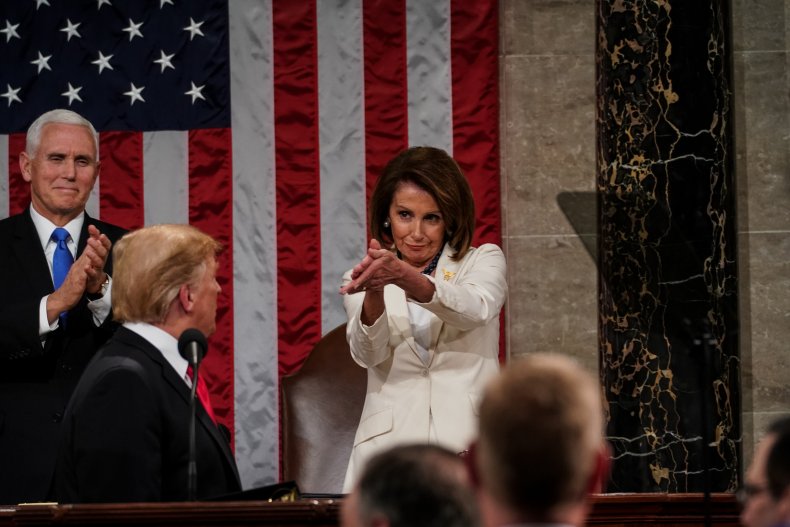 The president has continued to double down on his comments since first issuing them by saying that the minority congresswomen "can leave" if they "hate our country."
"These words are not just words," Malinowski, who was born in Cold War-era Poland, said ahead of the vote, flanked by various House Democrats who were also born abroad. "They are like a spark for the gasoline of disturbed lines."
But Republican leadership in the House defended Trump's remarks earlier in the day. In doing so, they claimed the true dilemma at hand was "about socialism vs. freedom."
The resolution was the third one this year to condemn a politician's words as either racist or anti-Semitic, with the prior two acting as reproaches to Republican Steve King for questioning why terms like "white nationalist" and "white supremacist" have become offensive and alleged anti-Semitic tropes about U.S. support for Israel written in tweets by Omar.
But Tuesday's condemnation resolution went a step further in blasting Trump's remarks.
The resolution quotes the likes of Franklin D. Roosevelt, John F. Kennedy and Ronald Reagan, and states support for immigrants and refugees who "have made America stronger." It also mentions Trump directly.
"The House of Representatives... strongly condemns President Donald Trump's racist comments that have legitimized and increased fear and hatred of new Americans and people of color," it states. "The House of Representatives is committed to keeping America open to those lawfully seeking refuge and asylum from violence and oppression, and those who are willing to work hard to live the American Dream, no matter their race, ethnicity, faith, or country of origin."