The four freshmen Democrats who were the targets of recent tweets and remarks made by President Donald Trump that have been labeled as "racist" and "xenophobic" strongly rebuked the president Monday, saying he's resorted to making personal attacks against them due to his lack of knowledge on how to defend his administration's policies.
"The Squad," as Democrats Alexandria Ocasio-Cortez of New York, Ilhan Omar of Minnesota, Rashida Tlaib of Michigan and Ayanna Pressley of Massachusetts have become known, accused Trump of having an agenda that seeks to divide the country based on a swath of demographics, including race.
"This is the agenda of white nationalists, whether it is happening in chat rooms or it's happening on national TV. And now, it's reached the White House garden," Omar said, flanked by her three colleagues during a press conference. "He would love nothing more than to divide our country based on race, religion, gender orientation, or immigration status, because this is the only way he knows he can prevent the solidarity of us working together across all of our differences."
As evidence, Omar cited previous examples of controversial remarks made by Trump, including his claims there were "very fine people on both sides" of the deadly white nationalist Unite the Rally in Charlottesville, Virginia, the U.S. was taking in immigrants from "shithole countries," NFL players who knelt during the National Anthem were "sons of bitches" and private remarks leaked in the days before the 2016 election in which Trump bragged about grabbing women "by the p***y."
All outspoken progressives, the four Democrats in recent weeks have especially criticized Trump and his top officials over the treatment of detained migrants who are asylum seekers or are accused of crossing the U.S.-Mexico border illegally. Severe overcrowding has led to a shortage of hygiene products and extended stays, according to government watchdog reports, Democratic lawmakers who toured facilities and images from inside.
"He does not know how to defend his policies. So, what he does is attack us personally. And that is what this is all about," Ocasio-Cortez said. "He can't look a child in the face. And he can't look all Americans in the face and justify why this country is throwing them in cages. So, instead, he tells us that I should go back to the great borough of the Bronx and make it better. And that's what I'm here to do."
The criticism came as Trump doubled down on his assertion that the minority congresswomen should "go back" to the "crime infested places" they "came from," as he denied the bipartisan assertion that his comments were "racist" or "xenophobic" and as the House prepared to formally condemn Trump with a House resolution.
All four lawmakers are U.S. citizens and only Omar, a Somali refugee who came to the U.S. as a child, was not born in America.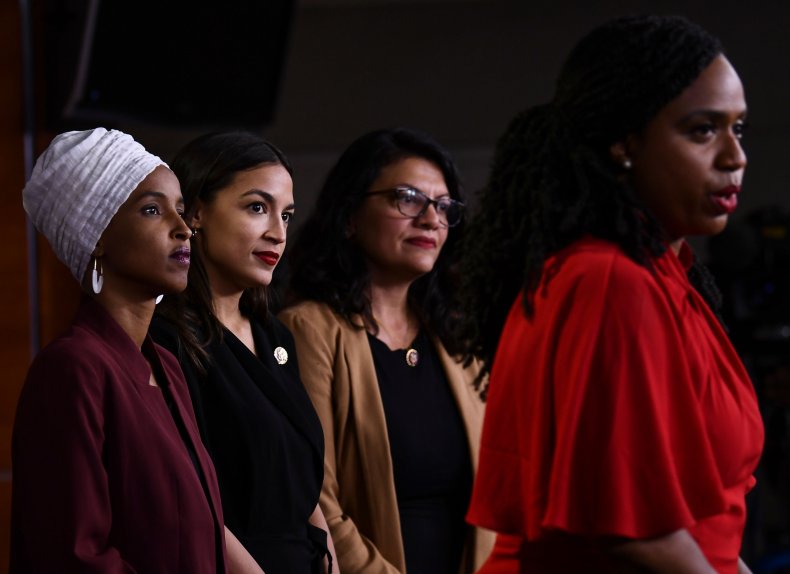 Still, Trump denied earlier in the day that his comments, which have since received bipartisan rebuke, were racist or in any way ill-mannered.
"As far as I'm concerned, if you hate our country, if you're not happy here, you can leave... These are people that hate our country," Trump told reporters at a White House event that featured innovations and products made in America. He further stated it "doesn't concern me" that white nationalists may find common cause in his words "because many people agree with me."
"Despite the occupant of the White House's attempts to marginalize us and to silence us, please know that we are more than four people," Pressley said. "Our squad is big. Our squad is any person committed to building a more equitable and just world."
Tlaib labeled the president as "lawless" before reiterating her position it was time to open an impeachment inquiry.
"Sadly, this is not the first, nor will it be the last, time we heard disgusting, bigoted language from the president," she said. "We know this is who he is."
Democrats continued Monday to rail against Trump for his comments, causing House Speaker Nancy Pelosi to announce the chamber will vote Tuesday on a formal resolution to condemn the president for his racist language—a move that will force Republicans to decide whether or not they wish to officially rebuke the most powerful member of their party. Although GOP leadership and much of the party failed to condemn Trump as of Monday, several Republicans did condemn his racist tweets.
Just moments before "The Squad" spoke to reporters, the president took to Twitter. He wrote in a series of tweets that the U.S. will "never be a Socialist or Communist Country" and reiterated that "IF YOU ARE NOT HAPPY HERE, YOU CAN LEAVE!"
"They are anti-Israel, pro Al-Qaeda, and comment on the 9/11 attack, 'some people did something.' Radical Left Democrats want Open Borders, which means drugs, crime, human trafficking, and much more," Trump continued. "The Dems were trying to distance themselves from the four "progressives," but now they are forced to embrace them. That means they are endorsing Socialism, hate of Israel and the USA! Not good for the Democrats!"
This story was updated to include the resolution condemning Trump's remarks was placed on Tuesday's House floor schedule.