Republican Colorado Representative Lauren Boebert said that Democratic Minnesota Representative Ilhan Omar hung up on her in a phone call to discuss Boebert's apology for her Islamophobic remarks, while their recount of Boebert's call escalated their public feud.
"Ilhan Omar hung up on me," Boebert said in an Instagram video posted Monday.
"I wanted to let her know directly that I had reflected on my previous remarks," Boebert said in the video. "As a strong Christian woman who values faith deeply, I never want anything I say to offend someone's religion. So I told her that, even after I put out a public statement to that effect."
Boebert's 41-word public apology, published on Friday, said, in part, "I apologize to anyone in the Muslim community I offended with my comment about Rep. Omar." Boebert's apology called the incident an "unnecessary distraction."
"[Omar] said that she still wanted a public apology because what I had done wasn't good enough," Boebert mentioned in the video. "So I reiterated to her what I had just said. She kept asking for a public apology. So I told Ilhan Omar that she should make a public apology to the American people for her anti-American, antisemitic, anti-police rhetoric."
Boebert said, "Rejecting an apology and hanging up on someone is part of cancel culture 101 and a pillar of the Democrat Party." She also accused Omar of "sympathizing with terrorists."
Boebert has previously, baselessly called Omar an advocate "for state-sponsored terrorism" and an "honorary member of Hamas."
The antisemitic and anti-American rhetoric Boebert referred to in her video likely alludes to several of Omar's past controversial statements.
In 2019, Omar tweeted that Israel's allies in American politics were primarily motivated by money. Critics said her comment reinforced long-held antisemitic stereotypes of Jewish people being financially greedy.
Omar later apologized for the comment, saying that her intention was never to offend "my constituents or Jewish Americans as a whole." She added, "This is why I unequivocally apologize."
In June, Omar tweeted that "unthinkable atrocities" had been "committed by the U.S., Hamas, Israel, Afghanistan, and the Taliban." Commenters criticized her for comparing the U.S. and Israel with terrorist forces.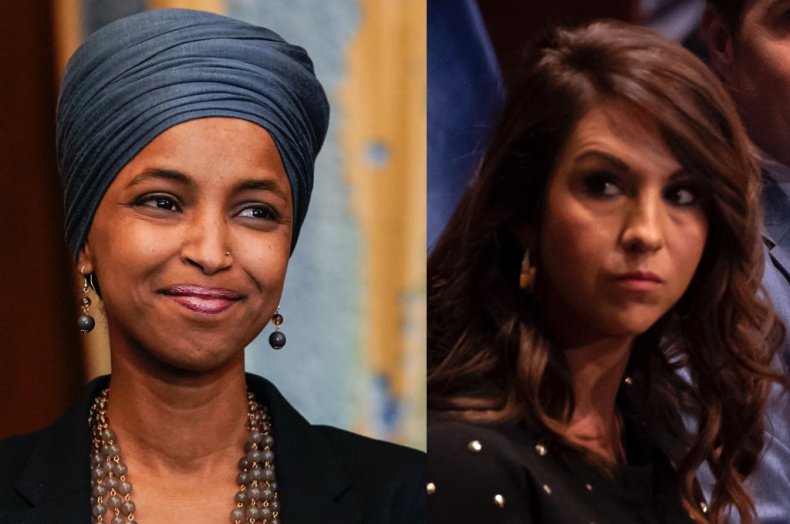 Boebert's recent apology to the Muslim community occurred after a video circulated online last week showing Boebert referring to Omar, one of three Muslims in Congress, as a member of the "Jihad Squad." Boebert's slur occurred amid a story in which she implied Omar was a potential suicide bomber within the Capitol building.
Omar characterized her Monday phone call with Boebert as "unproductive" in a statement.
"Instead of apologizing for her Islamophobic comments and fabricated lies, Rep. Boebert refused to publicly acknowledge her hurtful and dangerous comments," Omar wrote. "She instead doubled down on her rhetoric and I decided to end the unproductive call."
"I believe in engaging with those we disagree with respectfully, but not when that disagreement is rooted in outright bigotry and hate," Omar wrote.
Omar's statement also criticized Republican Party leadership for doing "nothing to condemn and hold their own members accountable for repeated instances of anti-Muslim hate and harassment."
On Saturday, Republican House Minority Leader Kevin McCarthy issued a statement regarding Boebert's remarks. The statement didn't condemn the remarks.
In her response to Boebert's Islamophobic remarks, Omar replied, "Fact, this buffoon looks down when she sees me at the Capitol, this whole story is made up. Sad she thinks bigotry gets her clout."
Omar added, "Saying I am a suicide bomber is no laughing matter. ... Normalizing this bigotry not only endangers my life but the lives of all Muslims. Anti-Muslim bigotry has no place in Congress."
On Monday evening, Democratic California Representative Eric Swalwell wrote, "The verdict is in: @GOPLeader McCarthy leads an Anti-Muslim party. Boebert won't renounce her claim that Muslims are suicide bombers. As this will surely bring more death threats to our Muslim neighbors, let's make sure they know they're just as American as McCarthy & Boebert."