Kevin McCarthy's Statement on Lauren Boebert Doesn't Condemn Her Remarks
Republican House Minority Leader Kevin McCarthy's new statement regarding Republican Colorado Representative Lauren Boebert doesn't condemn her remarks.
In a video that circulated online this week, Boebert referred to Democratic Minnesota Representative Ilhan Omar, one of three Muslims members in Congress, as a member of the "Jihad Squad." Boebert made the comment while telling a story that allegedly portrayed Omar as a potential suicide bomber within the Capitol building.
"I talked to Congresswoman Lauren Boebert today," McCarthy said in a statement released Saturday. "She has apologized for what she said and has reached out to Congresswoman Omar to meet next week."
"I spoke with [Democratic House Majority Leader Steny] Hoyer today to facilitate that meeting so that Congress can get back to talking to each other and working on the challenges facing the American people," McCarthy added.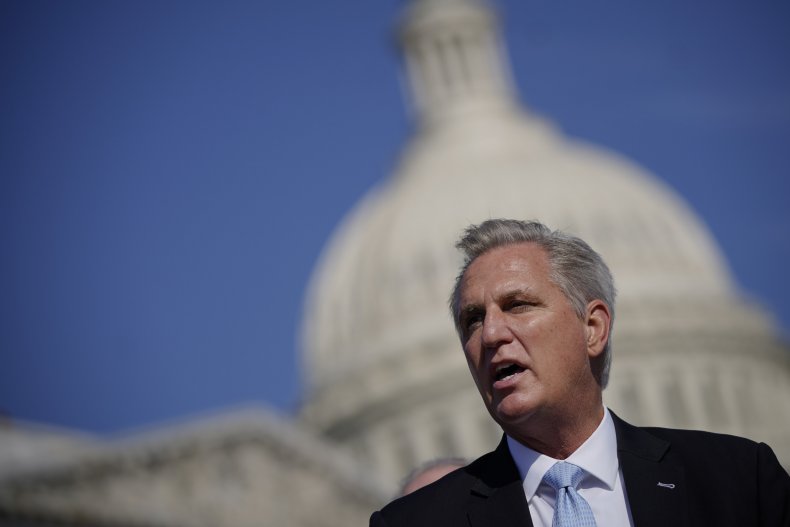 McCarthy's statement did not call out Boebert's remarks as "wrong or abhorrent or racist or Islamophobic," MSNBC host Yasmin Vossoughian noted in a Saturday broadcast.
On Friday, Boebert apologized to the Muslim community for her comments.
"I apologize to anyone in the Muslim community I offended with my comment about Rep Omar," Boebert wrote in a tweet, adding that her office had reached out to Omar's office to speak to her directly.
Boebert's tweet marked one of the few times that she has ever apologized for remarks against a Democratic lawmaker. She had previously referred to Omar as a member of the "jihad squad." She has also claimed, without evidence, that Omar is in an incestuous marriage with her brother.
In response to Boebert's remarks, Omar replied, "Fact, this buffoon looks down when she sees me at the Capitol, this whole story is made up. Sad she thinks bigotry gets her clout."
On Friday, Omar said, "Saying I am a suicide bomber is no laughing matter.... Normalizing this bigotry not only endangers my life but the lives of all Muslims. Anti-Muslim bigotry has no place in Congress."
She also asked McCarthy and Democratic House Speaker Nancy Pelosi to take action against Boebert's comments. Pelosi and other Democratic congressional lawmakers condemned the remarks.
Commentators and Muslim advocates have also called for Boebert to face censure for her remarks.
On Saturday, the Congressional Black Caucus (CBC) said that Boebert's comments could lead to death threats against Omar.
"We believe this rhetoric perpetuates actions that could undoubtedly inspire more death threats to Representative Omar and her family. That is unacceptable," CBC chair Representative Joyce Beatty said in the statement.
Newsweek contacted McCarthy for comment.