Israel Let Far-Right Proud Boys Founder In, But Says No to Reps. Ilhan Omar and Rashida Tlaib
Israel has denied entry to Representatives Rashida Tlaib of Michigan and Ilhan Omar of Minnesota, citing pressure from President Donald Trump, who on Thursday reiterated his characterization that the first two Muslim women elected to Congress "hate Israel & all Jewish people."
While Israel had originally allowed a visit by Tlaib and Omar, Prime Minister Benjamin Netanyahu and his cabinet reversed the decision on Wednesday, with one anonymous source citing "Trump's pressure" to Reuters.
Another likely factor is Tlaib and Omar's support of BDS (Boycott, Divestment, Sanctions), a non-violent movement pressuring Israel to comply with international law in its treatment of Palestinians.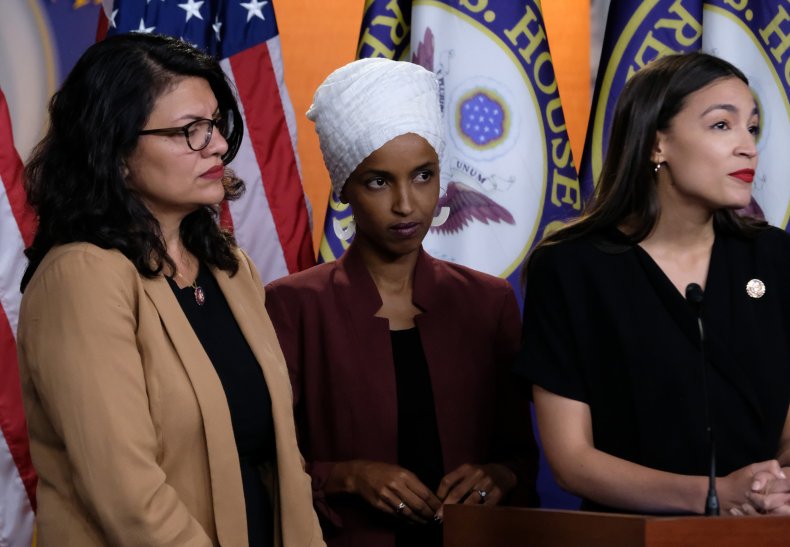 "It would show great weakness if Israel allowed Rep. Omar and Rep. Tlaib to visit," Trump tweeted. "They hate Israel & all Jewish people, & there is nothing that can be said or done to change their minds."
While Israel law allows for supporters of BDS to be denied entry, the Israeli government has repeatedly allowed entry to anti-Semites and pro-fascists. One particularly egregious example was pointed out by Rafael Shimunov of Jews for Racial and Economic Justice.
Gavin McInnes, founder of the white nationalist Proud Boys, was allowed to visited Israel in 2017. He described his personal animus toward Jewish people in a video shot in Tel Aviv that was originally titled "10 Things I Hate About Jews."
"I'm becoming anti-Semitic," McInnes said during his visit, before reiterating common talking points used by Holocaust deniers. "I felt myself defending the super far-right Nazis just because I was sick of so much brainwashing and I felt like going, 'Well, they never said it didn't happen. What they're saying is it was much less than six million and that they starved to death and weren't gassed.'"
McInnes is far from the only far-right nationalist welcomed by Israel: Former Breitbart columnist Milo Yiannopolous—who sang "America the Beautiful" for American neo-Nazi Richard Spencer—was also allowed into the country, as was former Trump adviser Sebastian Gorka, who appeared on Fox News on the night of Trump's inauguration reportedly wearing the badge of the Order of Vitéz, a defunct Hungarian group "under the direction of the Nazi government of Germany," according to the State Department.
In response to Israel's decision to ban entry to Tlaib and Omar, the BDS movement put out a statement calling for an end to all U.S. military aid to Israel.
"Israel's war on BDS is failing, and it is fast losing the liberal mainstream worldwide, including Jewish millennials, as its apartheid regime and its alliances with white supremacist and patently anti-Semitic forces in the US and Europe are being exposed," BDS co-founder Omar Barghouti told Newsweek. "Banning the entry of Congresswomen Tlaib and Omar is not just an attack on freedom of expression. It is a slap on the face of the US and its Congress."
Barghouti said it was "way past time" for Congress to consistently implement the Leahy Law—which prohibit the U.S. from providing military assistance to foreign countries that violate human rights with impunity—by cutting all military aid to Israel "until it fully respects Palestinian human rights."
Presidential candidates have also voiced their support of Tlaib and Omar, including Senator Bernie Sanders, who tweeted that the travel ban as "a sign of enormous disrespect" to both Congress and "the principles of democracy."
"Israel doesn't advance its case as a tolerant democracy or unwavering U.S. ally by barring elected members of Congress from visiting because of their political views," Senator Elizabeth Warren, another contender, tweeted. "This would be a shameful, unprecedented move."
Tlaib and Omar's visit was to include a trip to the Palestinian territories to meet people in refugee camps and those "who lost their lands and had their homes demolished" by the Israel occupation, according to the Arab American Institute's James Zogby.
"It is an affront that Israeli Prime Minister Netanyahu, under pressure from President Trump, would deny entry to representatives of the U.S. government," Representative Omar said in a statement. "Sadly, this is not a surprise given the public positions of Prime Minister Netanyahu, who has consistently resisted peace efforts, restricted the freedom of movement of Palestinians, limited public knowledge of the brutal realities of the occupation and aligned himself with Islamophobes like Donald Trump."