The decision by Israel Thursday to ban two Muslim congresswomen from entering the country after tweets from President Donald Trump led some Jewish groups to lambast the decision.
The move to not allow Representatives Ilhan Omar of Minnesota and Rashida Tlaib of Michigan to visit would only exacerbate current divisions between the minority Democrats and the Jewish state and forgo them the opportunity to better understand the country and its people, argued several Jewish advocacy and lobbying groups with varying political ideologies.
"The fact that the U.S. president would urge the Israeli prime minister to bar members of Congress really does a disservice to this bilateral relationship and is yet another attempt by President Trump to politicize this relationship," Halie Soifer, executive director of the Jewish Democratic Council of America, told Newsweek.
She called the move "unprecedented" and said that "never before have U.S. members of Congress been barred from entering Israel."
Israeli Prime Minister Benjamin Netanyahu decided to ban Omar—who was accused of and condemned for making anti-Semitic tropes earlier this year—and Tlaib for "planning a campaign whose sole purpose was to strengthen" the Boycott, Divestment and Sanctions (BDS) movement, highlighting the lawmakers' lack of intention to meet with Israeli officials. Their itinerary from Israeli press showed they planned to meet with human rights and non-governmental organizations.
BDS promotes boycotting the country over disputed territories, including the West Bank, and ongoing conflicts with Palestine. The ban was implemented despite Israeli ambassador to the U.S. Ron Dermer saying last week they would not bar any lawmakers from entering.
Omar said in a statement it was an "affront" that they would not be able to enter the country, adding that, with her seat on the House Foreign Affairs Committee, it's "both an insult to Democratic values and a chilling response to a visit by government officials from an allied nation."
"Denying entry into Israel not only limits our ability to learn from Israelis, but also to enter the Palestinian territories," Omar added.
In a tweet, Tlaib categorized the ban as "a sign of weakness."
The lobbying and advocacy group American Israel Public Affairs Committee, or better known as AIPAC, said that while they, too, disagree with Omar and Talib's policy stances and calls for a one-state solution, they "believe every member of Congress should be able to visit and experience our democratic ally Israel firsthand." Omar has been critical of AIPAC in the past.
Jewish Voice for Peace, a progressive group, categorized Israel's move as part of its "increasingly authoritarian policies."
Omar and Tlaib have been highly critical of Israel and were planning a trip with a Palestinian-led nonprofit to visit various parts of Israel and the occupied West Bank, where Tlaib has family. Netanyahu's announcement came just after a morning tweet from Trump, in which he stated it would show "great weakness if Israel allowed Rep. Omar and Rep. Tlaib to visit."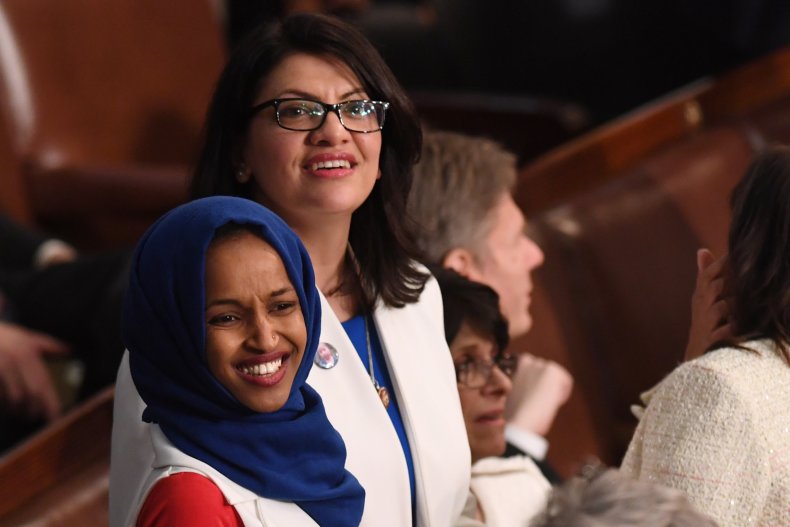 "They hate Israel & all Jewish people, & there is nothing that can be said or done to change their minds," the president wrote, who previously told the minority women and other outspoken freshmen Democrats to "go back" to the countries they came from. "Minnesota and Michigan will have a hard time putting them back in office. They are a disgrace!"
Soifer and other Jewish groups argued that banning the congresswomen is "counterproductive." But she went a step further to say it "plays into Trump's goal of politicizing support for Israel." Soifer made it clear that her group has "vocally disagreed" with Omar and Tlaib on their decisions to support BDS and to side with Palestine over Israel on policy matters. But she stressed that, without them being able to visit, the lawmakers would miss out on experiencing the culture and interacting with Israeli citizens.
"It is important that they have this opportunity to see the facts on the ground. It is critical to actually live it and to see the realities that Israelis and Palestinians live with each day. A willingness to listen and experience and learn is important for any individual, especially members of Congress. That is, in effect, why members travel," Soifer said. "Now, do I think it would have changed their views? I don't know. I don't know. But it at least would have helped to inform them."
The advocacy group American Jewish Committee (AJC) labeled Omar and Tlaib's trip as "not a fact-finding mission, but rather a propaganda exercise" because of the lack of Israeli officials they planned to meet with. However, AJC made a similar argument about why the congresswomen should not be barred from entering the Middle Eastern nation, saying the right thing to do would have been to adhere to the original plan and allow them to visit.
"AJC believes that, out of two less-than-ideal options, neither of which was risk-free, Israel did not choose wisely by reversing its original decision," the group said in a statement. "While we fully respect Israel's sovereign right to control entry into the country, a right that every nation employs, and while we are under no illusions about the implacably hostile views of Reps. Omar and Tlaib on Israel-related issues, we nonetheless believe that the costs in the U.S. of barring the entry of two members of Congress may prove even higher than the alternative."
Republican Senator Marco Rubio of the Senate Foreign Relations Committee wrote on Twitter that while he disagrees "100% with Reps. Tlaib & Omar on #Israel," denying them entry "is a mistake."
"Being blocked is what they really hoped for all along in order to bolster their attacks against the Jewish state," Rubio claimed.
Many Democrats in Congress, ranging from House Speaker Nancy Pelosi to rank-and-file members, also condemned Trump and Israel.
"Israel's denial of entry to Congresswomen Tlaib and Omar is a sign of weakness, and beneath the dignity of the great state of Israel," Pelosi said in a statement. "The president's statements about the congresswomen are a sign of ignorance and disrespect, and beneath the dignity of the office of the president."
House Majority Leader Steny Hoyer revealed in a statement that in discussions with Netanyahu on Wednesday, he urged the prime minister to allow Omar and Tlaib to continue with their trip next week as planned. It appeared the talks were unsuccessful, but Hoyer added it was his "understanding that discussions are taking place to ensure that Rep. Tlaib will at least be allowed to see her family [in the West Bank], which I appreciate."
This story was updated to add comments from Omar, Rubio, Hoyer and Tlaib.