Two Democratic congresswomen who were recently barred from visiting Israel shared an image on their personal social media accounts over the weekend that showed President Donald Trump and Israeli Prime Minister Benjamin Netanyahu physically silencing them, which was created by a cartoonist who's made controversial and alleged anti-Semitic drawings in the past.
The cartoon, shared by freshmen Representatives Rashida Tlaib of Michigan and Ilhan Omar of Minnesota on their Instagram stories, depicted Netanyahu placing his hand over Tlaib's mouth, along with Trump doing the same to Omar. Tlaib added the caption: "The more they try to silence us, our voices rise. The more they try to weaken us, the stronger we become. The more they try to discredit us, the truth prevails."
The drawing was created by cartoon artist Carlos Latuff in the wake of Netanyahu banning the Muslim congresswomen from entering the country during a trip they planned to make to the Middle Eastern region this week. In a tweet of his own, Latuff said his image described the "war against freedom of speech" being waged by Trump and Netanyahu, "a war against everyone who dare to criticize [Israel's] apartheid."
Tlaib and Omar, both outspoken progressives, were barred from visiting due to their support of the pro-Palestine Boycott, Divestment, Sanctions (BDS) movement and after Trump wrote in a tweet it would "show great weakness" by Israel if they were allowed to enter because they "hate Israel & all Jewish people." Tlaib was later offered the chance to visit her grandmother in the occupied West Bank, but she declined, saying she did not want to "bow down to their oppressive & racist policies."
Omar was condemned earlier this year by the House of Representatives for making anti-Semitic tropes, and last month the House voted overwhelmingly to condemn BDS. The drawing shared by her and Tlaib, in addition to their support for BDS, is the type of action and comments that critics have said in the past is inappropriate for members of Congress to make about a U.S. ally.
Spokespeople for Tlaib and Omar did not respond for comment.
Donald Trump Jr., the president's eldest son, accused the congresswomen of "promoting the work of Holocaust deniers" in a tweet. And in 2006, Latuff placed second in Iran's International Holocaust Cartoon Competition for a cartoon drawn in 2004 showing an upset, elderly Palestinian man wearing a Nazi concentration camp uniform, something he's also faced criticism for.
"I saw that Holocaust Cartoon Competition not as a chance to deny the Holocaust, but to expose the suffering of Palestinians living under Israeli apartheid," he told Newsweek in an email. "I dare anyone to show a single cartoon of mine denying the Holocaust."
Latuff has created many cartoons throughout his career about the Israeli-Palestinian conflict, in which he's been very critical of Israel. But any suggestions that his pieces have denied the Holocaust or are anti-Semitic, he said, are not true.
"These allegations are vile, dishonest and come always from the same source: supporters of inhumane treatment given by Israel to Palestinians in the Occupied Territories," Latuff continued. "Anti-Semitism has been used by president Donald Trump in an attempt to silence Rep. Tlaib and Rep. Omar due their views on Israel-Palestine, nothing to do with hatred against the Jewish. It's a well-known strategy of censorship and blackmail."
In recent days, he created another cartoon that showed four men — Trump, Trump Jr., the "Israel Lobby" and a Trump supporter wearing a "Make Amerikkka white again!" shirt — sitting around a table and drinking beer. Placed on the table is a laptop with Twitter on the screen while Trump Jr. uses an assault rifle to shoot bullets through the images of Talib, Omar and Latuff. "Like father, like son..." Trump is depicted as saying.
Latuff wrote that the image represents attempts by Trump and his eldest son to "shut down critics of the ethnic cleansing in #Palestine and please the #Israel Lobby." He told Newsweek that any criticism or allegations of anti-Semitism should be levied at the president and his supporters rather than at himself, Tlaib and Omar.
"Trivialize the real anti-Semitism, which is happening and can be found among many Trump extreme-right supporters," Latuff said.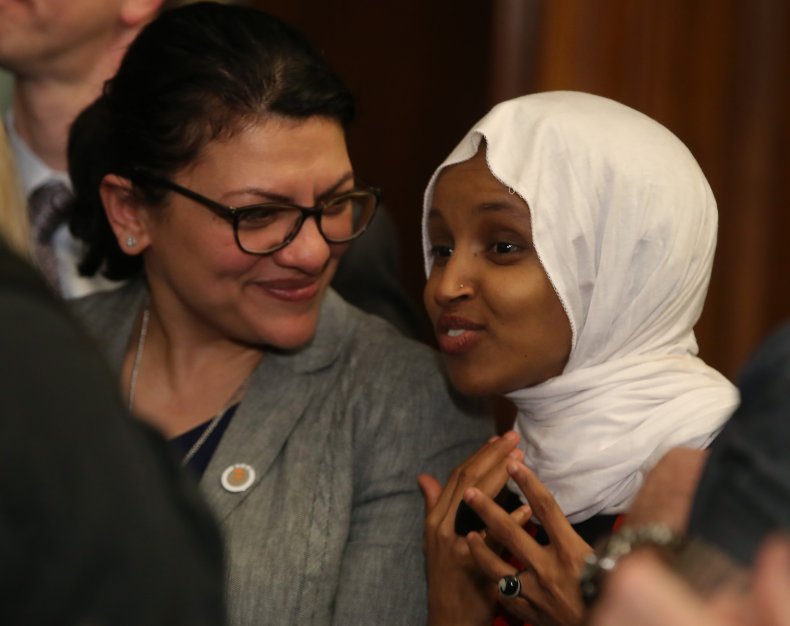 This story was updated to include comments from Latuff in an email to Newsweek.