Representative Ilhan Omar, a Democrat from Minnesota and one of the first Muslim women elected to Congress, rebuked House Speaker Nancy Pelosi on Tuesday for condemning a Palestinian-led movement that Omar supportsat the annual American Israel Public Affairs Committee (AIPAC) conference.
Without mentioning Omar by name, or her fellow freshman Democratic colleague Rashida Tlaib, Pelosi condemned the anti-Israel boycott, divestment and sanctions (BDS) movement—which Omar and Tlaib both support. The movement seeks to exert international pressure on Israel over disputed territories, including the West Bank, and ongoing conflicts with Palestine.
"Israel and America are connected now and forever," Pelosi said at the pro-Israel event. "We will never allow anyone to make Israel a wedge issue."
The speaker condemned the "anti-Semitic myth of dual loyalty," classifying the BDS movement as "bigotry masquerading as policy."
Omar pushed back on that categorization of BDS, telling Newsweek she views Pelosi's comments as anti–First Amendment and "beneath any leader."
"A condemnation for people who want to exercise their First Amendment rights is beneath any leader," Omar said. "I hope that we find a better use of language when we are trying to speak as members of Congress that are sworn to protect the Constitution."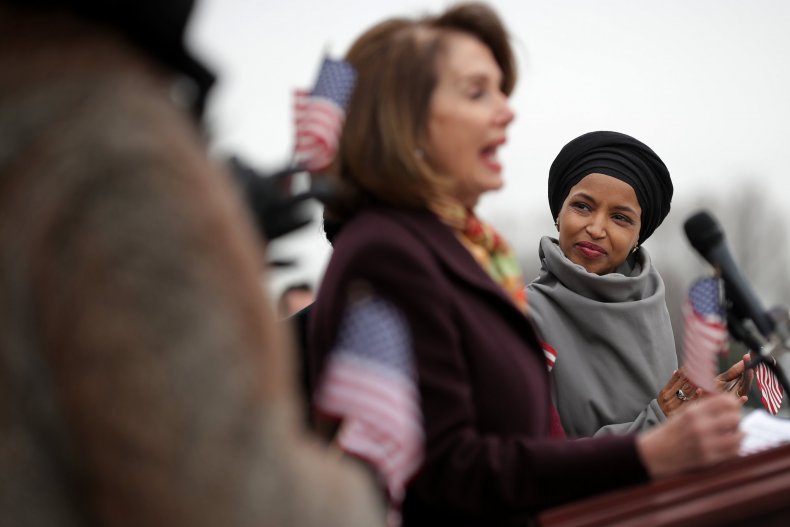 Omar declined to comment on whether she believed Pelosi's words were directed at herself and Tlaib.
The AIPAC conference comes after recent claims made by President Donald Trump that Democrats are "anti-Israel" and "anti-Jewish," in part because of remarks by Omar.
During a discussion at a Washington, D.C., bookstore in late February, Omar questioned the role that AIPAC plays in U.S. politics. "I want to talk about the political influence in this country that says it is OK for people to push for allegiance to a foreign country," she said at the time, a sentence that was accused of raising the anti-Semitic trope of dual loyalty that has been aimed at Jewish people for centuries.
An ensuing House resolution condemning anti-Semitism left Democratic lawmakers divided, largely along generational lines, about how to handle the offense Omar's comments caused. The text of the resolution was eventually revised to include a denunciation of other types of bigotry, including anti-Muslim bias.
"In our Democratic societies, we should welcome legitimate debate at how best to honor our values and to advance our priorities without questioning loyalty or patriotism," Pelosi said at the AIPAC conference. "I simply declare that to be anti-Semitic is to be anti-American. It has no place in our country."
Pelosi reassured conference attendees that "support for Israel remains ironclad and bipartisan."
Omar also responded to Israeli Prime Minister Benjamin Netanyahu over his criticism of her, in which he said at AIPAC, "From this Benjamin, it's not about the Benjamins." He was referencing a tweet by Omar in which she wrote that U.S. support for Israel is "all about the Benjamins baby."
"We know that the prime minister of Israel is one that is aligning with right-wing leaders," Omar said. "Somebody who is currently facing possible indictment for bribery and corruption."
Israel's attorney general has said he expects to indict Netanyahu on charges of bribery, fraud and breach of trust.