Ilhan Omar Says She's Received Death Threats After QAnon Candidate Posts Ad Holding Rifle Next to 'The Squad'
Marjorie Taylor Greene, a Republican candidate for Congress in Georgia, posted a campaign poster Thursday of herself on her Facebook page holding an assault rifle, next to photos of three Democratic lawmakers part of "The Squad"—Reps. Ilhan Omar (D-Minn.), Alexandria Ocasio-Cortez (D-N.Y.) and Rashida Tlaib (D-Michigan). The fourth Squad member, Rep. Ayanna Pressley (D-Mass.), is not shown in the poster.
Greene, who's backed by President Donald Trump and who's frequently praised the discredited and dangerous QAnon conspiracy theory, has posed with assault rifles in previous campaign posters. But this is the first time she has photoshopped prominent Democrats into the frame, something the first-term progressive firebrands said was promoting violence.
The targeted women were not amused.
"Posting a photo with an assault rifle next to the faces of three women of color is not advertising. It's incitement," Omar wrote in a tweet Friday. "There are already death threats in response to this post. Facebook should remove this violent provocation."
Omar's office confirmed to Newsweek Friday that she's received both public and private death threats after Greene posted the photoshopped image, which featured the Republican brandishing an assault rifle in front of Omar, Ocasio-Cortez and Tlaib while urging "strong conservative Christians to go on the offense against these socialists."
A spokesperson for Omar confirmed that she has received death threats since Greene posted the image Thursday morning. The spokesperson did not address whether they reported the threats to U.S Capitol Police.
At least two people have also issued public threats against the lawmakers on Greene's Facebook post. One woman wrote, "It's time to take them down." Another said, "I say kill the squad."
Tlaib also responded on Twitter, urging for the post to be taken down.
"It's dangerous in a time of rising political violence openly encouraged by this facist President that a soon-to-be member of Congress thinks a post threatening women's lives is acceptable," Tlaib said. "P.S. Imagine it was me w/ a rifle. The post would have been down in seconds."
Facebook confirmed to Newsweek that they removed the image because it "violates our policies." The text from the post remained visible. A Greene campaign spokesperson denied the notion that the post was threatening.
"Those who say that are paranoid & ridiculous," the spokesperson said in an email, without identifying him or herself. "Fake news is always looking for the next conspiracy theory. This question is idiotic. Go back to bed."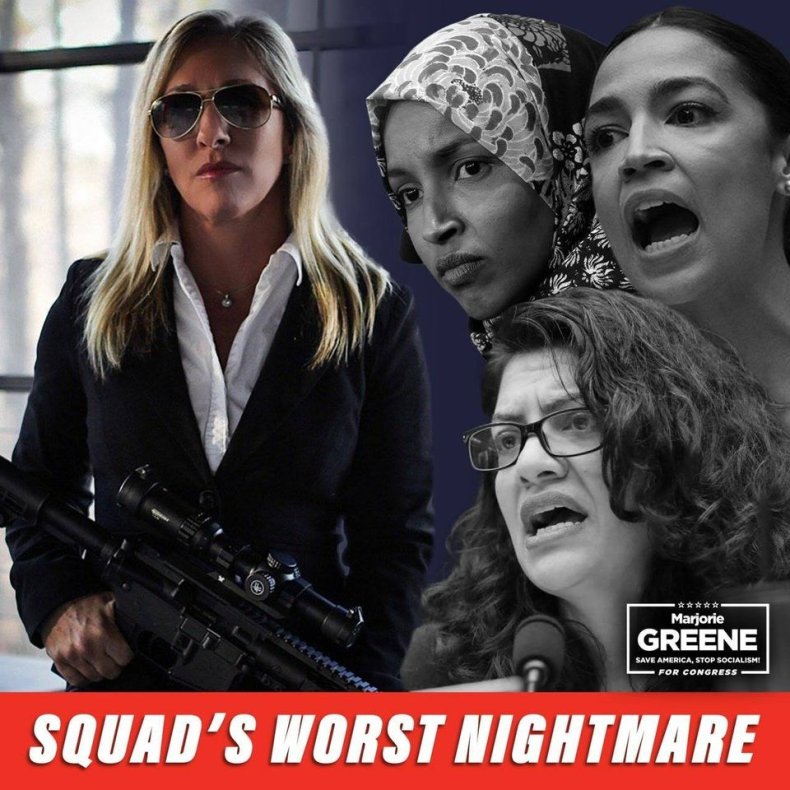 The Greene spokesperson gave the same response to Forbes, who first reported on the campaign poster.
In a separate Facebook post, Greene said she is raffling off the rifle to raise funds for her campaign.
Greene, a candidate endorsed by Trump as "a future Republican star" and who attended his Republican National Convention speech at the White House last week, has supported the QAnon conspiracy theory touted by fringes of the far-right.
The debunked conspiracy hinges on the notion that there is a deep-state of Satan-worshipping pedophiles involving Democratic politicians, reporters and other prominent figures who operate a global child sex-trafficking operation. QAnon has been identified by the FBI as a potential domestic terror threat.
Republicans on Capitol Hill have done little to oppose or denounce Greene, who is poised to win her general election this Fall and become a sitting member of Congress. More recently, Greene has tried to distance herself from the theory and previous racist and anti-Semitic statements.
Omar directed blame at both Trump and House Minority Leader Kevin McCarthy (R-Calif.), who's previously said there is "no place for QAnon in the Republican Party." However, he's still embraced Greene.
"More importantly: President Donald Trump and Majority Leader McCarthy, this rests squarely on your shoulders," Omar tweeted. "You have incited attacks on us since we were sworn in. You have told us to 'go back' where we came from."
Previously, Trump has directed racist messages toward The Squad, who are all women of color. The president tweeted in July 2019 that the four Democrats should "go back and help fix the totally broken and crime infested places from which they came."
Ocasio-Cortez, Pressley and Tlaib were born in the United States. Omar was a Somali refugee and is a naturalized U.S. citizen.
"This is your party now," Omar added. "Dangerous and disgraceful."