Ilhan Omar Slams Ted Cruz for Criticizing Her While Staying Silent on San Diego Synagogue Attack: 'Shame on You'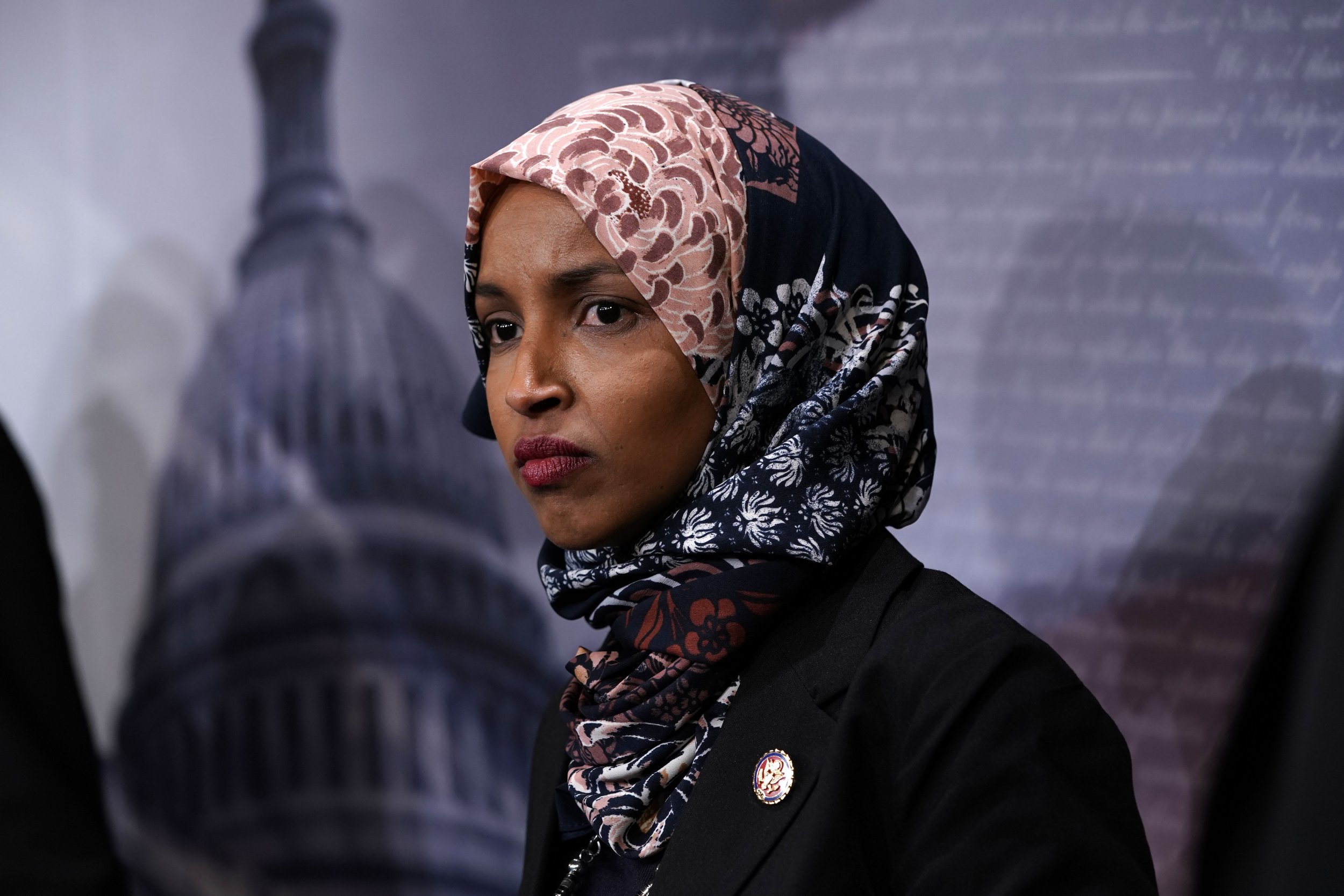 Representative Ilhan Omar said Senator Ted Cruz should be ashamed of himself for attacking her for her past comments on the Israeli-Palestinian conflict while remaining silent on Saturday's deadly attack at a synagogue in the San Diego area.
On Sunday, Cruz tweeted that the "anti-Semitic Left...is getting worse," using two recent controversies surrounding Omar's criticisms of pro-Israel lobbying and a New York Times cartoon portraying Israeli Prime Minister Benjamin Netanyahu as a dog on a leash controlled by a blind President Donald Trump to drive his argument.
"The anti-Semitic Left—whether [Ilhan Omar's] repeated anti-Israel slurs or [The New York Times] apologizing for Hamas terrorists... & running racist cartoons—is getting worse. And the House can't even pass an anti-Semitism resolution," Cruz, a Texas Republican, said. "Responsible Dems need to say Enough is Enough."
Retweeting Cruz's criticism, Omar, a Minnesota Democrat, hit back at Cruz for making claims of an "anti-Semitic Left," while remaining silent on Saturday's synagogue attack, which took place on the last day of Passover and left one person dead.
"A white nationalist literally terrorized a synagogue during Passover yesterday and you have yet to say anything," Omar said. "Shame on you."
While politicians from across the aisle tweeted their condolences over the synagogue shooting, Cruz's Twitter account has shown no mention of the attack since it unfolded.
The alleged shooter behind the attack, identified as John Earnest, 19, opened fire on members of the Chabad of Poway Synagogue with a rifle on Saturday morning.
Lori Gilbert-Kaye, 60, died after throwing herself in front of Rabbi Yisroel Goldstein, according to Goldstein's own account of the shooting. Three others, including Goldstein and an 8-year-old girl, were also injured in the attack, which took place six months after 11 people were killed in the shooting at the Tree of Life Synagogue in Pittsburgh.
Officials have called the shooting a hate crime and have been investigating a manifesto alleged to have been written by Earnest asserting he had been inspired by the recent mosque shootings in Christchurch, New Zealand, as well as the Tree of Life shooting.
Investigators are also looking into whether Earnest posted a letter to the 8Chan message board, an online site known for attracting white supremacists, claiming responsibility for setting a fire at the Islamic Center of Escondido on March 24.
After Saturday's attack, Omar joined Congress members in condemning the assault and offering condolences to those affected by the shooting.
"My heart is breaking after today's deadly shooting at Chabad Congregation in San Diego—on the last day of Passover and 6 months to the day after the Tree of Life shooting," Omar said.
"We as a nation must confront the terrifying rise of religious hate and violence," she said. "Love trumps hate."
As the identity of the accused shooter became clear, Omar later tweeted that he [allegedly] "shot & killed Jewish worshippers and bombed a Masjid. Islamaphobia and anti-Semitism are two sides of the same bigoted coin.
"Let us stand together as Americans in rejecting hate!" Omar said.
Despite Omar's frequent condemnation of both anti-Semitism and Islamaphobia, Cruz was not the only one appearing to blame her for anti-Semitic sentiments.
Representative Chip Roy, a Texas Republican, similarly linked both Omar and The Times to anti-Semitic sentiments by "cc"ing both the politician and newspaper's Twitter accounts in a retweet of a post from Senator and 2020 presidential candidate Kamala Harris, who wrote: "Yet again a place of worship is the target of senseless gun violence and hate. Anti-Semitism is real in this country and we must not be silent—enough is enough."
Newsweek has contacted Omar and Cruz for comment on this story.