Poway Synagogue Shooting Suspect John Earnest May Have Bragged About Committing Recent Mosque Arson
The 19-year-old suspect in Saturday's San Diego-area synagogue shooting that left one person dead and three others injured may also be linked to an unsolved arson case at a nearby mosque, authorities said.
Suspect John Earnest has been charged with one count of first-degree murder and three counts of first-degree attempted murder after allegedly storming into Congregation Chabad in Poway, about 22 miles north of San Diego, and opening fire with an "AR-type assault weapon," police said. The shooter killed a 60-year-old woman in the attack, while a 57-year-old rabbi, a 34-year-old man and a minor girl are all expected to survive their injuries.
Earnest, a student at California State University, San Marcos, allegedly called police after fleeing the scene and surrendered to authorities.
Investigators are now looking into whether Earnest posted a letter to the message board 8Chan that claimed responsibility for setting a fire at the Islamic Center of Escondido on March 24. Favored by white supremacists, the online site has a reputation for being a dumping ground for hate-filled screeds.
Seven people were inside the Escondido mosque just after 3 a.m. when the unknown assailant set it ablaze. The occupants were able to extinguish the fire, and no one was injured. Police found graffiti on the building that referenced the mass killings at the Christchurch mosque in New Zealand during a subsequent investigation.
At the time, authorities said it could be a hate crime.
Escondido, located about 15 miles north of Poway, neighbors the town of San Marcos, where Earnest attended college.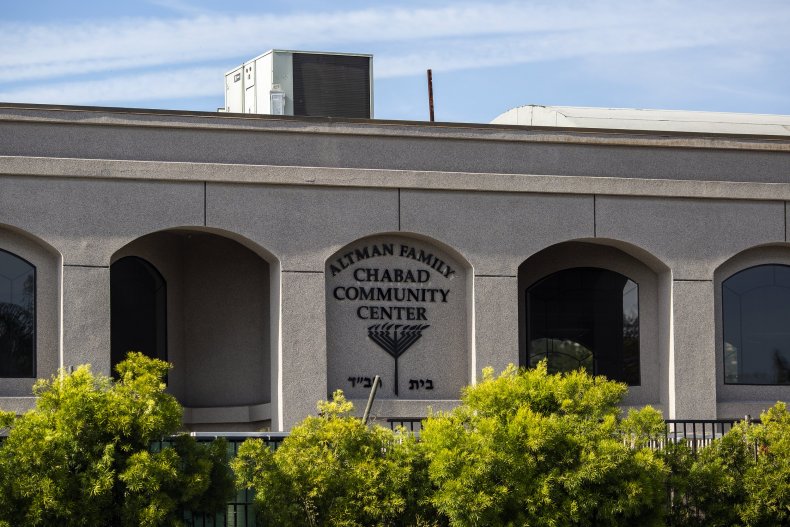 The letter in question, posted shortly before the Saturday attack, is rife with anti-Semitic and racist ramblings and includes specific details about the mosque burning. At one point, the author brags that police had been unable to locate him.
"I scorched a mosque in Escondido with gasoline a week after Brenton Tarrant's sacrifice and they never found sh*t on me," the letter read, referencing the alleged killer in the New Zealand terror attack, who also used the site.
Authorities are now serving search warrants at the home of Earnest and are expected to update the public sometime Sunday. In the meantime, extra patrols have been stationed around houses of worship throughout the area, according to the San Diego Sheriff's Department.
"We will be providing extra patrols at places of worship this weekend," Sheriff Bill Gore said in a statement. "We encourage congregations to call us with any security concerns. If you see something suspicious, say something."
The shooting, which occurred on the last day of Passover and on the six-month anniversary of the Tree of Life shooting, shocked the city of Poway. Local and national leaders released condolences to the Jewish community throughout Saturday and Sunday.
The Southern Poverty Law Center, a hate-tracking group, released a statement decried the killings.
"Once again, a young white male has apparently been influenced by dangerous online white supremacist propaganda," Intelligence Project Director Heidi Beirich said. "And once again, we see how this propaganda can lead to terrorist acts. Our hearts go out to the families of the victims and everyone who is affected by this terrible tragedy.
Cal State San Marcos president Karen Haynes also released a statement calling the crime a "despicable act."
"We extend our deepest condolences to all of the victims, their families, friends and our entire community," she said. "We share your grief. This despicable act is entirely against our values as a University, particularly given that many in our community are preparing to observe Yom HaShoah (Holocaust Remembrance Day) on May 1. We stand in solidarity with the Jewish community and reject the rhetoric of divisiveness that feeds hatred."