Ilhan Omar Claims Stephen Miller Wants 'One Particular Racial Identity' As She Doubles Down On White Nationalist Accusation
Representative Ilhan Omar, a Democrat from Minnesota and one of the first two Muslim women to serve in Congress, doubled down on labeling White House senior adviser Stephen Miller a white nationalist on Wednesday, telling Newsweek she believes he wants America to have "one particular racial identity."
Omar, a Somali refugee turned congresswoman, was again accused of making anti-Semitic remarks earlier this week, this time for tweeting that Miller is "a white nationalist."
Known for his hardline stances on immigration, Miller was reportedly involved with the personnel shakeups at the Department of Homeland Security, including the ouster of Secretary Kirstjen Nielsen, and has urged the president and federal departments and agencies to crack down on illegal immigration as more migrants try to cross the southern border.
Miller was reportedly behind the Trump administration's first travel ban imposed on several majority-Muslim countries and the "zero-tolerance" policy that led to child separation, which he reportedly wants to reinstate and in which the president falsely claimed Tuesday was started by former President Barack Obama.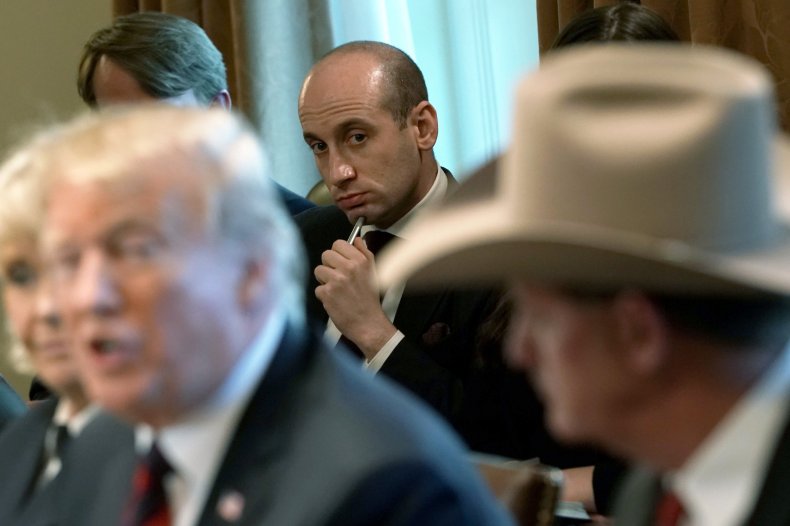 Republicans have said Omar's "white nationalist" label of Miller was anti-Semitic because he is Jewish, accusing her of again targeting the Jewish community. Democratic leaders in recent months have grappled with how to handle and rein in Omar's comments on the United States' support for Israel, which Republicans and Democrats have called anti-Semitic.
The president's eldest son, Donald Trump Jr., tweeted Monday that Omar "took a short break from spewing her usual anti-Semitic bigotry today to accuse a Jewish man of being a 'white nationalist' because she apparently has no shame." Also taking to Twitter, Matt Wolking, the deputy communications director for Trump's reelection campaign, said, "He's Jewish, and Ilhan Omar is a racist anti-Semite."
Responding to that criticism, Omar told Newsweek that just because Miller was Jewish, did not mean she would back down from criticizing his immigration stances.
"You can't cheapen anti-Semitism that way by making it so that if you mention somebody's name who's doing the vetting of, really causing destruction in our country, and then say, 'Oh, because they're of some faith, you can't criticize them,'" she said. "That is false."
Asked whether calling Miller a "white nationalist" was fair, Omar doubled down. She said due to Miller's history pushing for hardline immigration policies, she believed those who criticized her were being hypocrites.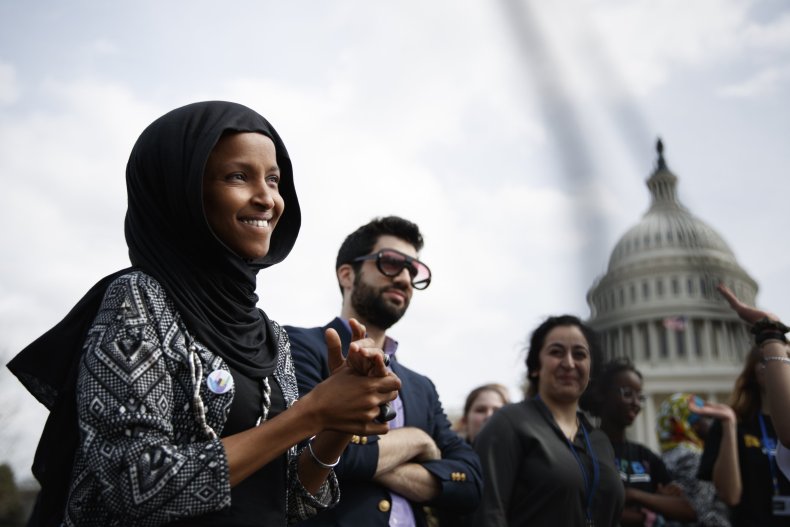 "He believes in the ideology of making sure that this country has one particular racial identity," Omar said. "He forgets that his family came here looking to lady liberty to welcome him. That's what my family did. That's what the families at the border are doing. When you have somebody who is utterly, clearly gone to the point where they can't even recognize they're hypocrisy, you have to call that out."
Miller's uncle, David Glosser, penned an August 2018 Politico op-ed where he said his nephew is an "immigration hypocrite" because of his family's own immigration history, and whose policies "repudiate the very foundation of our family's life in this country."
Speaking with reporters Wednesday before heading to Texas, Trump defended his senior aide and pushed back against reporting that says Miller is strongly influencing the administration's immigration agenda and that he was involved in the recent DHS shakeups.
"Stephen is an excellent guy. He's a wonderful person. People don't know him. He's been with me from the beginning," Trump said. "Frankly, there's only one person that's running it. You know who that is? It's me."
Omar said she viewed her criticism of Miller as speaking out against policies that are morally wrong, and that she doesn't "have any patience" for those who say she made an anti-Semitic comment.
"When we see wrong, we must speak out," she said. "And this is completely where I draw the line."