Ilhan Omar Tells Oil Company Executives to Resign Over Climate Disinformation, Pollution
Democratic Minnesota Representative Ilhan Omar told executives of oil companies that they should resign over the pollution and climate change disinformation to which their companies have contributed.
"Fossil fuel companies have polluted our air, land, and water for profit despite knowing the devastating impact," Omar said. "It seems like you all achieved that victory of leading the public with disinformation."
"I hope that you are ashamed of the future that you contributed for your children and for ours, and I ask all of you to resign," she continued.
Omar made her comments during a Thursday hearing by the House Oversight and Reform Committee on climate change.
The hearing featured ExxonMobil CEO Darren Woods, BP CEO David Lawler, Chevron CEO Michael Wirth, Shell Oil President Gretchen Watkins, American Petroleum Institute President Mike Sommers, U.S. Chamber of Commerce President and CEO Suzanne Clark and former Keystone XL Pipeline welding foreman Neal Crabtree.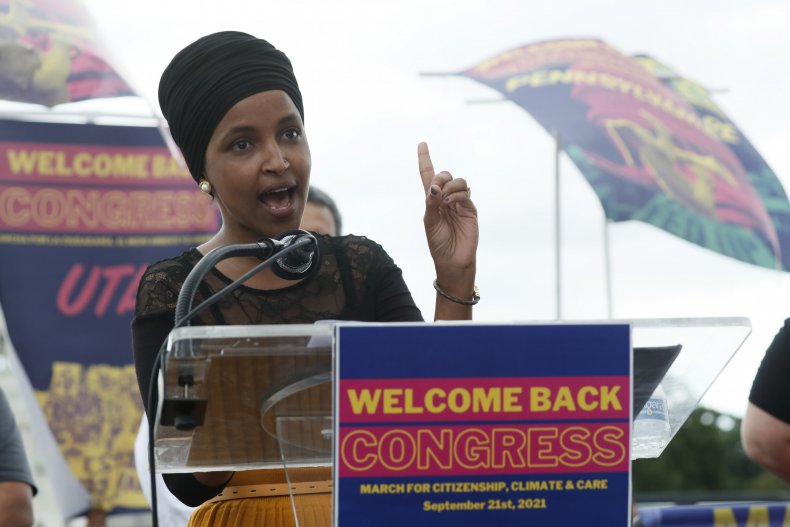 Democratic New York Representative Carolyn B. Maloney, chairwoman of the committee, said on Thursday that she had called the hearing to discuss "the industry's role in causing climate change—and their efforts to cover it up," The Washington Post reported.
ExxonMobil, Chevron, Shell and BP have all publicly supported the Paris Agreement and carbon pricing, two key policies to address climate change. The companies have also publicly said that action on climate change is a top priority. However, the companies' spending has shown a disinterest in legislation for cutting carbon emissions, committee Democrats said.
The four companies and the American Petroleum Institute have all spent a combined $452.6 million on lobbying the federal government over the last decade, according to a report released Thursday morning by the oversight panel.
However, the companies only spent a combined 0.17 percent of that on legislation for reducing carbon emissions, the report added. Approximately 56 percent of that spending focused on legislation to cut the companies' taxes.
All four companies are also members of the American Petroleum Institute, a group that has opposed policies for reducing emissions. At the Thursday hearing, the four companies declined to say whether they would leave the group. The companies' CEOs also wouldn't say whether they considered climate change disinformation as a form of "fraudulent commercial speech" not protected by the First Amendment.
Even though ExxonMobil's own scientists predicted four decades ago that fossil fuels would raise the global temperature and create "catastrophic" environmental effects, the company funded campaigns to dismiss the science as "inconclusive" ever since, The Guardian reported.
Between 2003 and 2007, ExxonMobil gave $7.2 million to institutions that denied or downplayed the risks of climate change, the BBC reported. ExxonMobil promised to stop funding such groups in 2008.
ExxonMobil, BP and Royal Dutch Shell are among the eight companies whose fuels contribute to a third of the world's carbon emissions from oil and gas, the nonprofit group CDP reported in March 2017, according to the St. Louis Post Dispatch.
On Thursday, Republican Kentucky Representative James Comer, the committee's ranking Republican, blasted Democrats for holding the hearings and "demonizing" oil companies. He called the hearings a "distraction" from rising gasoline prices and the Afghanistan withdrawal, both of which have occurred under Democratic President Joe Biden.
Comer also criticized Biden for revoking the federal permit for the Keystone XL oil pipeline early into his presidency. Doing so, Comer said, made it easier for Russia, China and other countries to surpass the U.S. in their energy infrastructure investments.
Newsweek contacted Maloney's office for comment.