Senate Backs Keystone XL Pipeline As Two Democrats Split with Joe Biden
The Senate backed the Keystone XL pipeline in a Thursday night marathon vote, as two Democratic lawmakers broke with President Joe Biden to vote for a GOP amendment supporting the energy project.
As senators were forced to vote on hundreds of amendments to the budget resolution that would launch the reconciliation process, Sen. Steve Daines (R-MT) put forward an amendment backing the Keystone XL pipeline.
The Republican's amendment called for a fund to be established to improve U.S.-Canada relations over the Keystone XL pipeline, weeks after President Biden revoked the project's federal permit and put thousands of jobs at risk.
Senators backed the symbolic amendment in a 52-48 vote, with Sens. Joe Manchin (D-WV), the chairman of the energy committee, and Jon Tester (D-MT) voting with GOP lawmakers to back construction of the pipeline.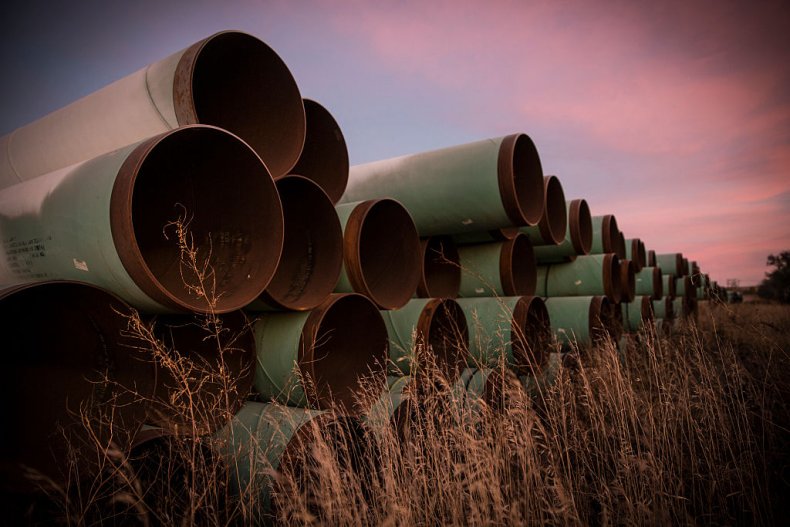 "I'm glad to see my amendment in support of the Keystone XL pipeline pass," Sen. Daines tweeted last night. "To the Senate Democrats who voted yes: your support can't stop here."
Senator John Kennedy (R-LA) also offered support for the pipeline, and criticized Democrats who voted against the project. "The Keystone XL pipeline supports American jobs, America's energy independence, and America's national security," he said. "Why Pres. Biden shut it down and 48 Senate Democrats just voted to keep it closed is beyond me."
The Keystone XL pipeline was supposed to carry oil around 1,200 miles from Alberta, Canada to Nebraska, passing through Montana and South Dakota. The oil would then connect up with existing pipelines to be sent to refineries.
However, construction of the pipeline was blocked by Biden shortly after he took office last month. TC Energy, the company behind the Keystone pipeline, warned that the president's decision had put thousands of union jobs at risk.
The firm almost immediately announced that over 1,000 construction jobs would be axed after its federal permit was revoked by Biden, who has sought to cement his green credentials since entering office, pitting himself against climate change by signing up to the Paris Climate Agreement, and pausing new oil and gas leases.
After being pressed on the president's move to block the Keystone XL pipeline, White House Press Secretary Jen Psaki told reporters that Biden was focused on high-paying jobs in the clean energy sector.
"His record shows the American people that he's committed to clean-energy jobs, to jobs that are not only good, high-paying jobs, union jobs, but ones that are also good for our environment," Psaki said. "He thinks it's possible to do both."
Newsweek has contacted the White House for comment on the Senate vote. TC Energy have also been approached for comment.