Ilhan Omar Slams Donald Trump's Border Wall as a 'Monument to Racism'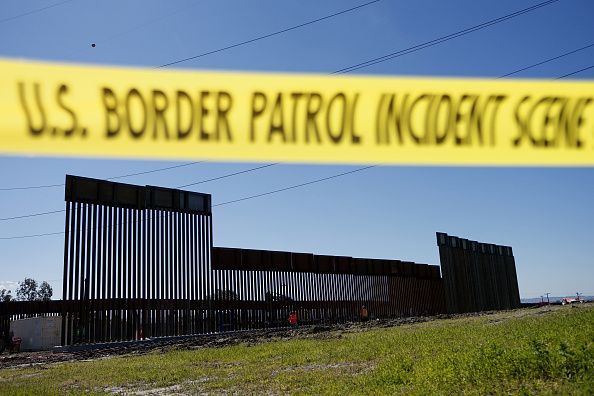 Democrat Ilhan Omar slammed Donald Trump for declaring a "fake emergency" in order to build his long-promised border wall between the U.S. and Mexico — a structure she referred to as the president's "monument to racism."
On Wednesday morning, Trump repeated his threat to close the southern border amid what officials are calling a "breaking point" in the country's immigration system. U.S. Customs and Border Protection reported last week that more than 4,000 people were crossing the border without authorization each day, which is among the highest daily totals in 15 years.
"Congress must get together and immediately eliminate the loopholes at the Border! If no action, Border, or large sections of Border, will close. This is a National Emergency!" the president wrote on Twitter.
Representative Omar immediately responded, accusing Trump of "lying" about a national emergency in order to get the necessary funds to build the border wall. The president has been pledging to build the 2,000 mile-long barrier since he first hit the 2016 campaign trail.
"This is a fake emergency! Donald Trump is lying about the border in order to build his monument to racism," the freshman congresswoman tweeted on Wednesday.
Omar previously called the U.S. treatment of migrants "abhorrent and inhumane" after photographs surfaced of hundreds of men, women and children being held in the parking lot of a Border Patrol station in El Paso, Texas.
"It's without a doubt the reflection of what white nationalism is doing to our country," Omar wrote on Twitter. "As a country, we have to acknowledge that this is how people are being treated here and decide that we are better and we must do better."
With the increasing flow of asylum seekers trying to cross into the U.S., Trump is considering adding an "immigration czar" to his administration. The role would help coordinate the president's immigration initiatives across several federal agencies. On the shortlist of possible appointees are Kris Kobach and Ken Cuccinelli.
In addition to threatening to close the border, Trump also warned that he would cut off foreign aid to Central American countries like Guatemala, Honduras and El Salvador for not stopping migrants from leaving. Experts have warned that both moves could backfire economically and could cause migrant crisis to become worse.
Top Democrat Nancy Pelosi called the proposal of cutting aid one of the president's "worst ideas" yet.
"Stiff competition, mind you, this is one of his worst ideas," Pelosi told Politico on Tuesday.
"I don't know who is advising him there and if advising is even a word. I don't know who's poisoning his mind on some of these subjects," she added.