I'm 11-years-old and I'm in the fifth grade at Upper Moreland School in Willow Grove, Pennsylvania and my favorite subject at school is math. But I also love to dance and make cakes. This year on Mother's Day in May, I had made a bundt cake and given slices of it away to different moms. Straight away they began asking me to bake them cakes.
I was already interested in baking because I enjoy watching different baking shows, like Nailed It! and Sugar Rush. But when I heard that people wanted my cakes I realized I could just go for it. So, I started my cake business: Lovely London Delights.
At first, I had to try a few different times to see how long it would take the cakes to bake perfectly. There were times when the cakes would fall apart; I think they didn't cook the right way because the batter was too thick and we didn't put enough oil in the pan to cook it in. So not every cake baked perfectly the first time we tried, but from that I learned that it's OK to make mistakes and that you just have to keep going until it's right.
Now, when I get in the kitchen to bake, I set my oven to 350 degrees and I wash my hands before putting my my gloves on. I actually have a chef's hat and apron that both say "Lovely London Delights"—one of my mom's friends made them for me.
Firstly, I stir the butter, sugar, eggs and flour and then I add my two secret ingredients, which are both natural. My bundt cakes have to cook for an hour and fifteen minutes before my dad takes them out of the oven for me and I drizzle them. I will do whatever drizzles people ask for, we have a selection we offer, like cream cheese, strawberry, lemon, vanilla and chocolate, but we will do special drizzles on request, too.
All types of people have ordered my cakes from all over the city, including my family members. People put in their requests over Instagram and they will often request the cream cheese drizzle—that's the best seller. I've also just started my own website that people can order from. We're trying to find a way to ship my cakes safely now because we've already had some requests from people in California and other states. My dad is doing the research now of having to do it safely but I would like to just deliver them to those places ourselves!
I sell my cakes for $30 each without drizzle and $35 with drizzle and so far I have sold nearly 300 cakes. I donate a portion of the sales from each cake to the Gift of Life charity, because my grandad, who I called Pop Pop, had lung disease. My Pop Pop and I were very close; we used to live right around the corner from where he lived and before he passed we would go over to his place all the time. I used to push him in his wheelchair when he got really sick and I would help him refill his oxygen tank.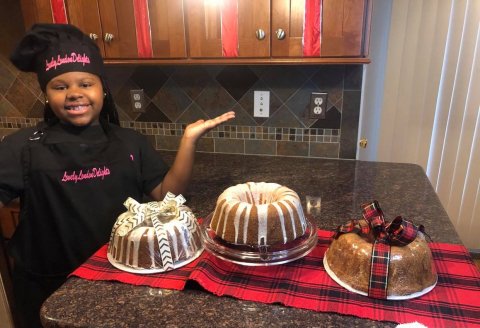 So, I like to be able to donate money so that other families can be helped. So far I have been able to donate about $400. I have only kept $100 for myself and the rest goes to supplies, saving and tithing. I would like to donate further and give homeless people money.
In the future, I want to have a bakery in the mall here in Willow Grove and I want all my family members to work there and help me. My bakery would have purple walls and the counter would be pink and yellow. I would have a cash register and a credit card machine and there would be a push through door to a big bakery at the back where my employees would be. I'd make sure there were a lot of ovens. As well as my bundt cakes, I'd like to make rainbow pound cupcakes using food coloring and raspberries and all different kinds of flavors. And, I plan to have merchandise on sale in my bakery so people can buy my shirts, aprons and hats.
One day, I'd like to visit London because my name is London and I love the outfits people wear there. I also love the movie The Parent Trap, and it's filmed partly in London so I want to go there and hear how people there talk. I'd like to have a British accent.
But if I could bake a cake for anyone in the world, I would bake one for Michelle Obama because she was the first Black first lady of the United States. I would put all off the drizzle toppings on a cake for her.
My friends and family have said that I am a great entrepreneur, that they love my cakes and they will always support me. My parents are so proud of me, they think what I've done is really great and they told me that I should keep up the good work.
My birthday is October 5, so before I turn 12 I would like to get a cake to Patti LaBelle and give some free cakes to Joe Biden.
I feel good that I have been able to do this during a pandemic. Before this I was bored—my baking business has given me something to do rather than just sitting down and watching a movie. I like to help other people and I want everyone to be happy—I want everyone to love my cakes.
London Warrick is the founder of Lovely London Delights and lives in Willow Grove, Pennsylvania with her family. You can follow her on Instagram @lovelylondondelights.

All views expressed in this article are the author's own.
As told to Jenny Haward.