'I'm 99, And the Oldest Park Ranger in America'
In the 1990s, I was in my 70s and working as a field staffer for California State Assemblywoman Dion Aroner, out of a one-person satellite office in Richmond. I had many meetings with lots of people on various subjects, and one of those was the Rosie the Riveter/World War II Home Front National Historical Park.
The park was in the planning stages at the time and originally I would sit in on meetings and take notes so that I could report back to Dion. But eventually, the park became something that I became involved in very deeply. In those meetings, I was the only person of color in the room, and I had lived through the experience of the World War II Home Front in the U.S. as an African American.
As time went on, my input in the room became pretty significant and I became more and more involved with the park. Eventually, in my 80s, I became a park ranger, which I really had never intended to do. And now, at 99, I am still working in my role as a ranger.
The Rosie the Riveter park was originally planned as an homage to the women who had worked on the home front, and it was situated in Richmond because of the enormous war effort that mobilized there, including four Kaiser Shipyards, during World War II. But the park eventually became much more than that, because it was clear that women of color were involved in many of the aspects of the home front. It was not that the park planners had an approach that was wrong, it was just that the story was incomplete without my part of it. Because the story as I was telling it had not existed before.
In World War II, I worked as part of the war effort in Richmond, but I never saw a ship in production, being built or being launched. Rosie the Riveter represents the white woman's experience on the home front during the war, but as a woman of color, I was never recognized for my work. In fact, I was very confused at the time and I had no idea that I had even been involved until long after, because I was working as a clerk for the Black auxiliary of the segregated Boilermaker's Union, which was not on the base, they were situated in the heart of the city. And because the building I worked in was torn down immediately after the war ended, there is not a record of it having been there.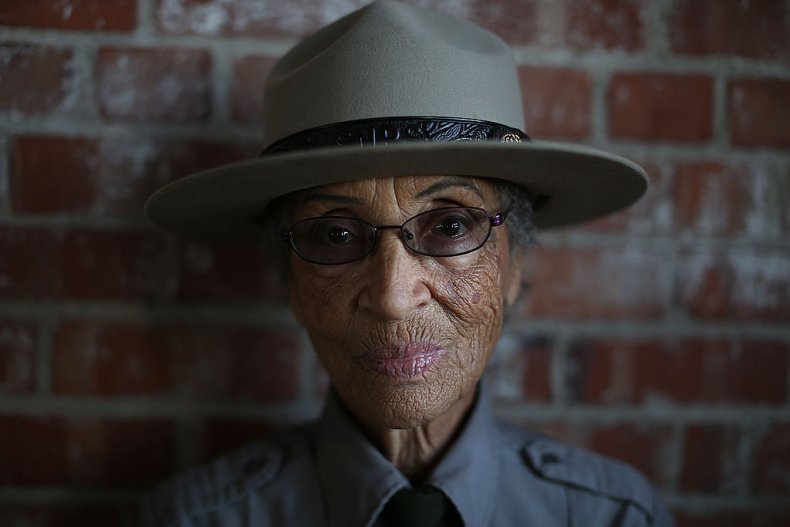 So I was able to tell a missing story of the African American experience of World War II in Richmond, and I actually began to really feel as if I was learning something along with everyone else. I had never understood that I had been involved in the building of the ships. Because at the time, I was 20-years-old. I didn't realize what my role was until I began to go back and recount it for others. It was rather amazing.
And as I began to introduce my part of the work, it was very clear that many of the stories of Richmond during the war were not being told. There were other stories, such as of the 120,000 Japanese prisoners that had been interned in America and the Port Chicago disaster which destroyed two ships, and killed 320 people, including 202 African Americans. And these stories have now been incorporated into the park.
When I became a park ranger aged 85, the park was staffed by three people. Now it employs more than 40 people, so it has grown incredibly over time, and my role became more and more involved as the park began to grow.
The park is located in scattered sites throughout the city, and it became impossible as the story grew to cover it without getting a bus. I began to ride around on the bus going to the various sites in the stories, including the sites of the four Kaiser shipyards, the staging area where the Japanese prisoners were collected and taken on to be interned, and Atchison Village which was built as homes for the Kaiser Shipyard workers.
People often had to book a couple of months ahead in order to get a spot on the bus for my tours. As I got older, my bus tours had to come to an end and I began to work in the park's theater, telling my story.
Generally, people have been surprised after the tours or my talks because they often didn't realize how much there was to the story. People have been astounded that there is so much history that they weren't aware of. But my popularity has been the surprise of my life, I have no idea how it came about!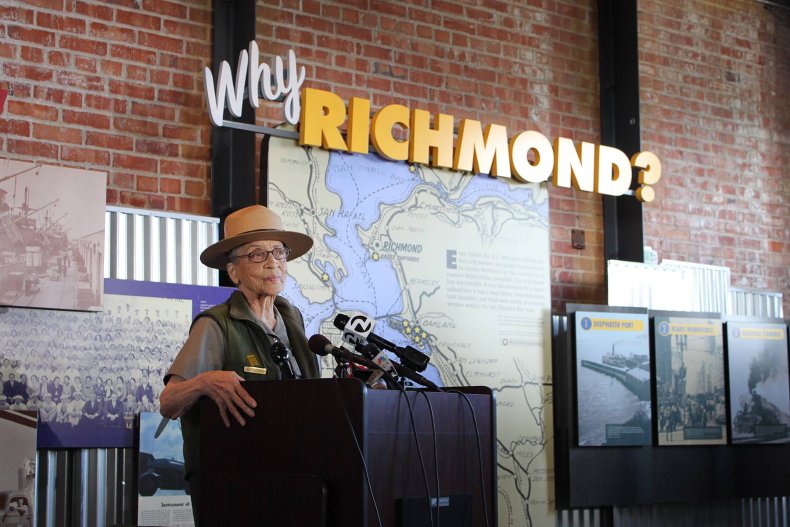 I have had a wonderful life, but I only realized it in retrospect. I don't think you can live as long as I have and not have a very varied life. Because time takes you through so many eras. I have co-founded a record store, Reid's Records, worked at various levels of government for many years, I have been married twice and I am a mother of four.
I also wrote music in the past as a way of dealing with the things that were coming at me in my life, and I wrote songs to help me through them. At the time I was living in the suburbs where I knew I was not wanted as a woman of color. So, I began to write music because it was a way of getting outside myself, and finding out what was inside myself. I never wrote songs about anything other than myself and my children. But they were important and I didn't realise that until I grew older.
Yet I only had one date with Jackie Robinson and my experience working with the Black Panthers lasted for a few months, so to me, looking back at my experiences, they often appear to be simply parts and points of my life.
I'm pretty sure that I am the oldest ranger in America, but I don't know if I could have guessed that would happen. I became a ranger when most people retire so I had no idea what it required of me, but it opened up a lot of opportunities that would have been closed to me otherwise.
In 2015, I met President Barack Obama and Michelle Obama in Washington, and I got to introduce President Obama to the nation on television at the National Christmas Tree Lighting. That was something that I don't think I would ever have guessed would happen to me when I was 20-years-old. But it did happen, and I was ready when it happened because I always look forward. I learned to do that when I was very young.
When I got my first computer, I began to blog in 2003. At first I was going to write my story for my children and their children; it was a way for me to unravel life as I had lived it. My book, Sign My Name to Freedom: A Memoir of a Pioneering Life came about because I was convinced by J. Douglas Allen Taylor that I had already written one and that he would edit it, pulling the book out of the blog. We did that, and suddenly there was a book. I am amazed at how well it has done, it has become something that other people are reading.
There's been so much in my life that has been unexpected. Even as recently as December 2018, I sang a song with the Oakland Symphony before a full house. It was the most wonderful thing I have ever done. So I don't know how one prepares for living such a life. Though I do know now, it has been an exceptional one.
I think that maybe if I could offer any advice, it would be to stay involved. To do anything less than that is to not measure up to one's potential. Because you never know when you throw the spaghetti against the wall, what's going to stick. When you're making history you have no idea that's what's happening. You don't realize until later.
It is a little uncomfortable for me to be called an icon, and I don't know what other people have learned from me, but I have learned a tremendous amount from other people.
I don't really know what life has in store for me now. I had a stroke about a year ago and it has affected what I am able to do. But I do feel I have done it all and that there is no rock that has not been turned over. So at this stage, I'm not quite sure what life will bring. All I can say is that I think I'll be ready.
Betty Reid Soskin is the oldest park ranger in America and works as a ranger at the Rosie The Riveter/World War II Home Front National Historical Park in Richmond, California. Betty is a mother, grandmother and great-grandmother and lives in Richmond, California.
All views expressed in this piece are the author's own.
As told to Jenny Haward.