I was assigned male at birth and grew up as a little boy. At the age of around 6, I told my mother that I thought I wanted to be a girl. It was not really rejected or embraced, but my mother was beautifully supportive. I continued to be very close with my female friends as a child and grew up as a boy.
I lived in the midwestern U.S. which tends to be more conservative in the suburbs and post-puberty, I identified primarily as a gay man. I was bullied extensively for being this really femme person who was understood to be male, and that not being acceptable.
Over the past ten years I have leaned into a queer, non-binary identity and realized that is representative of my view of the world. I don't believe in the gender binary, and because of that I can be boyish, hyper-femme and everything in between or beyond. That's why I don't have a preference for pronouns; I'm quite comfortable with however people refer to me. Whether folks call me she/her, he/him or they/them—I take each as a compliment.
While my Jewish practice, gender identity and sexuality didn't intertwine that early on,
my Jewish identity has always been integral to me. And, my husband is a Rabbi, so our Jewish life is a big part of our collective family identity.
Jason and I met online 14 years ago in Minnesota and he has told me that he messaged me because my profile included that I am Jewish. There are not that many queer Jews in the suburban midwest, so I think it did provide that initial spark of interest between us.
We went on our first date to a pasta bar and spent several hours talking. We both shared early on that we wanted to be parents and Jason told me that he would like to become a Rabbi. During his own experiences of growing up as a gay man in the midwest, he had found respite and support in the synagogue. So, about 18 months into dating, we packed up and moved to Jerusalem for a year as part of Jason's seminary program.
Jason is now a Rabbi of a Reform synagogue here in San Fransisco, where there is also another other queer clergy member. Of the three largest movements of Judaism in the U.S., Reform Judaism is the most ideologically progressive and has been ordaining gay rabbis for decades now.
When we had our big Jewish wedding in 2012, instead of asking for gifts, we asked for donations to a child fund. Surrogacy can be very expensive and can have a long timeline. We then had our child, Isadora, through surrogacy, with an egg donor and a surrogate who was our gestational carrier. She was born in November 2020 and we're using she/her pronouns for today. She's delightful. We're so lucky; our dreams really came true.
Jason and I have an extreme dedication to sharing parenting responsibilities. For example, Dora wakes up early so Jason does one morning and I do the next. But the notion of gender is not playing a front and center role in how we parent our daughter. Jason is "Abba" which is Hebrew for father, and I'm "Daddy" for now. But I get to both mother and father, I don't think I have to make a decision about how I show up. My mother came to visit several months ago, and although I haven't had an extensive conversation with her about being non-binary, she kept speaking to Dora and referring to me as Dora's mother.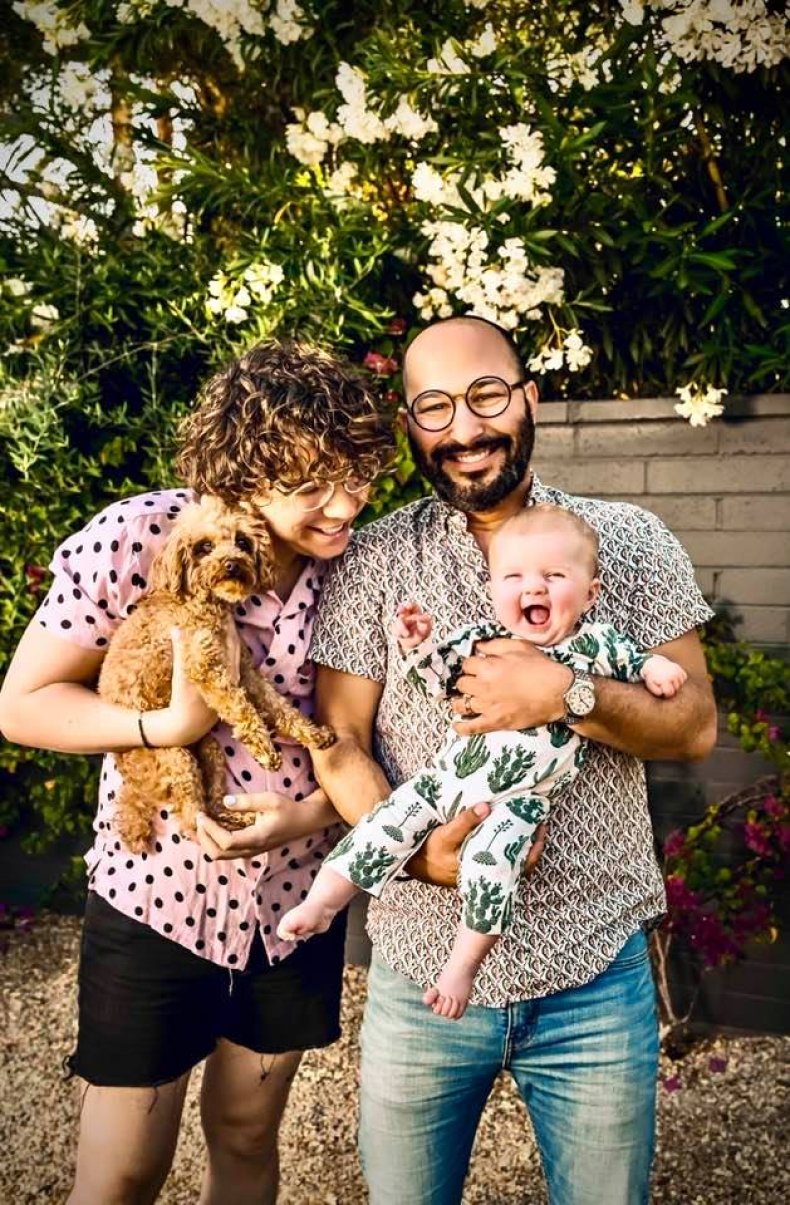 Every Friday we have Shabbat dinner at home, light candles and do the blessing for children—Judaism and the Jewish tradition is a huge part of how we parent. The introduction to that blessing is, "May you be like..." and traditionally, if the child is a girl you say, "May you be like..." and list the female Jewish matriarchs. If it's a boy, you list the male patriarchs. Jason and I had a lengthy conversation and we decided that we were going to list both the male and female ancestors. Then we added to that tradition, by inviting anyone who is with us for Shabbat dinner to suggest someone that Dora may be like. Associate Justice of the Supreme Court, Sonia Maria Sotomayor keeps getting mentioned, as well as the Yiddish for grandmother, Bubbe!
I am so grateful for our community and our synagogue in particular. I'm also a drag queen, and our synagogue community has invited me to perform as my drag alter ego every year during Purim.
I've been performing as a drag queen, Belle Bottoms, since 2006. Originally I worked in theater, but I took a long hiatus and then picked it up in San Francisco five or six years ago. I do a pretty wholesome version of drag, lots of live singing and comedy in jazz lounge environments.
But the very first time I did drag after Dora's birth, I was a little worried about how she would react to seeing me looking totally different. Jason brought her into the bathroom and she looked at me and just started laughing. So I don't know that there's a need for a formal conversation about it, because we're just going to live in a very intentionally loving and subversive place as a family. A few years before Dora was born I even wrote a children's book called 'My Daddy is a Queen.' I know that I'm not the only person out there who would resonate with the idea of a child having pride in their gender expansive parent.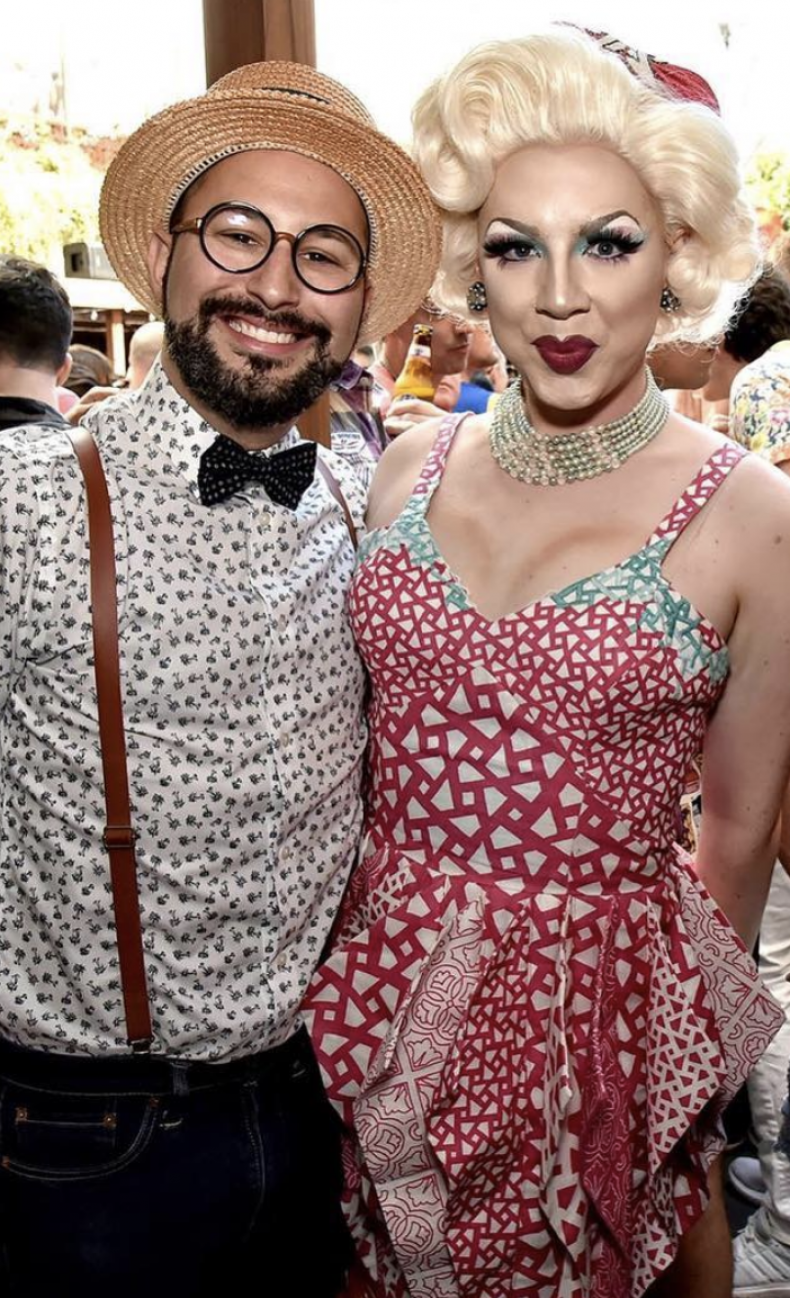 Drag has, in many ways, also inspired my 9-to-5 work. I have brought Belle Bottoms to keynote addresses in my role doing equity, justice and inclusion in the corporate space. I see drag as an important political and organizational tool to try and make the world a better place for anybody who lives in the margins or experiences oppression.
Being non-binary is part of who I am and how I see the world, but I think that being non-binary or gender non-conforming doesn't necessarily mean that one must be androgynous or show up in ways that aren't feminine or masculine. For me, it's about disrupting the construct of gender.
But I didn't really "come out" as non-binary. I started putting "pronouns: no preference" in my email signature in 2016 and I just live in this very dynamic identity and have for the past decade. I still identify as gay in addition to queer and non-binary, I still talk about myself as a man sometimes and I also use she/her pronouns. It's just a beautiful jumble for me.
Becoming really outspoken, living and breathing my identity as a non-binary person and doing inclusion work as my day job is about challenging a history of inequity. It's about sharing love and seeing the humanity in the "other."
I do acknowledge that coming out as non-binary in the professional world can be challenging. Myself and other non-binary people I know have encountered unconscious (or explicit) bias and struggled with the expectations placed on people from a gender standpoint. I am constantly aware of certain differences that are afforded to people whose gender presentation is normative.
I also recognize that my privilege—especially as a white person—has afforded me the ability to be outspoken about gender. For some people, it may be uncomfortable or even very unsafe.
My hope is that folks who are perhaps ambivalent about gender and identity can become curious about someone in their life who is queer or non-binary. Taking a moment to foster a sense of curiosity about what it's like to walk in someone else's shoes, and having a conversation, can go a long way. I am going to make less of an impact on someone who is vehemently opposed to my life than someone who is a little more proximal to them, and can share a little bit of understanding about queer and non-binary people.
I think we all carry something in us that is not seen, recognized, loved or supported by our environment. We all carry wounds. Those folks who don't understand my family will have their own thing. My hope is that people can learn to pause before judgement and reflect on those challenging moments in their own life. Perhaps they can consider what they wish had been there for them during those moments, and sit with that before seeking to judge or ridicule.
Fran Benjamin is the Managing Partner of Good Works Consulting, an organizational strategies consulting firm specializing in equity, diversity, and inclusion. Fran is the author of forthcoming children's book, My Daddy's a Queen. By day Fran is a leadership and culture strategist, and a musician, artist, and queen by night.
All views expressed in this article are the author's own.
As told to Jenny Haward.