'I'm Really Mortified': Why Americans Are Joining Anti-Donald Trump Protests During State Visit
Tens of thousands of people are expected to hit the streets of London on Tuesday to once again show the world how they feel about President Donald Trump, as the commander-in-chief continues his three-day state visit to the U.K.
A coalition of anti-Trump groups have promised "maximum disruption" on Tuesday while the president is still in London. Marchers have signed up to converge on Trafalgar Square in the center of the city close to Buckingham Palace, from which point the route of the march will depend on the president's activities, according to organizers.
British police have, however, already put measures in place to keep the demonstrators away from the prime ministerial residence at 10 Downing Street, where the president will meet outgoing Prime Minister Theresa May.
Trump is not popular in the U.K. A Pew Research Center poll published in October found that just 28 percent of Britons surveyed had confidence in the president. This is far lower than former president Barack Obama, who had a 78 percent approval rating with Britons when he left office in 2016.
The graphic below, provided by Statista, illustrates the approval ratings of U.S. politicians in the U.K.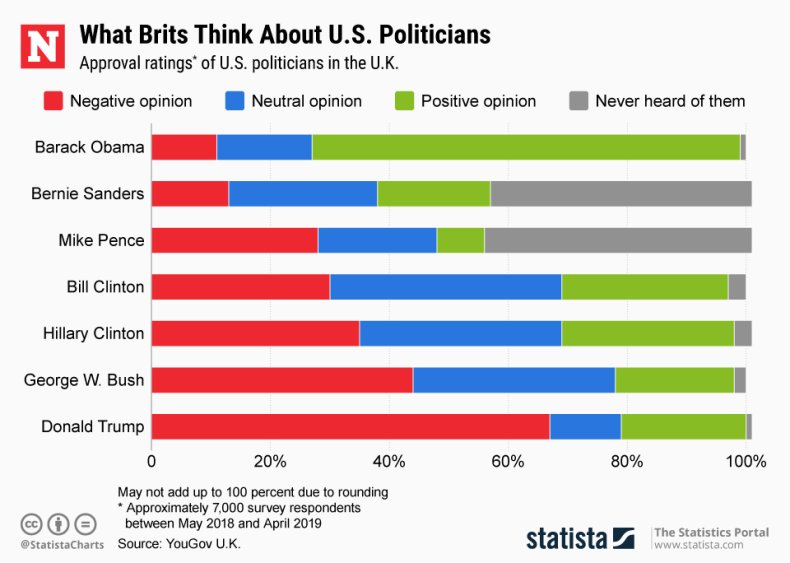 Trump did himself few favors over the weekend, breaching established diplomatic protocol several times and subsequently being accused of undue meddling in British politics.
In few places is the opposition so frank than in left-leaning London, by far the largest city in the country and its political, economic and cultural nucleus.
Among the marchers will be U.S. citizens. Though not all Americans abroad in the U.K. will oppose Trump or the Republican Party, many progressives and Democrats will be joining the march and telling Trump to go back to Washington.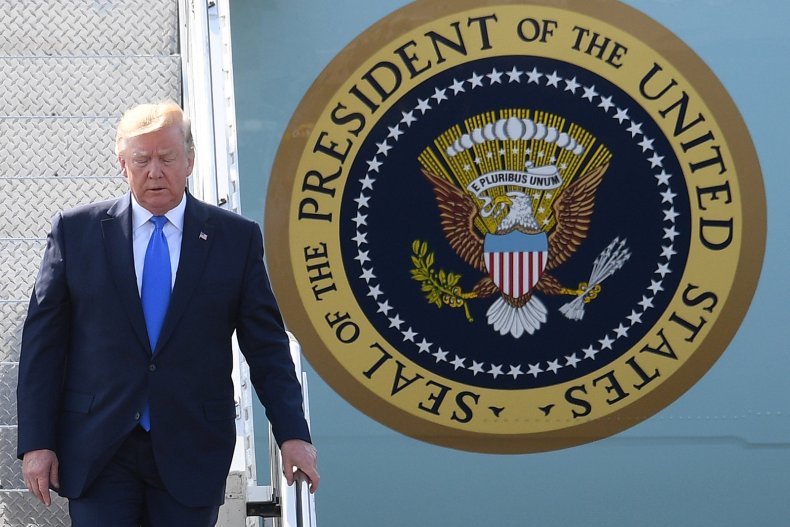 Inge Kjemtrup, the chair of Democrats Abroad U.K., believes that most Americans living overseas "are pretty well sick of Trump" after two tumultuous years in office. "They've been seeing the effect that his governing has had on their friends and families in the U.S.," she added, suggesting "there is little to celebrate" for him or his supporters.
Indeed, the poor GOP showing in the midterm elections and ongoing investigations into the president, his administration and his private financial dealings mean we are now in a different stage of his presidency, Kjemtrup suggested.
"The ground beneath his feet is shaky," she said. "I'm sure my [Republican] counterparts think this is a celebration, but for me the best thing to do when you've got domestic troubles is to go do something in another country—to go do something nice and shiny. And if there's one thing we know about our man, he's always after something shiny, and this is a perfect example."
Trump's divisive style of governance has galvanized progressive opponents both at home and abroad. "We say he's our greatest recruiting agent," Kjemtrup joked. "We've seen some extraordinary activism, people really wanting to do what they can."
One example is Harriett Jones*—an American from Portland, Oregon, now living in London—who will be taking part in the Stop Trump march on Tuesday afternoon. She told Newsweek the action was important to show Americans that Britons stand in solidarity against the negative elements of Trump and his "Make America Great Again" movement.
"Personally why I am going to be a part of the march is because it's not just about Trump," Jones explained. "Trump is the figurehead of Trumpism and the rise of the right-wing, the rise of things like homophobia, transphobia, sexism, racism, disastrous ecological policies and hostility towards migrants."
Jones is a charity worker who came to the U.K. to study for her master's degree in 2016. She ended up marrying a Londoner and settling down in the capital. Jones explained it was vital to stand against spreading right-wing populism whether in her home country or in her adopted one.
"Those things aren't just Trump and those things aren't just American," she said. "Those are every much U.K. sensibilities, I would say." Jones branded the spread of intolerant politics as "stunning...hideous and ugly." Though she is fighting back, Jones said she "would definitely characterize myself as discouraged."
Brexit has unleashed potent forces of right-wing populism, nationalism and, in some cases racist extremism in the U.K. The traditional major political parties are struggling to maintain their big-tent support structures as single-issue, more radical parties draw frustrated voters away from the center ground.
Last month, the Conservative and Labour parties were dealt humbling defeats in the European Parliament elections, which saw Nigel Farage's right-wing Brexit Party—which has no manifesto aside from a vow to deliver Brexit at any cost—win the largest number of seats.
With no obvious Brexit solution in sight, Prime Minister Theresa May in her final days in office and the ruling Conservative Party embroiled in a leadership contest, British politics is set to become even more polarized.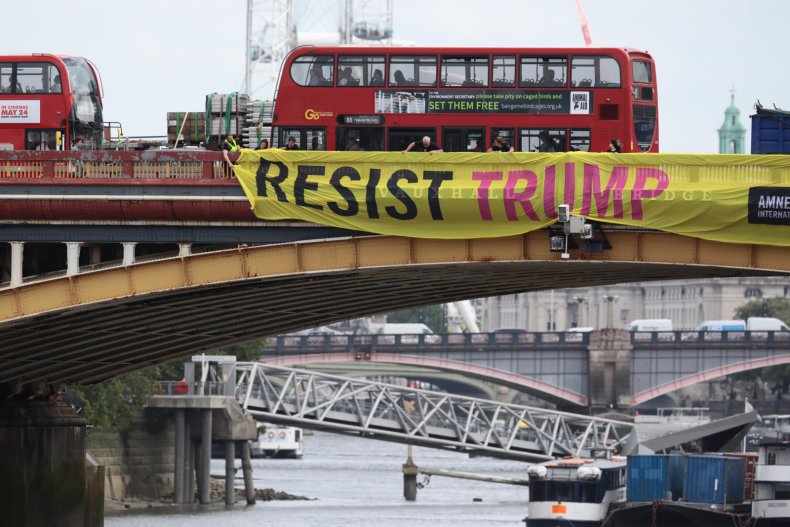 Jones feels it is "horrific and disgusting" that some people thought extremist and intolerant politics is "only an American problem, or even more specifically just a Trump problem, because those attitudes are taking hold here more and more."
While the march will focus on opposition to Trump's visit, Jones noted it will give participants an opportunity to "stop and confront" what she called "atrocities" taking place in the U.K., which Britons actually have the power to stop.
Trump supporters have urged Britons to respect the office of the president rather than focus on the flaws of the current office holder—something Kjemtrup suggested was conspicuously absent in GOP circles during Barack Obama's presidency.
But Jones maintained it was important for opponents to register their rejection of Trumpism. "I think in terms of political decorum, the U.K. is so closely watched—whatever is done in the U.K. sets the tone in the western world and globally," she suggested. "It's important to consider political discord and disagreement a healthy part of our relationship with political allies, and I think it would be really meaningful from the U.K. to have a sense of disruption."
"When the U.K. has shown a little bit of distance from U.S. policies it has been impactful," Jones continued. But when the U.K. has gone along with "disastrous" policies—for example the Iraq War—the country's "complicity" has legitimized U.S. mistakes.
For many Americans, Trump's style is simply too distasteful to ignore. "I'm really mortified, frankly, that he is representing the U.S. in the country where I now live," Kjemtrup explained. Whether on the value of migration, personal freedom or the need to address catastrophic climate change, Kjemtrup said Trump "doesn't represent our values."
"He's not someone I am proud to have represent me," she added. "I will be mortified."
Jones suggested "acknowledgment and accountability" are needed in the face of radicalized politics, especially in the U.K. "You've got to acknowledge here that racism is real, and it's on the rise. And then there needs to be accountability, there needs to be action taken against politicians who make racialized comments."
Though the problem is bigger than Trump, such accountability must also extend to his state visit, Jones added. "When we have a state visit like this, we're not holding people to account...we're letting things slide."
*Name has been changed.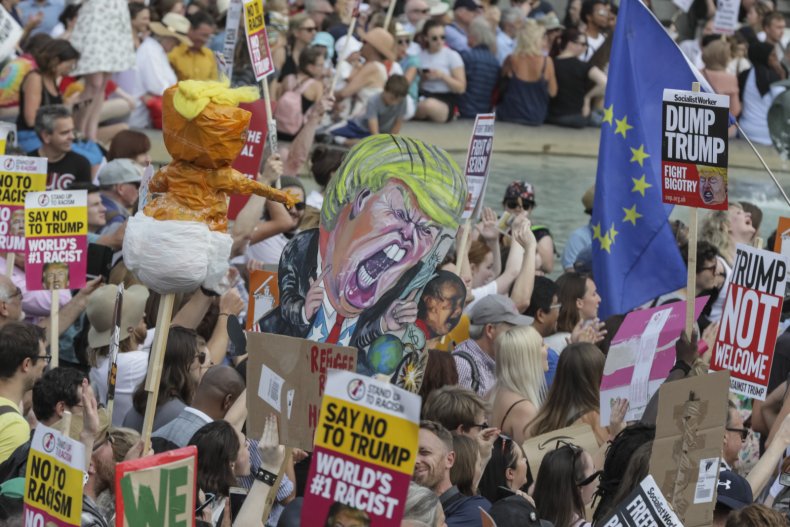 This article was updated to include an infographic.