Donald Trump U.K. Visit: Meet the Republicans Who Will Be Celebrating While Britons Launch Street Protests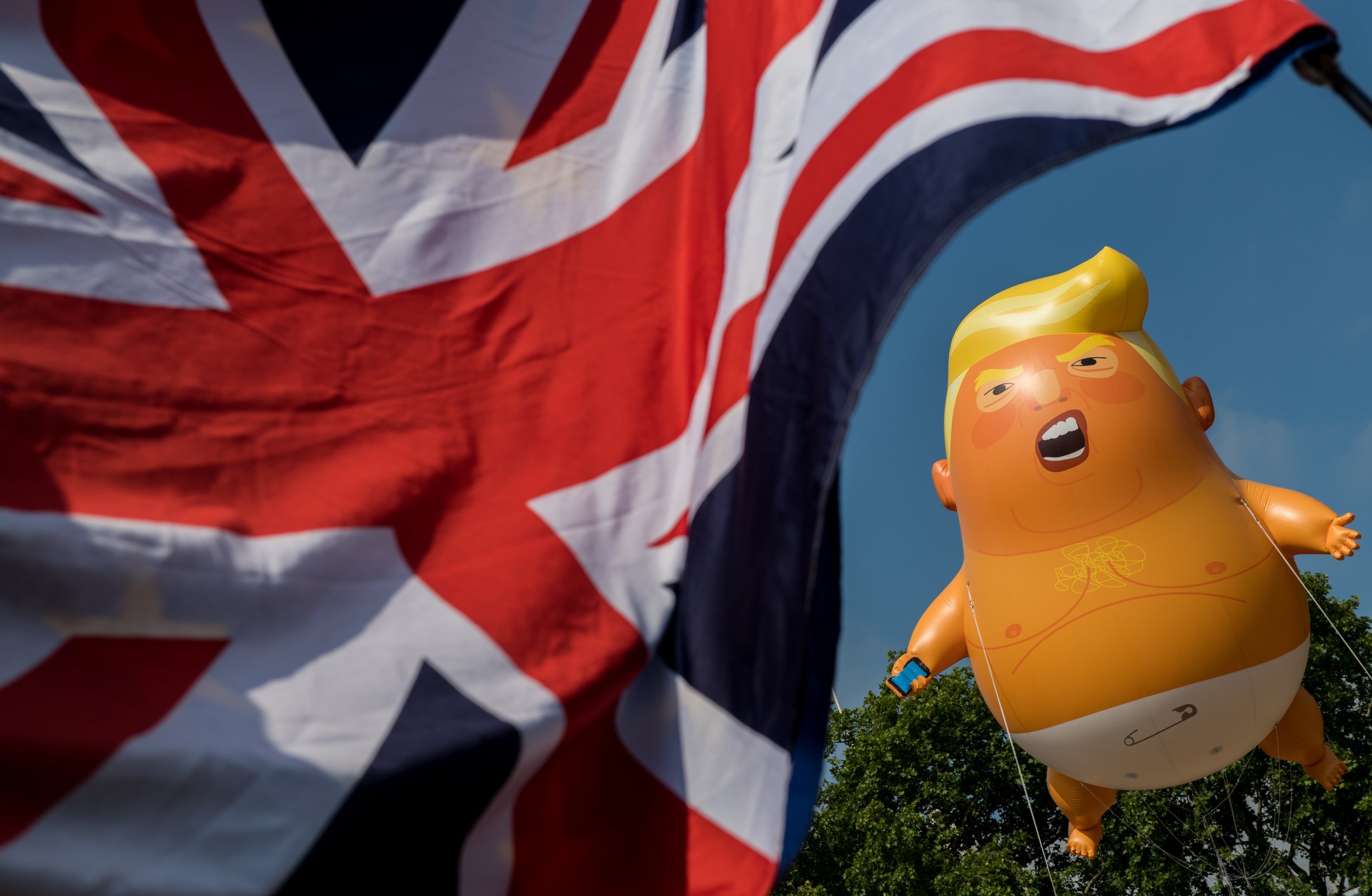 As President Donald Trump prepares to travel to the U.K. on June 3 for the second time as commander-in-chief, thousands of Britons are arranging a rude welcome.
The divisive president is not popular across the Atlantic, and certainly not in left-leaning London, where he will spend the bulk of his three-day visit. Trump may finally be getting the pomp and prestige of the British state visit, but—as during his working visit last summer—there will be many Britons keen to spoil the big occasion.
However, not everyone will be waving "Dump Trump" placards, nor gathering under the famous inflatable "Trump Baby." There are more than 200,000 Americans living in the U.K., a proportion of which are avowed Republicans. Like their stateside GOP comrades, some may have struggled to get behind the president's pugnacious style, but will be celebrating next week's reaffirmation of the "special relationship" nonetheless.
The U.K. arm of the Republicans Overseas organization is the country's most prominent GOP-aligned group, with around 1,000 members. While "never-Trumpers" gather in the center of the city, Republicans Overseas members will be meeting at a private club close to Buckingham Palace—the exact location is being kept under wraps until closer to the event—to celebrate the president's visit, which will preempt the 75th anniversary of the D-Day landings during the Second World War on June 6.
Sarah Elliott, the chair of Republicans Overseas U.K., told Newsweek that the event would primarily focus on celebrating D-Day and the Anglo-American alliance, which she believes is "as important as ever."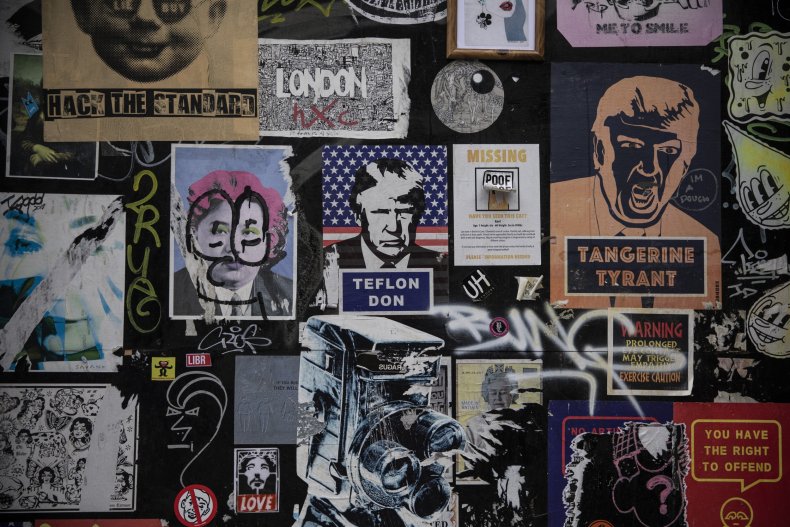 The office is bigger than the man
Of course, there will be no ignoring Trump's visit, but for Elliott the significance of the D-Day anniversary and state visit should outshine partisan opposition to the president's presence.
"Our perspective is—whether you like him or not—he is the U.S.'s top diplomat, and these kinds of events are incredibly important for the special relationship and for the strength of our western democracies," she explained. "We're exceptionally close allies, and I think that needs to be put into perspective, especially around the anniversary of D-Day in this country."
Elliott, a Londoner who calls Virginia home but has lived in the U.K. for the past six years, said she and her fellow Republicans "are proud of the president coming and representing the United States," regardless of his "unconventional style."
Elliott understands why Trump's approval ratings in the U.K. are so low—around 28 percent according to a Pew Research Center poll from last October. "His whole character and demeanor are the very opposite of the English," she said. "His style, his rhetoric, his speech, the way he goes about things are absolutely the opposite of the way the British like to see their statesmen. And I get that."
But Elliott suggested next week's protesters would do well to remember that the office is bigger than the man. "He'll be gone in six years—two years or six years—but the United States will still be here…They need to think about how they treat presidents regardless of whether they like them or not, because that does impact the relationship between our countries."
"This isn't just about him," Elliott stressed. "He is the president of the United States—the U.K.'s best ally—and he should be afforded that respect."
Christopher Schuyler is a 59-year-old lawyer originally from New York City. Married to a British woman, he now lives near the town of Huddersfield in northern England—his second stint residing in the U.K.
Schuyler said "it seems to be that maybe half of the people up here" are in favor of Trump. Despite last year's vociferous opposition to the president's visit, Schuyler still believes "the British people get the gold medal for courtesy, tact, diplomacy—I've never ever seen a more polite group of people in my life."
Nonetheless, he feels some frustration that anti-Trump Britons are so vocally opposed to domestic political goings-on in America. "I am American, and no matter where I go, if I want to insinuate myself into local politics, I'm told or I'm made to feel that I shouldn't do that," he said.
"So therefore, I often feel with people elsewhere it's none of their business. It's our business, it's for the American people to say yay or nay," Schuyler continued. "I just sort of feel like the standards that the world sets for us are not equally applied for the people who are trying to set the standards."
Schuyler believes you would never see a comparable protest to mark a foreign leader's visit to the U.S. And if you did, the next day's newspapers would be full of articles condemning how rude or arrogant the demonstrators were to interfere with foreign politics. "I understand the reason for the protest, I'm just saying that you need to let us give as good as we get," he added.
Schuyler won't be in London next week, but is prepared for the negativity Trump's visit will bring. However, he will be considering the protests in a wider context. "It's always the people who have an ax to grind who shout the loudest," he explained. "I'd like to think that half the British people…do support him, or are ambivalent."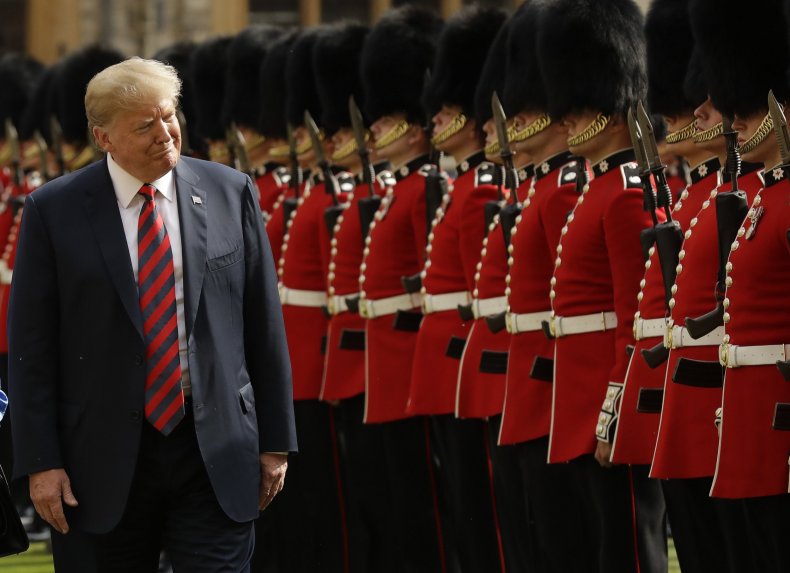 'You're not going to get perfection'
Elliott was not an early adopter of Trump's insurgent campaign. In fact, she supported Florida Senator Marco Rubio for the party's nomination and didn't even vote for Trump in the 2016 presidential election.
"I thought he was a wolf in sheep's clothing," Elliott recalled. "I thought he was exactly like Hillary Clinton—a New York liberal. I didn't like his style or manner." But since he set up shop in the Oval Office, Elliott has been surprised by his accomplishments.
Tax reform, deregulation, the appointment of constitutional judges, criminal justice reform and his focus on immigration have all been "quite good for conservatives and the center-right in America," Elliott suggested. A fan of foreign policy decisions on Iran, Syria and the Paris climate accord, she said Trump is "hitting on some of the top areas that honestly we wouldn't have gotten under [Mitt] Romney, and we definitely didn't get it under [George W.] Bush."
Elliott is not blind to the president's faults, his rampant Twitter use and tendency to personally attack opponents and critics chief among them. His tepid response to the deadly Unite the Right in Charlottesville, Virginia, in 2017 is another point of contention for her. "I don't know what he was doing there, I didn't like that," Elliott noted.
Schuyler also noted that despite his Republican affiliation, "The president makes a lot of mistakes, primarily speaking publicly. He's not a good public speaker at all, and he also tends to come across as sounding a bit mean spirited. I just wish he was handled more by his handlers."
For Schuyler, the "nuclear bomb" of American politics is immigration. This is what led him to back Trump, even though he believes Hillary Clinton "would have made a really terrific president" and he initially supported Jeb Bush.
Elliott—who has worked for numerous Republican advocacy groups in Washington, D.C. and has been involved in multiple political campaigns—said the president "has instituted so much of my agenda that I have worked for" despite the challenges of the office. Comparing Trump to the New England Patriots, Elliott explained, "You might absolutely hate [Bill] Belichick and Tom Brady, but what they do is kind of amazing."
"It's politics—you're not going to get perfection," she added. "A lot of people want to find him guilty of many things, but it hasn't been proven."
They may be in the minority, but there are Britons who are supportive of Trump and his visit. The president's right-wing populist message has been received with sympathy by many in Europe, and his election was one element of a broader wave of anti-establishment politics across the western world. Indeed, this month's European Parliament election results showed that the growing anti-establishment right-wing populist parties are here to stay.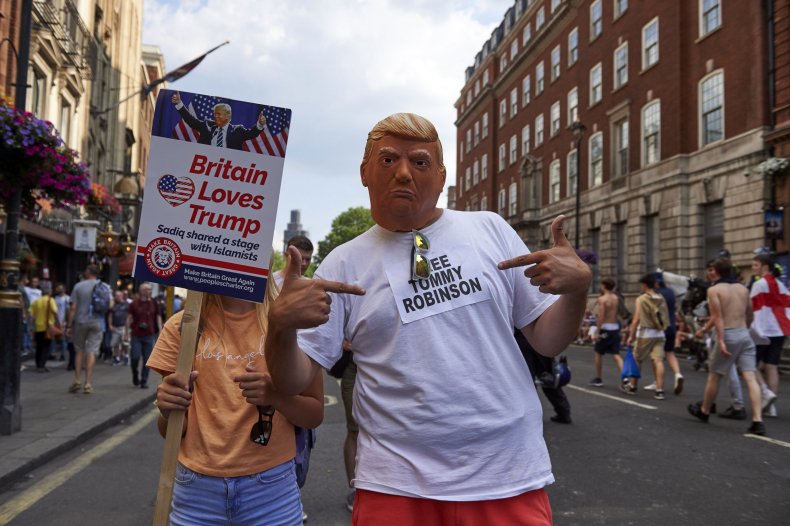 Jack Smith, 29, works in property consultancy and is a spokesperson for Republicans Overseas U.K. Smith was born in Scotland, grew up around Africa and now lives in the capital, though said he "would not call myself a Londoner by any stretch of the imagination."
It was not until Trump won the 2016 election that Smith began to take an interest in the New York billionaire. Before that, he believed both candidates "were awful."
"When he was elected, I found myself feeling strangely pleased, and pleased in a way that I'm not normally when somebody who I don't actually support wins," Smith explained. "I think that's mostly because I suppose I found it rather amusing to see all the people whining about it."
Having done some research, he established that though he may not agree with everything the president-elect was saying, "he is not exactly Hitler." From there, Smith learned more and decided, "I don't really have a problem with him."
Rather, he has a problem with "people who try to subvert what the American people are doing." This is, Smith believes, characteristic of an ingrained sense of "tremendous" British snobbery towards their American cousins. "I think it's particularly ghastly and frankly one of our worst habits as a country," he said.
Smith believes that Trump's public spats with Mayor of London Sadiq Khan are emblematic of this British moral superiority complex. Khan—who Smith described as a "whiny little dwarf"—has said Trump "is not welcome" in the capital, much to the chagrin of Trump backers.
Khan "is in a position where he has a degree of responsibility, and should actually behave with a little bit of dignity," Smith suggested. He added that Trump "should behave with a bit more dignity" too, lamenting the "playground politics" that have come to characterize their exchanges.
For all his failings, Trump and his "Make America Great Again" movement has struck a chord with people who Elliott said "feel like the politicians are listening to them." Trump is "echoing the voice of those forgotten," she noted.
"If you leave London—and even in certain parts of London—you're going to hear that," she added. "Brexit too, to a certain extent—although it is different—hits on the same themes. The international elite have forgotten the average working guy and gal in suburbia."
'People don't want to be told they're stupid'
For Smith, Trump's charisma is his greatest strength. The president behaves "like a normal person, because—shocker—he is basically a normal person," he explained. "Yes he's richer, but his instincts are those of the man on the street. And I like that, and that's ultimately what I'd like to see a bit more of here."
"When you look back at history, you don't look at the managerial dullards," he continued. "You look at the people who actually have a bit of personality and did things by the force of that personality."
The style is echoed by British politicians like Nigel Farage—whose Brexit Party won this month's European Parliament elections in the U.K.—and Boris Johnson, poised to become the next Conservative Party leader and British prime minister. Both are friendly with the president, and for both their personality is arguably their greatest weapon.
"Wanting to have a beer with your political leaders is something I think is really important," Smith said. "I think that Donald Trump's influence is going to be felt for some years to come on the continent."
Ultimately, Smith suggested the appeal of Trump and politicians like him lays in the fact that people everywhere "want to feel good. People don't want to be told they're stupid. People don't want to be told their country is a dump. If people are told that they live in a great place that can be better through these things, I don't see why you wouldn't want to give it a go."
While central London is swamped by demonstrators, life will go on as normal for tens of millions around the country. Though he noted Americans are "our greatest allies," even a politically involved person like Smith believes the visit "is not something that is terribly important."
"For we normal people, it's an interesting thing but nothing more than that," he concluded. "Frankly, I can't really be bothered to deal with great unwashed who are going to have their vegan pies and complain about the president of the United States."