'Dump Trump': London Protesters Tell U.S. President to Go Home
Central London came to a standstill Friday as tens of thousands of people took to the streets to protest U.S. President Donald Trump's visit to Britain.
Two successive marches snaked through London's West End Friday afternoon, culminating in an enormous rally in Trafalgar Square, telling Trump he was not welcome in London and the United Kingdom.
The demonstrations were extremely inclusive, with people of all ages, nations and backgrounds represented. The plethora of placards and banners on show was a tribute to just how many groups Trump has offended. The crowd displayed their grievances about the president's approach to women's rights, immigration, Middle Eastern diplomacy, Brexit and the environment.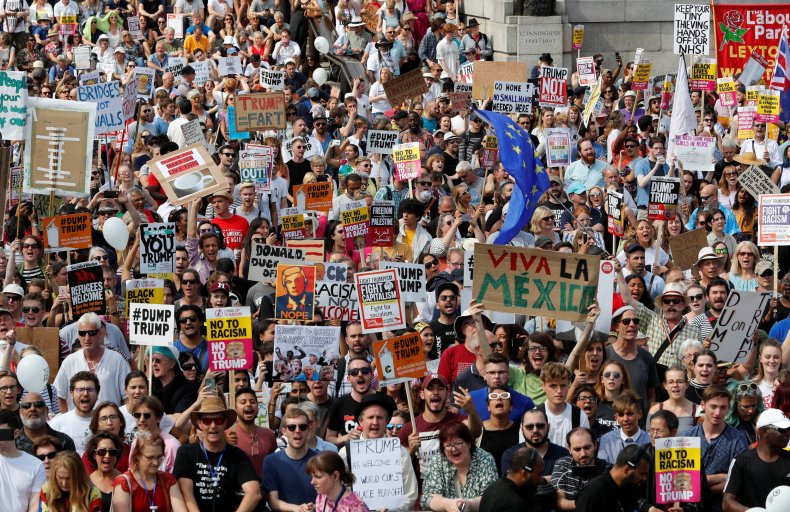 Claire van Cleave, an American living in the U.K. for 32 years, came to the protests brandishing a sign reading "Embarrassed American Abroad." She told Newsweek that she had always been proud of the office of president, whether she agreed with the politics of its holder or not. "But this one I just can't be proud of. Living here as an American, people often say to me, 'How can your country go on like this?' That's why I'm embarrassed," she explained.
Still, she remains "a proud American. I still feel that things will get better. It's just not a very good moment right now."
Van Cleave was astounded at how peaceful and inclusive the movement was. "I don't usually protest…I'm just a person who cares. And I think this is full of people who care." She is looking ahead. "My daughter is 15; she can vote in 2020. I know how she's going to vote, and she gives me hope for the future."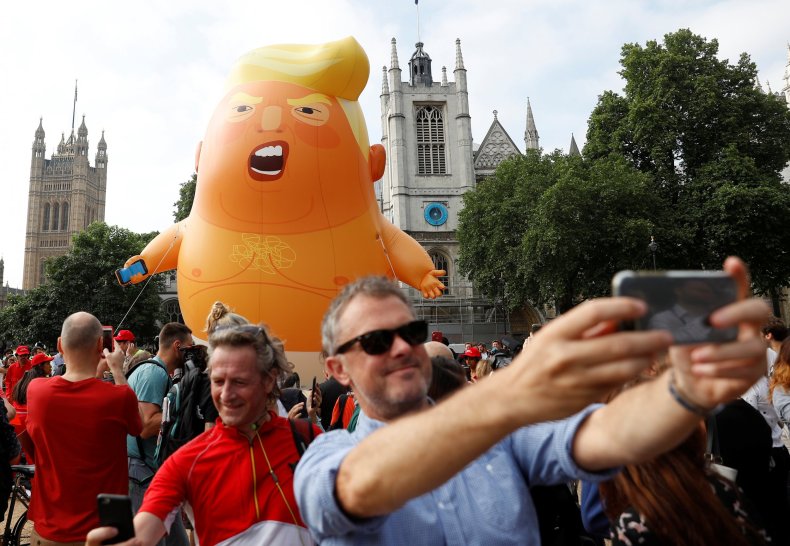 Bob Gaffey and Yvonne Jones traveled all the way from north Wales to voice their anger and concern. Gaffey said he was there because "Trump is a liar, a racist, misogynist, Islamophobe. He finds lying easier than breathing, and it's important that we say to him that kind of person shouldn't be here telling Britain what kind of politics we should have."
Trump made waves overnight with the release of an interview with The Sun tabloid newspaper, in which he undermined Prime Minister Theresa May, criticized Britain's immigration policy, lambasted London's mayor and voiced his support for a "hard" Brexit. Gaffey told Newsweek he found Trump's comments "appalling" but that they were "typical of Trump. He thinks he can dominate and tell everybody what to do and when to do it.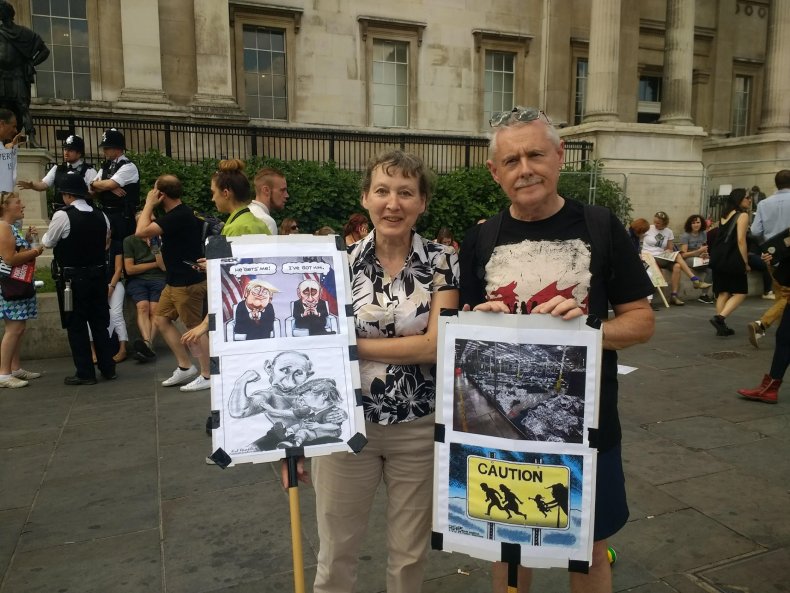 "He doesn't really stand for the American people, and as soon as [special counsel Robert] Mueller finishes his investigation and gets him out of the way and they get the next president in, the better."
Though Trump spent the day—and ultimately almost all of his trip—outside London, demonstrators were undeterred, and the streets of London echoed with chants of "F**k Trump."
"He's obviously hiding out in the countryside," Jones said, "and he shouldn't have come in the first place." Like Gaffey, she believes Trump does not represent the American people. "He's not the type of man that should have that amount of power; it's in completely the wrong hands, and we're fearful for the world."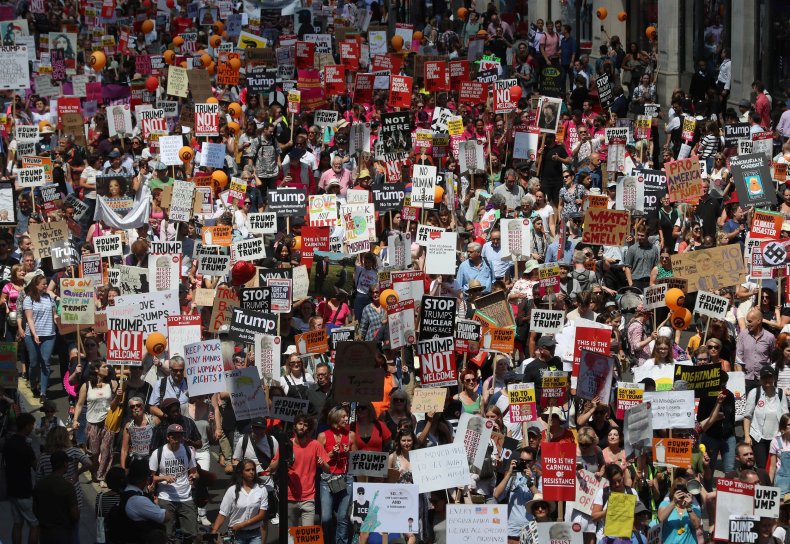 One would struggle to find anyone at today's march who disagreed, though other groups in London were planning pro-Trump events. All are likely to be much smaller than today's demonstrations, and police are enforcing strict restrictions on one of them due to its links to British far-right extremists.
Trump ended his trip having tea with Queen Elizabeth II at Windsor Castle. From there, he and Melania will head to Scotland for some private, or "executive," time. Protesters have vowed to follow him wherever he goes, and keep raising the noise until he flies to Helsinki for his meeting with Russian President Vladimir Putin.