President Donald Trump and his wife Melania will meet Queen Elizabeth II at Windsor Castle in England today amid their two-day long state visit to the U.K.
The Prime Minister's office announced last week that Trump's meeting with The Queen was scheduled to go ahead. According to Reuters, the couple will be visiting her at Windsor Castle, in southern England, on Friday, where Prince Harry and Meghan Markle held their royal wedding in May.
"He has to see the head of state. Putting his foot on the ground of British soil, it's job one—very, very important, very symbolic," Robert Wood, the U.S. ambassador to the U.K. told Sky News last month. "Meeting Her Majesty is the most important thing, because she's the head of state, and from there on, it'll be what the president wants to do."
Live Updates: President Donald Trump in the U.K. To Meet Prime Minister May and the Queen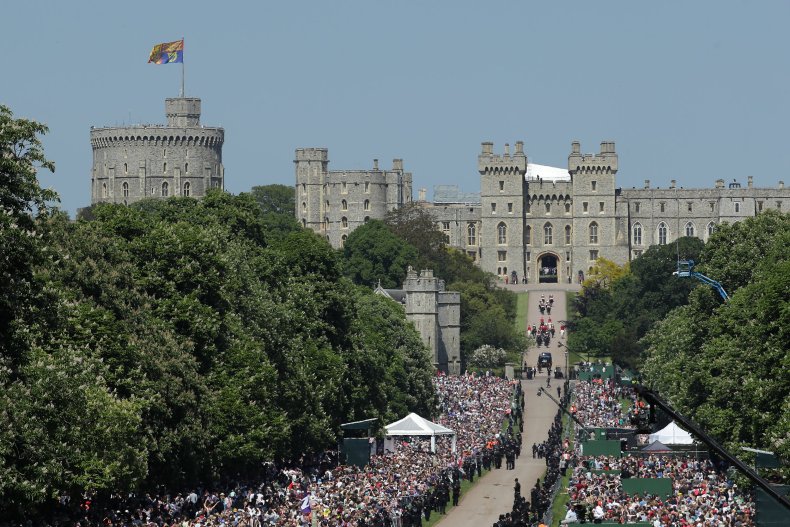 Trump arrived in London on Thursday afternoon after stopping in Brussels for the NATO summit. Last night, the president and Melania attended a black-tie dinner at Blenheim Palace in Oxfordshire, hosted by British Prime Minister Theresa May.
This morning, Trump is scheduled to watch a U.K. military exercise with May before jetting off to Chequers with the prime minister to hold bilateral talks. Afterwards, he will be meeting Queen Elizabeth II at Windsor Palace. Trump and the first lady will then fly to Scotland for the rest of the weekend.
Windsor Castle is in the English county of Berkshire. It is owned by The Queen on behalf of The Crown and was built in the 11th century following William the Conqueror's invasion of England. During the English Civil War, the castle held prisoner Charles I and was also used as the military's headquarters. Nowadays, it is the world's largest inhabited castle. In 2006, approximately 500 people were believed to have been working while living within its walls.
In recent years, the castle has hosted a variety of state visits, including former President Barack Obama and former South African President Thabo Mbeki. In January, Trump canceled a state visit to the U.K. after citizens threatened mass protests; however, the president said the reason was that he was unhappy with the relocation of the U.S. Embassy.
"Reason I canceled my trip to London is that I am not a big fan of the Obama Administration having sold perhaps the best located and finest embassy in London for "peanuts," only to build a new one in an off location for 1.2 billion dollars. Bad deal. Wanted me to cut ribbon-NO!" the president tweeted.