Nigel Farage and Boris Johnson: Donald Trump's Friends Are About to Dominate British Politics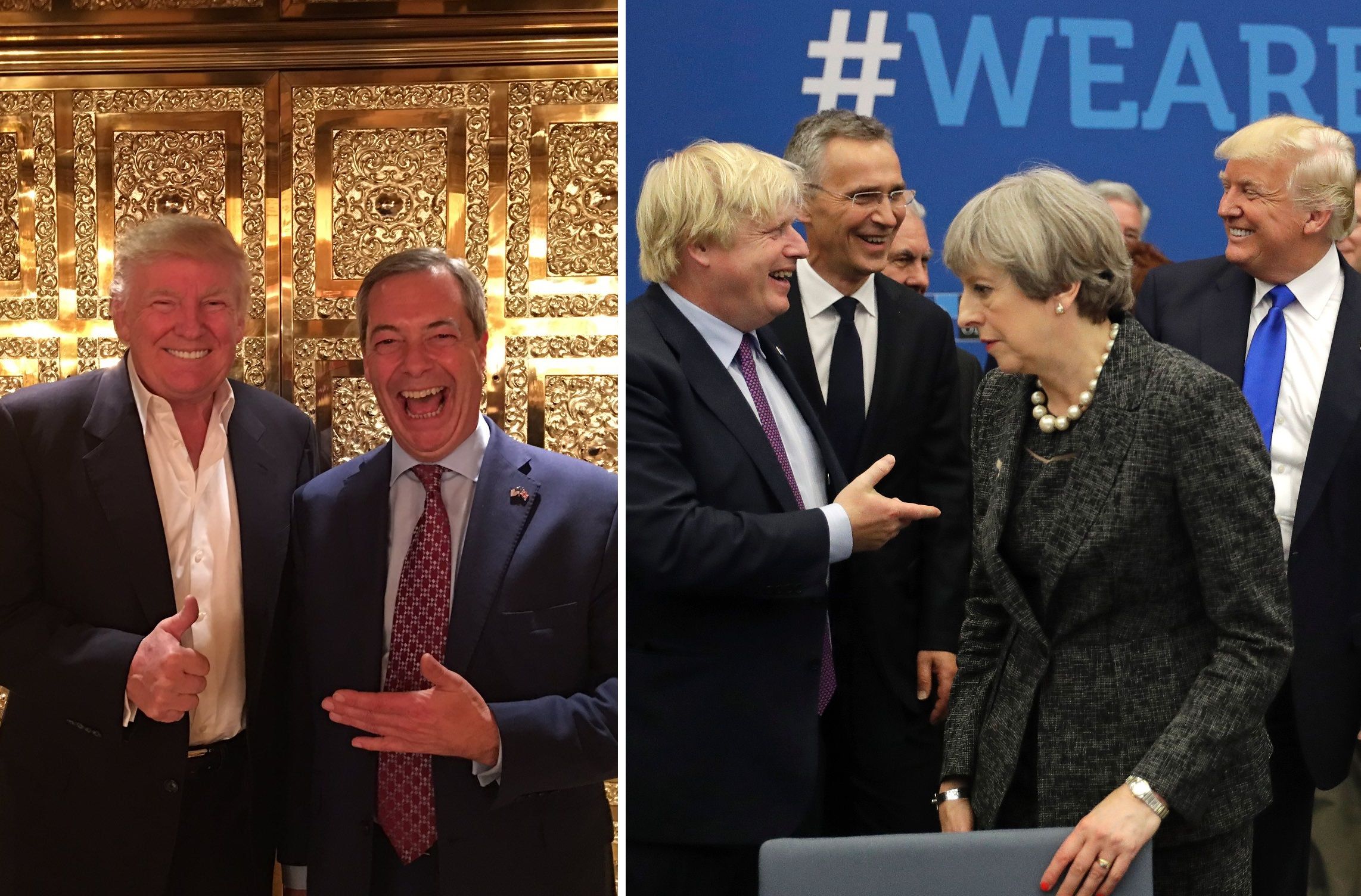 Two friends of President Donald Trump, Nigel Farage and Boris Johnson, are set to dominate British politics after U.K. Prime Minister Theresa May, in an emotional address, announced she would step down on June 7, her tenure derailed by her inability to secure a Brexit agreement.
May failed repeatedly to pass her Withdrawal Agreement in Parliament, a deal unpopular among Members of Parliament who were both pro- and anti-Brexit, which delayed Britain's exit from the European Union. Her Conservative Party was deeply unhappy with her handling of Brexit.
The Conservative leadership contest will begin after June 7. May will remain as prime minister until a new leader is selected by the party, which will happen within weeks, probably before the end of July. Trump has a U.K. state visit scheduled for June 3 to 5.
Conservative member of Parliament Boris Johnson, who campaigned to leave the EU., is the clear favorite to replace May among bookmakers and party members, though he faces several challenges.
Johnson was May's foreign secretary until he resigned over her handling of Brexit in 2018, and has criticized her policy ever since. He met Trump during his time in that role.
Trump described Johnson, a former mayor of London, as a friend during his visit to the U.K. in 2018. The U.S. president also said Johnson would make a good prime minister, comments that irritated May at the time and for which he apologized.
A recognizable figure in Britain, known for his stage-managed blundering upper-class charm, Johnson is also divisive. To his fans, he is the ideal charismatic figurehead to represent a post-Brexit Britain in the world. To his critics, he is a shameless opportunist known for gaffes.
After May's resignation statement in front of 10 Downing Street, at the end of which her voice broke, uncharacteristically, with emotion, Johnson tweetedr that the prime minister delivered a "very dignified statement."
He added: "Thank you for your stoical service to our country and the Conservative Party. It is now time to follow her urgings: to come together and deliver Brexit."
The delayed Brexit process and the widespread hatred of May's deal triggered a surge in support for the populist leader Nigel Farage's Brexit Party, which is set to win the European parliamentary elections in Britain after cannibalizing a large amount of support from the Conservatives.
The day after the U.S. 2016 presidential election, Farage went to Trump Tower in New York to meet the president-elect, becoming the first British politician to do so. Farage had spoken at a Trump rally during the campaign. Trump dubbed himself "Mr. Brexit."
Farage, who is a member of the European Parliament, hopes his success will force the Conservatives to take a harder position on Brexit, possibly even leaving without a deal. Research suggests this could trigger a severe economic crisis.
He argued that May's deal and the Brexit delays betray the 2016 referendum result in which Britons voted 52 percent to 48 percent to leave the EU. How Brexit has manifested was not on the ballot paper.
The government must negotiate a Brexit deal on Britain's new relationship with the EU, and it needs to be approved by Parliament. But there has been little political agreement on what Brexit could and should look like, which has created political gridlock, sapping time and resources from all other issues.
If the Brexit Party does win the European elections, the results of which are expected on Sunday, the victory will be symbolic more than anything else. The European Parliament wields influence more than hard legislative power, and has sometimes been criticized as a talking shop.
Like Johnson, Farage is known for his charisma and deft campaign skills. He is also seen by his supporters as an anti-establishment figure who stands up for both British interests and the common man. But to his many critics, Farage is a hard-right demagogue who flirts with racism.
Trump does not like the EU. He has opened a trade conflict with it, and has poor relations with its leaders, including German Chancellor Angela Merkel and French President Emmanuel Macron.
The U.S. president promised Britain a good trade deal after Brexit, with his administration saying it would be at the front of the line, a rebuke of former President Barack Obama's comment during the referendum campaign that it would go to the "back of the queue" for talks.
On the eve of Trump's controversial state visit, his Brexit-supporting allies look strong in both the U.K. and Europe, which, if he can hang on to the White House in 2020, may have significant consequences for the "special relationship," as well as U.S.-EU relations.
There is, however, the potential for Farage and Johnson to clash over Brexit. If Farage is unhappy with the Conservative Party's handling of Brexit under Johnson, he could run his Brexit Party in a general election, damaging the Conservatives' chances of winning a majority in Parliament.
Farage has already said he is not happy with Johnson for voting for May's deal in Parliament, despite criticizing it. "Who is Boris Johnson? What does he stand for? If he says something, how can I trust him? How would I know he's really going to do it?" Farage told Mail Online.