Activists said they were prepared to cause "maximum disruption" to President Donald Trump's U.K. state visit, which will take place in June.
Buckingham Palace announced on Tuesday it has invited Trump for a formal state visit with all its accompanying royal pomp in a move set to provoke backlash from the president's U.K. critics.
Nick Dearden, who helped organize London's mass protests against Trump's two-day working visit last year, said plans were already underway for when the president arrives, including a "big demo."
"It's up to us, again, to say Trump is not welcome, and to make his visit as unpleasant as possible. We're going to aim for maximum disruption," Dearden, of the Stop Trump Coalition, told Newsweek.
Queen Elizabeth II extended the invitation to a state visit at the suggestion of the British government, led by Prime Minister Theresa May.
Trump, who met the Queen last year, is the third U.S. president hosted by the British monarch for a state visit, the previous two being George W. Bush in 2003 and Barack Obama in 2011. The current president will visit from June 3 to 5.
May is negotiating Brexit—Britain's exit from the European Union—but is deeply unpopular, even within her own Conservative Party, because of how she has handled the process.
Her government wants a lucrative post-Brexit trade deal with the U.S. and sees Trump, who has promised one, as a useful vehicle to achieve that.
"It's simply astonishing that after all the discrediting Trump has received in recent weeks in the U.S., Theresa May, an utterly discredited prime minister, is to call for him to have this unusual honor," Dearden told Newsweek.
"May is desperate to secure a toxic trade deal with Trump to prove Brexit can work. And she's prepared to throw a lifeline to this awful president to get it."
He hopes to leverage the recent Extinction Rebellion protests against climate change, which brought tens of thousands of people onto the streets in London and across the U.K., for the movement against Trump's state visit.
"I'd really hope his visit will become a magnet for all those who want radical climate action to be undertaken, because Trump, after all, is a symbol of climate change denial globally—one of the reasons we see him as one of the most dangerous men in the world at this time," Dearden said.
In a statement, the White House confirmed that it had accepted the invitation. "This state visit will reaffirm the steadfast and special relationship between the United States and the United Kingdom," the White House said.
On the president's itinerary is meeting the Queen, a bilateral meeting with Prime Minister May, and ceremony in Portsmouth, England, to commemorate the 75th Anniversary of D-Day.
Emily Thornberry, the opposition Labour Party's shadow foreign secretary, condemdned the Trump visit.
"It beggars belief that on the very same day Donald Trump is threatening to veto a U.N. resolution against the use of rape as a weapon of war, Theresa May is pressing ahead with her plans to honor him with a state visit to the U.K.," Thornberry said in a statement.
"This is a president who has systematically assaulted all the shared values that unite our two countries, and unless Theresa May is finally going to stand up to him and object to that behaviour, she has no business wasting taxpayers' money on all the pomp, ceremony and policing costs that will come with this visit."
According to the pollster YouGov, President Trump has a net approval rating of -46 percent in the U.K.
"A state visit is not the right of any president, it is one of the highest honors that the U.K. can bestow on any foreign leader and so it must be earnt," David Lammy, the Labour Member of Parliament for Tottenham, London, told Newsweek.
"Donald Trump has shown himself to be no friend of Britain. The prime minister should not be rolling out the red-carpet to this serial liar, xenophobe and narcissist who is unfit to hold office. It sadly reveals how desperate and isolated Britain has become through pursuing Brexit at any cost.
"Last time Trump visited the U.K., he was greeted by an estimated 100,000 protesters who marched on Trafalgar Square. I expect he will be met by a similar uproar this summer."
A news release sent by the Stand Up to Trump campaign in Britain promised to "flood the capital with hundreds of thousands of protesters" when the president visits London.
"Donald Trump is the world's number one racist, warmonger and misogynist, with no solution to the global economic crisis," Sabby Dhalu, a representative of Stand Up to Trump, said in a statement.
"His presidency has emboldened every fascist and racist across the globe and is stirring up tension in Latin America, the Middle East and Asia.
"A formal state visit to Britain in June must be met with widespread opposition. All those that value peace and hope for a better world for the many must take to the streets and say clearly that Donald Trump is not welcome here!"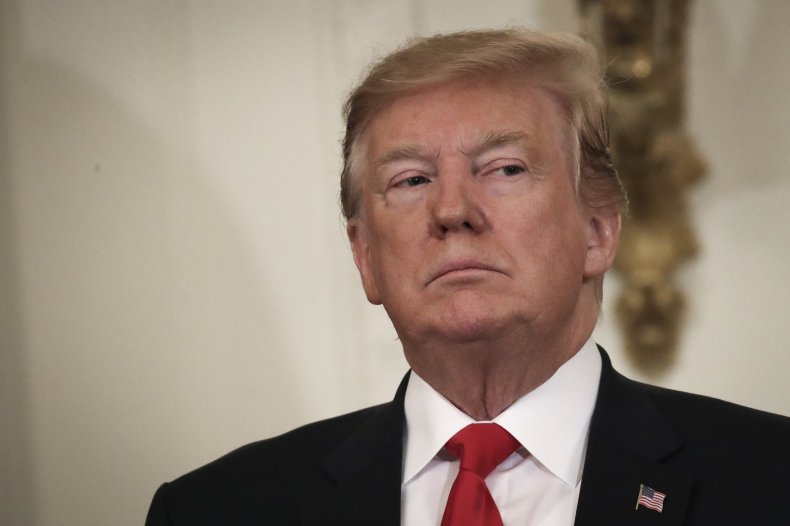 This article was updated with information confirming the invitation to a state visit and more comments.