One Baby Trump, Tens of Thousands of Protesters: The Greeting America's President Can Expect in Britain
If there's one thing President Donald Trump loves, it's crowds of thousands yelling his name. And he'll get just that when he visits Britain this week. But unlike at his rallies, these people won't be pleased to see him.
Trump lands in England Thursday afternoon to meet with Prime Minister Theresa May and Queen Elizabeth II. He'll have flown in from a testy NATO summit in Brussels and will fly out to a one-on-one meeting in Finland with Russia's President Vladimir Putin.
Stop Trump, a campaign coalition of individuals and groups who oppose the president, are busing protesters to London from all corners of the country Friday before descending on the city's iconic Trafalgar Square, which is a short walk from 10 Downing Street.
Organizers are promising love, not hate, and a festive, carnival atmosphere with funny placards and outrageous floats showing the best of British satire. A giant balloon of Trump as an angry, orange baby will float over central London before embarking on a world tour.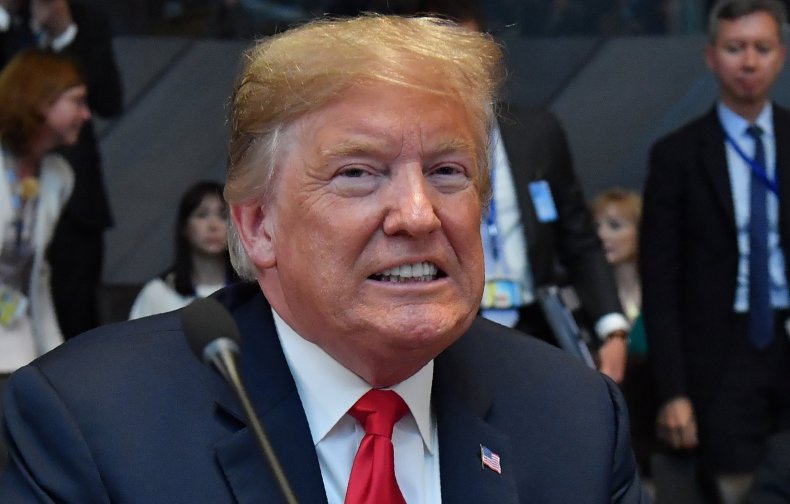 "It will be a very fun occasion," Owen Jones, a left-wing commentator and member of the Stop Trump coalition, told Newsweek. "It will be a repudiation of hate, so by definition it will be something that will be very warm and about solidarity and love. But it will have a very serious message: We are standing up to you, a bully and a thug."
The promise of love over hate has not permeated the fortress walls of the U.S. Embassy in London, which warned Americans in Britain at the same time as Trump to keep a low profile in case crowds turn violent. The ambassdor's residence on Regent's Park was already cordoned off by police on Thursday morning, CNN reported.
Trump's team has done everything it can to avoid London as much as possible during his visit, as it's all too aware of the Trump backlash from those who call themselves the British Resistance.
Trump will sleep at the U.S. ambassador's residence in Regent's Park, central London, Thursday night, arriving late after engagements outside the city. On Friday he will be rushed out of town.
The president will spend time at Blenheim Palace in Oxfordshire, where Winston Churchill was born; the prime minister's country house in Buckinghamshire, called Chequers; Windsor Castle to meet the queen; and his own golf course in Scotland, Trump Turnberry.
But there'll be no escape from the wall-to-wall coverage of the protests. And a crowd of demonstrators will be waiting for Trump at every destination along the way.
In London on Friday night, there'll be a mariachi evening, a nod to Mexico. There's a "Trump's a Chump" protest at his Scottish golf course lined up for Saturday. He can expect crowds at Blenheim Palace and Chequers, too. And when he meets the queen in Windsor, there's a "Love Trumps Trump" rally planned as he sits down for tea with her majesty.
What's more, there's the "Drag Protest Against Trump," "Trumpets Against Trump," "Vegans Against Trump," and even "Handmaids Against Trump," all taking place in London around the main protest.
Thousands of British police will be deployed to keep those protests contained.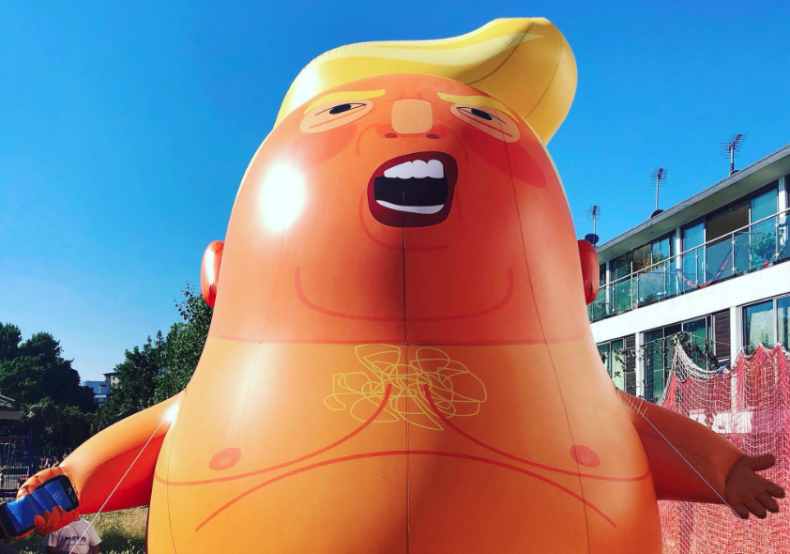 "What we're pitching this as is a carnival of resistance," Nick Dearden, a member of the Stop Trump steering committee and director of the Global Justice Now campaign group, told Newsweek.
"We want to make sure that our opposition to Trump in no way mimics how he thinks of the world. So we want it to be as diverse as possible. We also want it to be fun. We want to ridicule him."
Dearden added: "Trump symbolizes a world in crisis. We want to give people a sense that it doesn't have to be this way."
Not everyone opposes Trump or his visit. While polling shows Trump is deeply unpopular in Britain, there is an overarching pragmatism that, as president of the United States, an important ally, he must be dealt with. A majority support his visit despite a dislike of the man.
"The average person who thinks it's a good thing for the United Kingdom and the United States to do business and the president and the prime minister to visit each other's countries and so on will probably be at work carrying on with their day to day lives," Ben Harris-Quinney, chairman of the Bow Group, a conservative think tank, told Newsweek.
"The people that you will see on the television will be the protesters. But I certainly don't think they will be representative of the country."
The Bow Group published an open letter in April urging Trump to boycott London and England during his visit because of the protests, suggesting instead that he stay in Scotland for the duration, using Balmoral Castle, the queen's residence there, for meetings.
"It is extremely important to us to get a good trade deal, and we are fortunate to have someone in Donald Trump who is perhaps disproportionately favored towards the United Kingdom," Quinney said, referring to post-Brexit relations between Britain and the U.S.
"We don't want to see that relationship between the United States and the United Kingdom, but also between Donald Trump and the United Kingdom, damaged by the kinds of protests that have been trailed by everyone from Owen Jones to [London mayor] Sadiq Khan."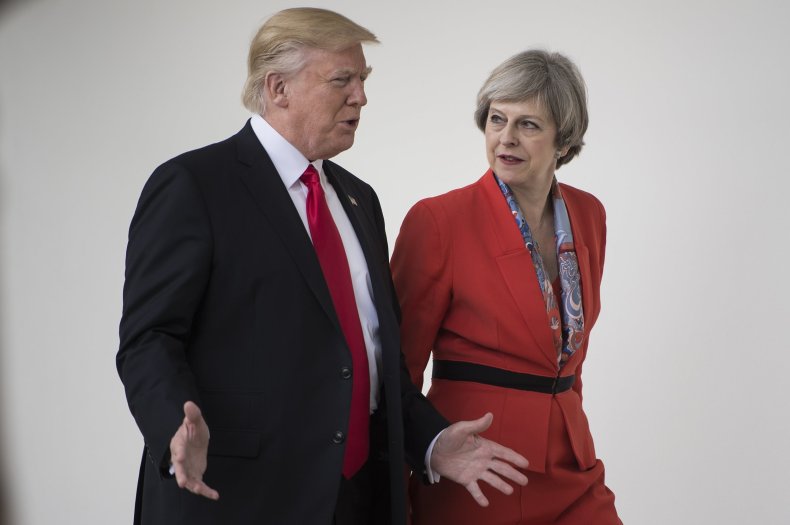 But Dearden said anti-Trump protesters believe this kind of engagement with the president gives undue credence to both him and his administration's "really quite extreme policies like withdrawing from the U.N. Human Rights Council, withdrawing from the Paris Climate Agreement, things that are having a big international impact."
"We think that inviting him here is to normalize those kinds of views, and those kinds of policies, and in many ways to legitimate him," Dearden said. "We'd argue that his presidency is not normal. This is not the way things should be. And the more people try to compromise with him, the more he will be legitimated."
Dearden added: "He sets the tone for international policy discussions and we see that tone as really very seriously detrimental to creating a better world maybe, you could say, in the same way political leaders in the 1930s did."
Jones said this is about more than just the U.K. Trump has become "a figurehead of extreme and racist right-wing movements not just in America, but all over Europe," he said, citing the rise of the far-right in countries such as Hungary and Austria.
The protests, he said, will be an expression of solidarity with those affected by Trump's policies, including Muslims, women, immigrants and trans people, among other marginalized groups.
"We're not going to let a demagogic bigot, a misogynist, a racist, use this thing as a PR exercise. We're going to make it clear what the citizens of America's closest ally actually think of him," Jones said. "If the government won't show moral leadership, we'll show that moral leadership on the streets."
The American Embassy in London did not respond to a request for comment.