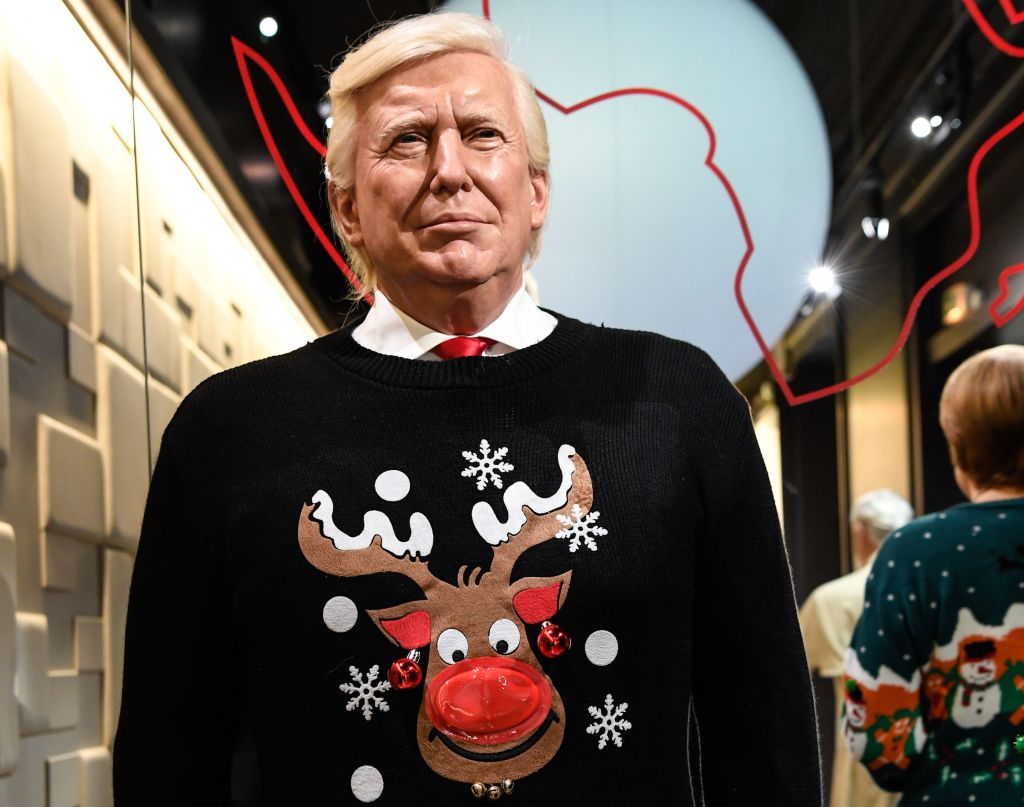 Donald Trump may frequently repeat his claims that he has "tremendous respect for women" and that "nobody has more respect for women than I do." And he might really, truly believe that's the case.
But at least one close observer of news and politics thinks the president owes women a big apology for all the words and actions he's used to degrade or harm them during the course of his presidency, his election campaign and his life. And surely the millions of women in the U.S. and abroad who have marched or otherwise resisted Trump would agree.
"We know there is one person who will never apologize for his behavior towards women, so I wrote a script for what I would like to hear him say," Liz Plank—a senior correspondent at Vox and the executive producer and host for Divided States of Women, a community and digital platform that produces a video series and podcast—told Newsweek on Friday.
She and her all-female production team stitched together an imagined apology video and posted it online Thursday.
"Today I'm announcing that I'm sorry. I've been very mean to women. I feel terrible. And I feel so sad. So sad," Trump "says" in the video, a collage of clips of him saying individual words and phrases. "I have hurt women and tried to bully and humiliate them, and it was wrong, very very wrong of me to do that," he continues. "The truth is, I'm very, very, very, very, very, very, very, very, very afraid of women, and I attack women because I'm scared of them.
The video includes specific apologies to "my daughter," presumably Ivanka, and to Melania Trump, as well as a more general one to all the women of the United States. "I'm not a good president, and any woman would do a better job than me. Now in all fairness, Hillary should be president," they have Trump say. "I just wish Justin Trudeau liked me. That's why I'm totally insecure. Remember also, I have tiny hands," he continues, and then ends with: "Happy holidays, and don't worry about it, I'll probably be in jail very soon. Bye bye. Bye bye."
The idea first came to Plank when she heard a remix of R. Kelly's "Ignition" while working out. When she realized it was a remake of song by yet another man who has been accused of abusing women, her first thought was, "Goddamnit, another song I can't enjoy!" Her next thought was, "Wouldn't it be great if we could get apologies from these men?"
She pitched an imagined apology video, but the only man she was confident wouldn't atone for his misdeeds while it was being made was the 45th president of the United States.
"He himself has admitted that he doesn't like to apologize," Plank said. "He perceives any admission of wrongdoing as a sign of weakness," she added. Plus, "I think he believes his own lies," Plank said. "I believe he thinks he's really good for women and that he didn't sexually assault any women."
But in Plank's view, it's weakness that makes the president unable or unwilling to face his own flaws, admit to any mistakes or treat women with the appropriate respect. "I think weak men are afraid of strong women," she explained. "Throughout the election and campaign that was so clear to me, he was so terrified of Hillary."
Plank has long been an outspoken critic of Trump, especially when it comes to his treatment of women. Her tweet last month comparing Trump's respect for turkeys to his respect for women went viral, and her feed is full of similar commentary.
"The last two years have been extremely grueling. He has brought out the worst parts, really, of human society," Plank said, pointing to the sexism as well as the racism, ableism and other forms of discrimination that Trump has demonstrated and, as a result, allowed to come out of the woodwork all over the country.
The issues are hardly funny, but "we all need to laugh a little bit. I am a firm believer also in using humor to reach people," Plank said. "I felt like it was therapeutic for me. I just hope that it's therapeutic for others too."
Trump might not see this concocted apology. He blocked Plank on Twitter in July—after she asked if a video he posted was edited by her mother on her iPad with a free version of iMovie—and it's probably not going to get compiled into the folder of positive news and fawning tweets the president gets about himself twice a day.
But ultimately, the video is not for him. It's "a gift to women," Plank said. And the gift is two-fold; not only is it a much-coveted apology, but also, as several viewers have told Plank, "this is the most eloquent speech I've ever heard him give."