Immigrants Detained in Victorville Prison Sue Over 'Inhumane' Conditions
A coalition of civil rights groups has filed a lawsuit against President Donald Trump and the U.S. Immigration and Customs Enforcement agency (ICE) on behalf of hundreds of immigrants detained at a federal prison in Victorville, California.
The lawsuit, filed by the American Civil Liberties Union (ACLU), Prison Law Office and Civil Rights Education and Enforcement Center on Wednesday, accuses Trump and ICE of "violating the constitutional rights" of at least 1,000 immigrants being held FCI Victorville.
It calls on the Trump administration to remove immigrant detainees from the federal prison "immediately" and "ensure that their constitutional rights are protected," Staff Attorney at the Prison Law Office Margot Mendelson said in a statement shared by the ACLU.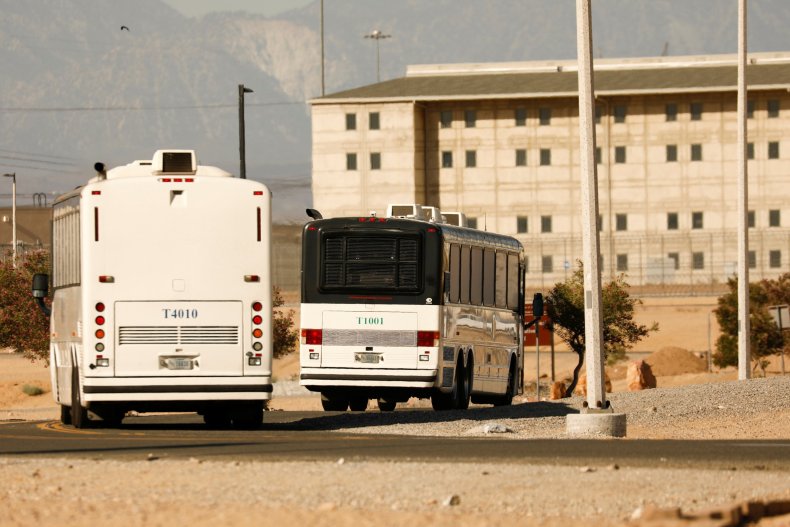 "People should not be imprisoned simply because they are seeking asylum in this country," Mendelson said.
"The federal government is needlessly locking these individuals into a medium-security federal prison and is depriving them of basic human needs such as healthcare, food and sunlight," she added.
The ACLU has called the decision to move immigrant detainees to federal prisons "unconscionable and unconstitutional," alleging that asylum seekers have described "inhumane" conditions as being "dangerous" and "chaotic."
"Immigration detention is a form of civil confinement," the lawsuit states. "The law prohibits the government from subjecting this population to punitive incarceration."
In the filing, the civil rights coalition describes how, inside the prison, immigrant detainees are left "confused, despondent and hungry."
"They are locked in prison cells for much of the day and all night. No healthcare provider has assessed them, asked if they are suicidal, or attempted to help them cope with underlying trauma that drove many of them to seek asylum in this country," the lawsuit states.
It adds that food provisions are "inadequate," with detainees being offered "spoiled milk" and "sandwiches that consist of just two slices of bread," while outdoor exercise is limited to "only a few hours of fresh air and sunlight each week."
In the case of one plaintiff, asylum seeker Stephenson Awah Teneng, the filing states that the detainee, who has been held at Victorville since June 8, has suffered from weeks of unaddressed dental pain and has not been provided with access to medication or dental care.
The lawsuit alleges that when he did request mental care, he was denied food and locked in his prison cell for hours at a time "in retaliation."
Teneng is one of hundreds of immigrants transferred by the Trump administration from ICE and Customs and Border Protection (CBP) facilities to prisons operated by the Federal Bureau of Prisons (BOP) in early June to accommodate the number of people being detained.
The transfers were made through an agreement sanctioning the detention of as many as 1,600 people in BOP facilities in Washington, California, Texas, Arizona and Oregon.
The ACLU has said that many of those detained are people who came to the U.S. to seek asylum, while some are parents separated from their children.
"Like the Trump administration's family separation and zero tolerance policies, these detention transfers were done hastily and with no regard for the lives of the people who are detained," said Victoria Lopez, a senior staff attorney at the ACLU National Prison Project.
"Confining immigrants in these conditions is unconscionable and unconstitutional," she said, adding: "We will do everything in our power to make sure these men have adequate food and medical care, and are able to freely exercise their faiths."
Read more: ICE sending 1,600 immigration detainees to federal prisons, marking surge in arrests
Security and healthcare staff at the Victorville prison have also said that the facility is "ill-equipped" to handle the influx of detainees, according to the ACLU.
Several housing units at the prison, which had been closed due to under-staffing, had to be opened up in order to accommodate immigrant detainees, despite the prison's shortage of workers.
ICE has previously said that the prison placements are intended to serve as a "temporary" solution as the agency looks to find more space to hold detainees.
The measure of turning to prison facilities for detention highlights the surge in arrests under the Trump administration's hardline immigration policies.