Under Trump, H-1B Visa Applicants Are Being Delayed Under Mountains of Paperwork
President Donald Trump's administration has publicly said it's looking to curb H-1B visa extensions, but it has also quietly been bogging current visa holders down in new paperwork.
Related: H-1B Visa Holders Will Not Be Forced to Leave U.S., Immigration Services Says
The H-1B visa program grants temporary U.S. visas that allow companies to hire highly skilled foreign workers in areas where there's a dearth of qualified American workers.
Over the past year, the Trump administration has been tweaking the H-1B process. In April 2017, the U.S. Citizenship and Immigration Services, an office within the Department of Homeland Security, eliminated "premium processing," a fast-tracking option that allowed applicants to become eligible for visa approvals in as little as 15 days rather than the three to six months it can take otherwise. Then in July, the office announced it would restore premium processing.
On Thursday, Quartz reported the office has shifted again, now slowing the application process with the torpid gears of bureaucracy rather than through any policy changes. The immigration agency has sharply increased the number of challenges, or "requests for evidence," to petitioners. The requests are a standard part of the vetting process, but lawyers representing applicants say the agency is now sending them baseless requests at a higher frequency then they previously have, according to Quartz.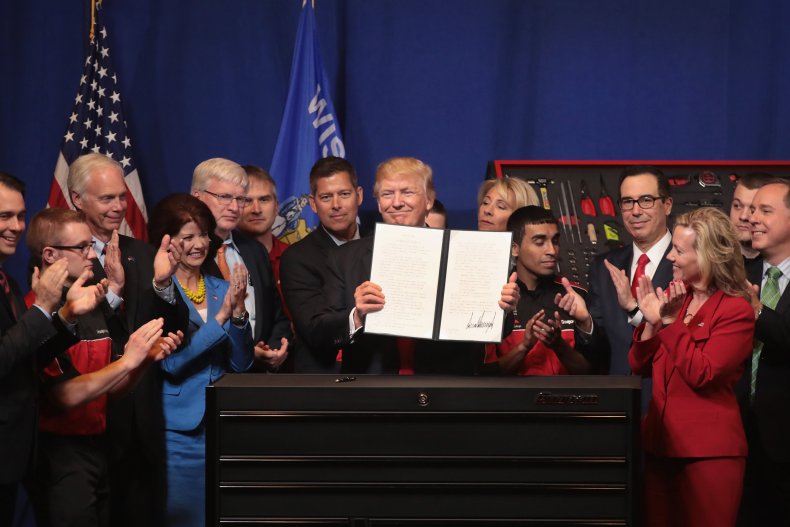 Data from the agency provided to Reuters showed that the U.S. had issued 85,000 such challenges between January 1, 2017, and August 31, 2017—a 45 percent increase compared to the same period in 2016. Challenges were issued at a greater rate during Trump's first year than at any time during the Obama administration, the news service reported.
The U.S. caps H-1B visas at 65,000 a year and allows an additional 20,000 visas for people who have earned advanced college degrees in the U.S.
Responding to each challenge can be a lengthy process, frustrating both applicants and prospective companies looking to hire skilled employees. Diane Rish, the associate director of government relations at the American Immigration Lawyers Association, told Quartz that collecting the additional paperwork, submitting it and waiting for a response can extend the process by two or three months.
The immigration regulatory changes come as part of Trump's "Buy American, Hire American" initiative he pledged to enact during the 2016 campaign.