Rights Groups File for Emergency Injunction for ICE to Release Detainees If It Won't Do More to Prevent COVID-19 Spread
Civil rights groups have filed for an emergency application for a preliminary injunction to stop the U.S. Immigration and Customs Enforcement agency from detaining immigrants if the agency will not take further action to prevent the spread of COVID-19.
The motion was filed on Wednesday in the U.S. District Court for the Central District of California by the Southern Poverty Law Center, Civil Rights Education and Enforcement Center, Disability Rights Advocates, and pro bono law firms Willkie Farr & Gallagher LLP and Herrington & Sutcliffe LLP.
It comes after ICE reported its first confirmed case of coronavirus among detainees, with a 31-year-old Mexican national being held in custody at the Bergen County Jail in Hackensack, New Jersey, testing positive for COVID-19.
The agency has also seen at least 19 workers, including a worker at a detention facility in New Jersey, the Elizabeth Contract Detention Facility, test positive for coronavirus. The rest of the workers were not working at detention facilities, ICE has said.
While ICE has taken some steps to address the coronavirus outbreak in its enforcement operations and detention facilities, rights groups have said that if the agency will not take further "immediate" action to protect detainees, then the agency should be forced to release those in its custody.
In a press release, civil rights groups said that ICE should be particularly concerned for the welfare of immigrant detainees who are considered vulnerable to suffering serious health consequences if they catch the virus.
"The motion argues that if ICE cannot or will not immediately take steps to ensure that medically vulnerable people are protected from COVID-19 – including providing timely access to qualified and necessary healthcare – then the Court should order ICE to release those individuals in the interest of public health," rights groups said.
The preliminary injunction, they said, has been requested ass part of an existing class action lawsuit, Fraihat v. ICE, a case filed on August 19, 2019, on behalf of nearly 40,000 people held in ICE detention facilities throughout ICE's detention system.
"Based on first-hand observations from attorneys serving clients inside detention centers and direct reports from people who are detained, the current conditions are medically dangerous and fail to meet standard public health recommendations for addressing the pandemic," civil rights groups claimed.
"According to the court filing, ICE has not provided even the most basic public health protections inside detention centers. Its failure to take preventative measures–like reducing crowding to implement social distancing or providing soap and hand sanitizer–places individuals with underlying conditions including heart conditions, diabetes, and other serious health conditions in imminent danger of infection and death," they said. "Current ICE protocols do not even consider trying to identify high-risk individuals, much less take the significant steps necessary to reduce the risk of contagion, illness, serious complications, and death."
In several instances, rights groups have said that some "detention centers have not provided any information about COVID-19 to detained people, meaning they do not know the symptoms or how to even try to protect themselves from infection."
If the preliminary injunction is granted, it would force ICE to immediately assess medically vulnerable detainees for potential COVID-19 symptoms and risk factors and immediately take steps to reduce the possibility of infection.
The filing also demands that ICE provide "basic protections" for detainees, including "ample soap and hand sanitizer, protocols for transporting people to the hospital and appropriately testing and treating anyone with COVID-19 symptoms," civil rights groups said.
If the agency failed to take those steps, then it would need to release detainees.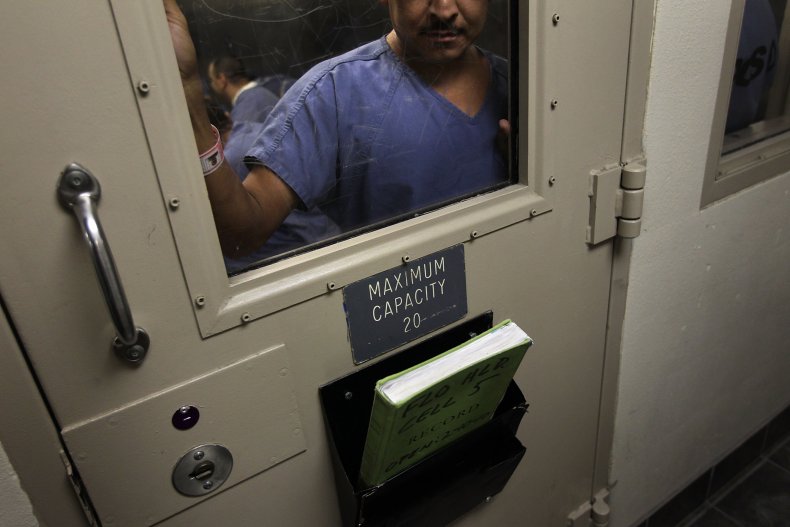 It is unclear where detainees would go. However, in a recent interview with Newsweek, ACLU senior staff attorney Eunice Cho said that instead of detaining immigrants, and particularly those who are considered vulnerable to coronavirus, in crowded facilities, ICE could allow them to remain under isolation in the homes of family members or in other locations arranged with local public health officials.
"People who are at risk of illness or death from COVID-19 should be released directly into a kind of contained environment," she said.
"It's really important to note that our Constitution provides for these protections. When somebody's in government custody, they have the right to be safe from communicable disease," Cho also asserted. "In this situation, the risk is even more elevated because COVID-19 is a disease that we have never seen the likes of before. There's no vaccine, no treatment, no cure."
Newsweek has contacted ICE for comment. On its website, the agency acknowledges the Centers for Disease Control and Prevention's advice for "self-monitoring at home for people in the community who meet epidemiologic risk criteria, and who do not have fever or symptoms of respiratory illness."
"In detention settings," ICE says, "cohorting serves as an alternative to self-monitoring at home."
"Detainees who meet CDC criteria for epidemiologic risk of exposure to COVID-19 are housed separately from the general population," ICE asserts, adding that the agency places detainees with fever or respiratory symptoms "in a single medical housing room, or in a medical airborne infection isolation room specifically designed to contain biological agents, such as COVID-19."
Individuals with moderate to severe symptoms, the agency says, or those who need a higher level of care or monitoring, are sent to hospitals.
"Detainees who do not have fever or symptoms, but meet CDC criteria for epidemiologic risk, are housed separately in a single cell, or as a group, depending on available space," the agency says.
ICE has said that it continues to review and update its protocols on a daily basis based on CDC guidance.