Immigration Lawyer Claims Mishandled Work Visa Application by Her Former Employer Could Cause Her Own Deportation
An immigration lawyer in Pennsylvania claims she could face her own deportation because her former employer mishandled her work visa application.
Esperanza Franco, a former employee at a non-profit agency group called the Florence and Immigrant Refugee Rights Project in Tucson, Arizona, told The Philadelphia Inquirer she could be deported because the agency mishandled her employee paperwork. The 28-year-old who moved from Spain to the U.S. with a student visa to attend school told the publication that the non-profit's negligence could cause her to lose her legal status in the U.S.
"I'm going through so much stress," Franco told the publication. "I'm waking up in the middle of the night, with back pain."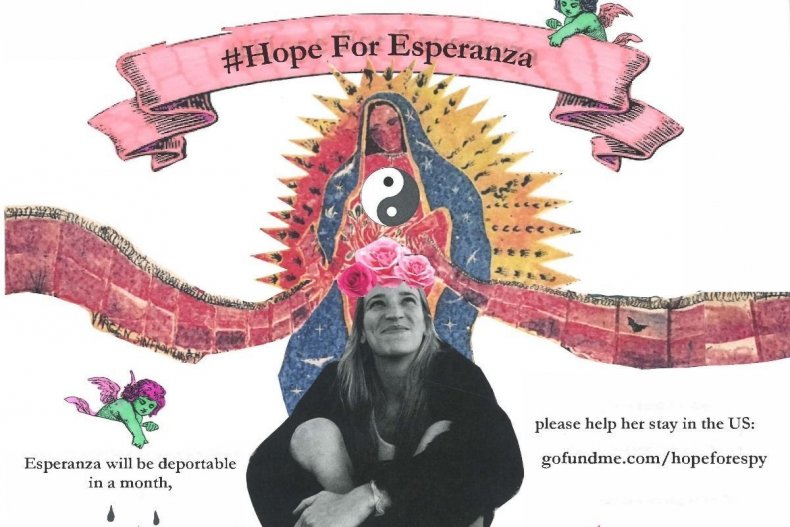 Franco, who graduated with a juris doctorate in May 2017 from the University of Arizona law school, said she worked at the agency as a staff attorney, where she went to immigration prisons weekly and spoke to immigrants living inside the facility, according to The Philadelphia Inquirer.
The 28-year-old told the publication she had asked the agency in December to sponsor her for a work visa, as her work visa expired in July, but Franco said the non-profit placed her on random visa lottery. On a GoFundMe fundraiser page Franco created to raise money for an attorney, she said the company had documents prepared to apply for an actual work visa.
"After I expressed my concerns, management assured me that if the random lottery did not work, they would have the documents ready to apply for an actual work visa-the plan B. A month or so before my visa expired, I learned that I had not been selected in the lottery and that the Florence Project had never started gathering any documents or followed through with the plan B," she wrote on her fundraising page.
The GoFundMe page has already raised $9,700 of it's $18,000 goal. She told The Philadelphia Inquirer that she has until September 10 before she has to leave the U.S.
"In the next month, I officially become "illegal," and will be deportable. That's why I am in desperate need of your help," wrote Franco. "Before August 20th, I need to raise $18,000 to secure an attorney, apply for a visa and support myself in the process. With your help, I can stay in the country I love and call home, and I can continue to fight for human rights and dignity."
Executive Director of the Florence Project, Lauren Dasse, told Newsweek that the allegations Franco is claiming are false. Dasse said the non-profit looked into multiple visa options to keep Franco employed and gave her a two-month leave so she could retake the bar exam so she could stay in the U.S. While certain non-profits have a special affiliation with a university or college that could exempt an employee from the lottery, the relationship the agency has with the University of Arizona was not enough to exempt Franco, according to The Philadelphia Inquirer.
Dasse told Newsweek in order for Franco to be employed with the agency, the non-profit would have to create a position for her to stay that did not fit with the agency's mission.
"We hired her an immigration lawyer, but unfortunately her H-1B visa was not selected by the government," Dasse told Newsweek.
Dasse said Franco's allegations have taken time out of the non-profit to help and serve detained immigrants who are currently being threatened to be deported in the state. Newsweek has reached out to the Franco for comment on the matter but did not hear back in time for publication.
The Trump administration has placed several restrictions on the H-1B visa program, which allows temporary, non-immigrant work documents for highly skilled foreign individuals to work in the U.S. In February, the U.S. Citizenship and Immigration Services (USCIS) issued a policy memo that required applicants to submit "detailed statements of work or work orders" about their duties performed by an H-1B visa holder at a third-party site.
Immigration Lawyer Claims Mishandled Work Visa Application by Her Former Employer Could Cause Her Own Deportation | U.S.