Immigration Protest Shuts Down Traffic on Golden Gate Bridge
Protesters demanding immigration protections and citizenship for undocumented immigrants blocked traffic on San Francisco's Golden Gate Bridge Thursday morning.
Protesters on foot, and in 25 cars shut down traffic on the bridge's Northbound lane, and California officials also closed the bridge's southbound lanes, according to SF Gate, though traffic was moving by 7:45 a.m.
The protesters called on lawmakers to overrule the U.S. Senate's parliamentarian, who on Wednesday, rejected a second attempt by Democrats to include immigration reform in the budget reconciliation bill they hope to pass imminently.
"Immigrant communities cannot wait another 20 years of failed promises. An inclusive pathway to citizenship would boost the U.S. economy," organizers of protest from the Bay Area Coalition for Economic Justice and Citizenship for All said in a statement obtained by news station KRON.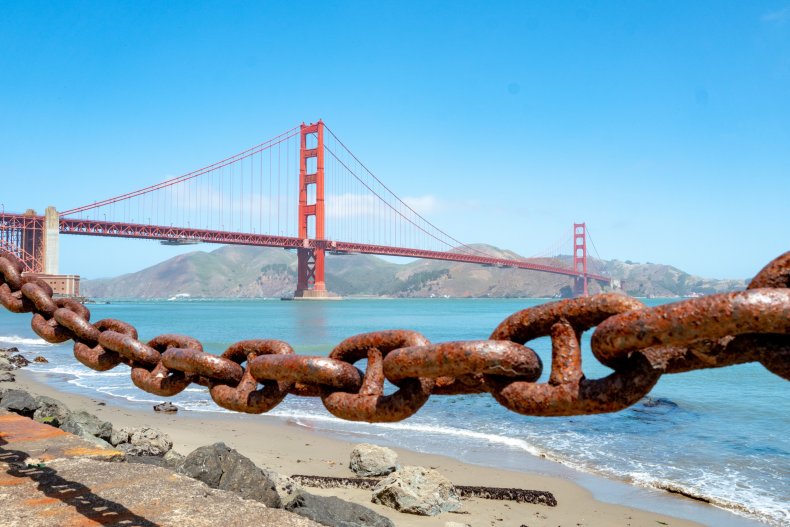 The group cited a report from the Center for American Progress which stated that giving all undocumented immigrants in the U.S. a pathway to citizenship would increase the country's GDP by up to $1.7 trillion.
"The time to deliver economic justice, climate justice, and citizenship for all is now," the statement said.
"For these reasons, we demand that Vice President [Kamala] Harris and top Democrats in Congress override the decision by the unelected Senate parliamentarian which excludes undocumented immigrants from the budget reconciliation process."
Protesters carried banners and signs, and gave speeches from the bed of a truck, KRON reported.
One large banner read, "Override the Parliamentarian," another said "Kamala: Overrule the Parliamentarian."
The provision that Senate Parliamentarian Elizabeth MacDonough rejected on Wednesday would have let immigrants who arrived in the U.S. before 2010 remain in the country permanently if they met certain conditions, according to the Associated Press.
The parliamentarian's latest decision marks the second time this month that MacDonough has said immigration reform proposed by Democrats could not be included in the budget reconciliation legislation.
Rulings by the parliamentarian are only advisory and can be overruled by the presiding officer, but such cases are extremely rare.
Democratic lawmakers expressed disappointment following the ruling. Senator Bob Menendez, a Democrat from New Jersey, said that the parliamentarian's latest decision was "unfortunate" and that Democrats will now go to "Plan C."
"We have a Plan C prepared, we just have to talk about executing it," Menendez said, according to CNN, though he didn't detail what that plan is.
In response to the news of the parliamentarian's ruling Wednesday, White House Press Secretary Jen Psaki said the Biden administration is "committed to getting immigration reform done."
"This, I expect, would renew a look for what the vehicles and options may be," she said.