Immunocompromised Meaning As FDA Approves COVID Vaccine Booster Shots for Vulnerable
The Food and Drug Administration (FDA) has approved COVID-19 booster shots for immunocompromised people in a bid to protect the most vulnerable Americans from the disease as the Delta variant pushes through the country.
The FDA said in a statement on Thursday that emergency use authorizations had been granted for both the Pfizer-BioNTech COVID-19 vaccine and the Moderna COVID-19 vaccine for an additional dose in "certain immunocompromised individuals."
The FDA said the extra jab is specifically for "solid organ transplant recipients or those who are diagnosed with conditions that are considered to have an equivalent level of immunocompromise."
It said that those immunocompromised "in a manner similar to those who have undergone solid organ transplantation" are less able to fight infections and other diseases, including COVID-19.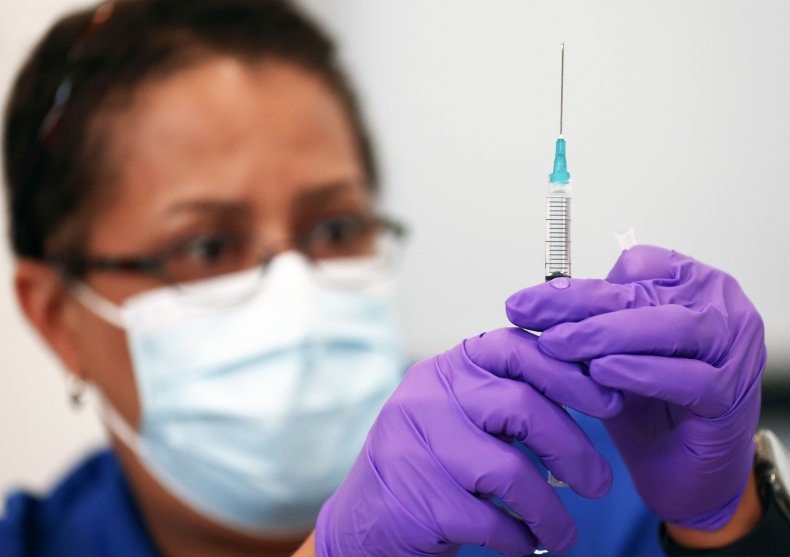 The agency did not specify further its definition of would-be jab recipients, however the Centers for Disease Control and Prevention (CDC) gives a broad description of the immunocompromised population.
This includes those taking certain immunosuppressant drugs, those with HIV/AIDS, people with some types of cancer and those with inherited diseases that affect their immune system.
Immunocompromised people make up about 2.7 percent of the U.S. adult population, or around 7 million people. They comprise around 44 percent of hospitalized COVID breakthrough cases, in which a fully vaccinated person gets infected, according to the CDC.
"The FDA determined that this small, vulnerable group may benefit from a third dose of the Pfizer-BioNTech or Moderna vaccines," said acting FDA Commissioner Janet Woodcock.
While the booster is aimed to help those who did not have an ideal immune response to their initial vaccines, the FDA emphasized it had not yet authorized a third shot for the general population, with Woodcock saying that those "fully vaccinated are adequately protected."
The FDA also recommended in its statement that immunocompromised people who contract or are exposed to COVID-19 should discuss monoclonal antibody treatment options with their health care provider.
The CDC's independent advisory committee will meet Friday and is likely to give its approval for the third jab The New York Times reported, with the rollout of the additional doses likely to be immediate.
The U.S. is the latest country to offer third doses to those with weaker immune systems. Israel started offering a booster jab of the Pfizer-BioNTech vaccine in July to those over 60 and for severely immunocompromised adults.
September will also see Germany and France roll out third doses for the elderly and vulnerable.
The graphic below provided by Statista shows how rare COVID infections are among the fully vaccinated.