Impact Wrestling Moving to Tuesday Nights Starting October 1 on AXS TV
Impact Wrestling announced the premiere date of its weekly television series on AXS TV, and it'll give wrestling fans something to watch on Tuesdays.
The premiere episode of Impact Wrestling will air on Tuesday, October 1 with specials that showcase the promotion's 2019 pay-per-views. October 1 will see the Homecoming pay-per-view, Rebellion will air on October 8 and we'll see Slammiversary XVII on October 15.
Finally, the October 22 episode will be dubbed THIS IS IMPACT!, which will be a "launchpad" for the promotion's AXS TV debut featuring previews of the weekly series and profiles on the promotion's biggest stars. It will also broadcast non-televised matches from Bound for Glory, Impact Wrestling's biggest pay-per-view of the year.
That event will air live on Sunday, October 20 from Chicago.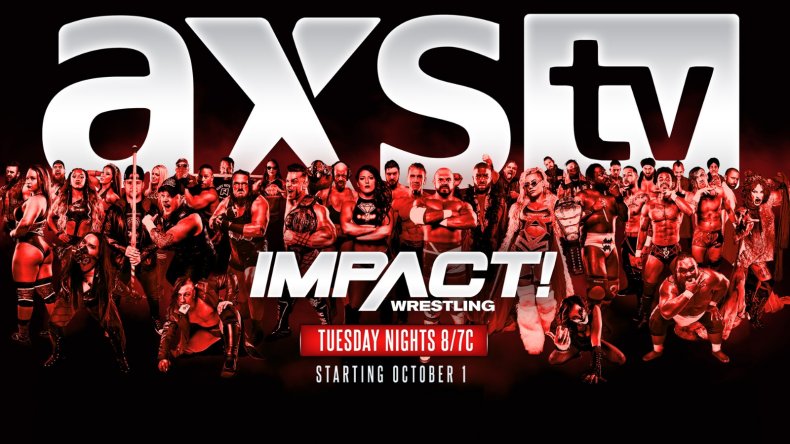 "The incredible athleticism of our roster, dynamic characters and accomplished story-telling deliver must-see weekly programming that has captured the attention of professional wrestling fans around the world," said Ed Nordholm, Chief Corporate Officer of Anthem Sports & Entertainment and president of IMPACT Wrestling in a press release. "We are excited to bring the best professional wrestling on television to AXS TV, long recognized as a premier destination for world class sports entertainment programming"
Impact Wrestling's move to AXS TV comes after Anthem Sports and Entertainment's acquisition of majority interests in the channel. The company confirmed Impact Wrestling will begin airing weekly television on the network following the Bound for Glory pay-per-view.
AXS TV is already the home of Women of Wrestling (WOW) and the English-language broadcast of New Japan Pro Wrestling (NJPW). WOW premiered its second season on Saturday, September 7 and NJPW airs on AXS TV every Saturday following Women of Wrestling.
Prior to the news Impact will premiere on Tuesdays, it aired Friday nights on the Pursuit channel as well as the promotion's Twitch channel. The move to AXS left many wrestling fans wondering how it would affect AXS' other wrestling programs, but this news answers that question definitively.
Prior to the news, Ed Nordholm released this statement to Newsweek regarding programming:
"Anthem has been public that it has not made any decisions regarding current programming. We have been long-time broadcast partners with TV Asahi for NJPW at Fight Network and hope to build on that relationship. We are in the middle of a season with WOW and about to tape another series of episodes next week, so no reason to make any decisions there in the short term. We're looking forward to getting to know them better."
Moving Impact Wrestling from Friday to Tuesday nights makes business sense, as WWE's SmackDown Live show is moving to Friday nights on Fox Sports starting October 4, leaving Tuesday nights without any wrestling programming. Impact can now occupy the time slot that many wrestling fans have become accustomed to over the years.
What do you think of Impact Wrestling's move to Tuesday nights? Let us know your thoughts in the comments section.