Impeach Brett Kavanaugh Petition Starts Immediately After He's Officially Voted Onto Supreme Court
Freshly approved Supreme Court justice Brett Kavanaugh should be impeached by the House Judiciary Committee for lying to Congress about his involvement in the George W. Bush administration, according to a watchdog group's petition Saturday immediately following Kavanaugh's confirmation to the country's highest court.
Free Speech for People told Newsweek it started the non-partisan campaign ImpeachBrett.org that accused Kavanaugh of lying to Congress during testimony he gave in 2004, 2006 and most recently about alleged sexual assault and misconduct when he was in high school and college.
"No one is above the law, not even a Supreme Court Justice," co-founder and president of Free Speech For People John Bonifaz said in a statement. "Further, Dr. Christine Blasey Ford has presented powerful and credible testimony that Brett Kavanaugh sexually assaulted her when she was 15 years old. And, there are serious allegations from two other women that he committed other acts of sexual violence. All of this warrants an immediate impeachment investigation."
The petition calls for the House Judiciary Committee to bring hearings over the alleged assaults and perjury that the non-profit group claims Kavanaugh committed during his testimony to gain a seat on the U.S. Court of Appeals for the D.C. Circuit.
Democratic senators, like Patrick Leahy of Vermont, have made similar accusations against Kavanaugh. Leahy said Kavanaugh misled the Senate Judiciary Committee about the access he had to the computer files of six Democratic senators pertaining to judicial nominees from 2001 to 2003.
"Kavanaugh was asked more than 100 times about this scandal in 2004 and 2006. He testified repeatedly that he knew nothing about the source of the information; that he received nothing that even appeared to be prepared by Democratic staff; and that he never suspected anything unusual, or 'untoward,'" Leahy wrote in an op-ed published by The Washington Post last month while citing emails he presented during Kavanaugh's confirmation process to the Supreme Court.
Kavanaugh was also accused of delivering false testimony over what he did or did not know about in the Bush administration's installation of a warrantless surveillance program under the National Security Agency.
Kavanaugh has denied misleading lawmakers and said his testimony was "100 percent accurate."
The potential impeachment of Kavanaugh will likely hinge on whether Democrats take back the House in next month's midterm elections. Republicans, however, could maintain control or increase their hold of the Senate as Kavanaugh's contentious confirmation process further divided the country over whether to believe the judge's denials or Ford's claim of an assault in the summer of 1982.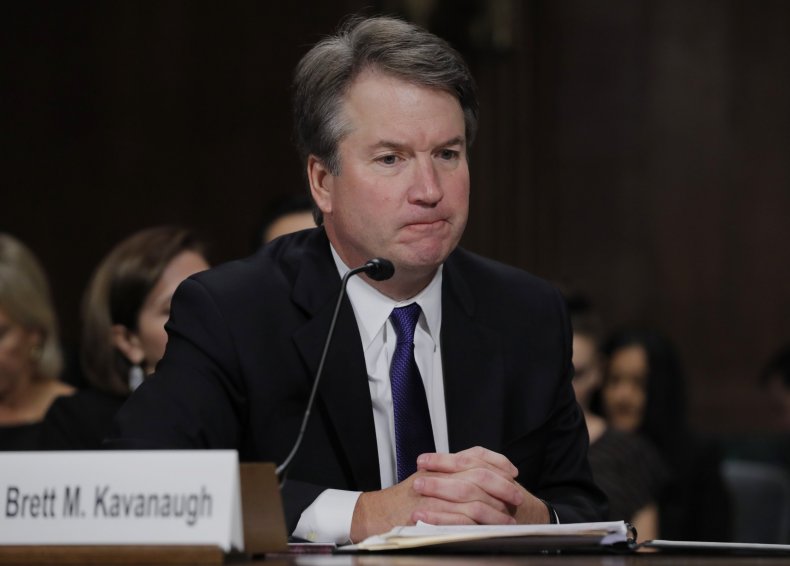 Free Speech for People's effort appeared to have an ally in Rep. Jerrold Nadler of New York. Currently the ranking Democrat on the House Judiciary Committee, Nadler would likely takeover the top spot from Rep. Bob Goodlatte if Democrats win the House next month.
"If he is on the Supreme Court, and the Senate hasn't investigated, then the House will have to," Nadler said to ABC News last week about Kavanaugh. "We would have to investigate any credible allegations of perjury and other things that haven't been properly looked into before."
Nadler was joined by four other fellow Democratic members of the committee in Reps. Luis Guiterrez, Pramila Jayapal, Hank Johnson and Ted Lieu in calling for an investigation into the assaults alleged by Kavanaugh's three accusers.
Impeachment was already considered a significant issue for the midterms, but only in reference to President Donald Trump.
Trump himself has publicly told supporters that they must head to the polls and keep the GOP in power in order to preserve his presidency.
"This election, you aren't voting for a candidate, you're voting for which party controls Congress. It's a very important thing," Trump said at a rally in Montana last month.
"They like to use the 'impeach' word," the president said before imitating his detractors. "'Impeach Trump!'' . . . 'But he hasn't done anything wrong.' 'Doesn't matter, we will impeach him!'"
But most Democrats, at least publicly, have shied away from running their midterm campaigns on impeaching the president. House Minority Leader Nancy Pelosi has said several times that Democrats should instead focus on their economic message.