Could Brett Kavanaugh Be Impeached? Democrats Appear to Be Gearing up to Start Process If He's Confirmed
Despite a dramatic and emotional hearing on Thursday between Senate Judiciary Committee members, Supreme Court nominee Brett Kavanaugh and his first sexual assault accuser Christine Blasey Ford, Kavanaugh is still thought likely to be confirmed by the full body of the Senate in the near future.
And while it may be politically implausible in the modern era of polarized politics, House Democrats were already gearing up for their own investigation—and possible impeachment—of Kavanaugh, should they regain control of the House after the midterm elections.
As of Friday afternoon, there were five Democratic representatives on the House Judiciary Committee—Ted Lieu, Hank Johnson, Luis Gutiérrez, Pramila Jayapal and Jerry Nadler—who called for their committee to open an investigation into the multiple sexual assault allegations levied against Kavanaugh. Unless, Democrats said, Senate Republicans and the White House allow for an independent entity, like the FBI, to further investigate the allegations against Kavanaugh.
Republican Senator Jeff Flake, who is not seeking re-election, essentially forced the GOP's hand on Friday to support an FBI investigation. While Flake voted to move Kavanaugh's confirmation out of the Senate Judiciary Committee and to the Senate floor, the GOP senator said he would not vote to confirm the nominee unless the FBI reinvestigates, taking no longer than one week. Only the White House can formally request an FBI probe, which President Donald Trump did after he received a request from the Senate Judiciary Committee to do so.
"I've ordered the FBI to conduct a supplemental investigation to update Judge Kavanaugh's file," Trump said in a statement released Friday evening by press secretary Sarah Huckabee Sanders. "As the Senate has requested, this update must be limited in scope and completed in less than one week."
It's unclear whether the "limited in scope" includes investigation into the two other women—Deborah Ramirez and Julie Swetnick—who have publicly alleged their own sexual assault allegations against Kavanaugh. The Judiciary Committee's request was also unclear, asking for Trump to have the FBI investigate "current credible allegations against the nominee." The language of the request, along with the president's order, suggests the FBI will focus only on Ford's allegations.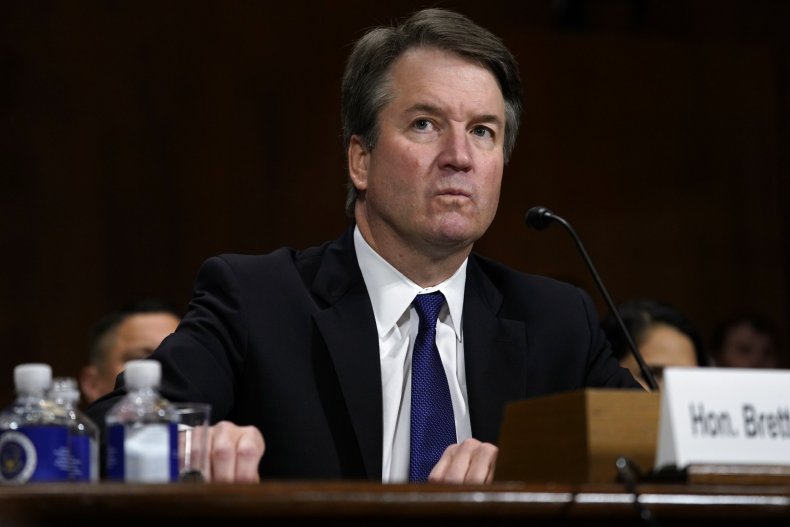 Gutiérrez and Lieu have both mentioned possible impeachment of Kavanaugh, should it escalate to the House Judiciary investigating and revealing he committed perjury during any of his recent testimony.
Gutiérrez told Newsweek on Friday that his first move, assuming Democrats regain control of the House in November's midterms and get the power to open a House Judiciary Committee investigation, would be to subpoena Mark Judge. Ford alleges Judge was also in the bedroom when Kavanaugh pinned her to a bed, groped her and attempted to remove her clothes during a high school party in the early 1980s. Kavanaugh has continued to "categorically and unequivocally" deny Ford's allegations, in addition to Ramirez's and Swetnick's.
"Let's do the job that the Senate refused to do," said Gutiérrez, alluding to the Senate Judiciary Committee's refusal to subpoena Judge to testify under oath. Judge denied Ford's allegations in a prior six-sentence sworn statement sent to the committee. Judge, in anticipation of being interviewed as part of the FBI's renewed investigation, said in a statement released through his attorney Friday that he would "answer any and all questions posed to him."
"If we find lies about assault against women, then we should proceed to impeach," Gutiérrez said.
The plausibility of Kavanaugh being impeached, assuming he is confirmed by the Senate, has about as little chance as impeaching Trump does. The House would have to bring articles of impeachment against the soon-to-be Supreme Court justice, have the House pass the measure and then would require a two-thirds majority vote by the Senate to convict. In the current political climate of Capitol Hill that continues to see an ever-shrinking common ground, it is currently hard to see any possibility for Kavanaugh's climb to the Supreme Court to end with impeachment.
Gutiérrez said the one thing Trump and his nominee, Kavanaugh, have in common is that they're both "serial liars."
Lieu has echoed similar remarks on Twitter about investigating Kavanagh to "see if he should be impeached." Nadler and Johnson offered softer tones, mentioning an investigation but leaving out any references to impeachment. Democratic Representative Eric Swalwell, also on the House Judiciary Committee, would only say to Newsweek that he thought the Senate should continue to investigate the claims so that, should Kavanaugh be confirmed, he could "take the bench with no asterisks or questions that would still need answers."
After Trump ordered the FBI to reopen its investigation, Johnson told Newsweek he now wants to wait and see what comes of the process before advocating for future investigations by the House. However, Johnson was concerned about the limited timeline of the investigation and whether its "limited scope" would include investigating Ramirez's and Swetnick's claims, in addition to Ford's.
"All three of them signify a pattern of alcohol abuse and sexual abuse of young females [by Kavanaugh]," said Johnson, pointing out that Swetnick's attorney, Michael Avenatti, has released a sworn statement from her that details her allegations. "All three of them fit a pattern and deserve to be fully investigated."
A Supreme Court justice hasn't been impeached for more than 200 years, stemming back to Justice Samuel Chase in 1804. The House impeached Chase, but the Senate failed to garner the two-thirds majority vote and failed to convict, according to Senate Historical Office archives.
But lying under oath in his denial of Ford's allegations isn't the only thing Democrats think could lead to Kavanaugh's impeachment. University of Alabama law professor Ronald Krotoszynski, Jr. pointed out that it's just one of about three things the Democrats could raise impeachment claims about.
"There's some serious questions about his truthfulness regarding testimony he offered in his participation in the [William Pryor and] Charles Pickering nomination to the 5th Circuit, his knowing use of stolen documents from Democratic members of the Senate Judiciary Committee and his explanations for his yearbook," Krotoszynski, Jr. said.
Both the allegations pertaining to the Pryor and Pickering nominations and the stealing of Democratic documents refer back to Kavanaugh's time working as a White House lawyer for the George W. Bush administration. He claimed in the mid-2000s as an appeals court nominee that he was not involved in the nomination of Pryor or Pickering, but emails obtained by the Senate Judiciary Committee said otherwise, showing Kavanaugh had discussed the judges' nominations with another colleague. Other previously "committee confidential" documents revealed Kavanaugh had suggested Roe v. Wade could be overturned and was not settled law, despite testifying otherwise.
The issue of Kavanaugh using stolen documents from Democratic staffers on the Senate Judiciary Committee was also raised during his previous confirmation hearing in the mid-2000s. Kavanaugh repeatedly denied receiving documents stolen by Republican Senate aide Manny Miranda. Documents later revealed that Miranda passed along information from the stolen Democratic documents to Kavanaugh in a 2003 email.
"You can make arguments—policy arguments—about whether impeachment for giving false testimony to obtain confirmation would be appropriate," Krotoszynski, Jr. said. "In my view, [impeachment is] pretty clearly appropriate. It strikes me as self-evident that deception would require a power to impeach when a candidate for a lifetime judicial appointment gives intentionally false testimony to obtain confirmation."
However, Krotoszynski, Jr. said, it appeared that after Friday's events, the Senate and the FBI were on track to conduct "a full, fair, and complete investigation of the sexual misconduct allegations raised against Judge Kavanaugh." If the result clears Kavanaugh, he said it would then "not be appropriate or productive" for the House to reopen an investigation and seek impeachment.
Derogatory phrases and words—some of which were about women—written in Kavanaugh's yearbook were played off as meaningless phrases or games by the nominee, denying they meant anything otherwise. Gutiérrez said if Kavanaugh is willing to lie about little things in his yearbook, such as what things like "Devil's Triangle," "ralphing," and "boofing" really means, then it represents a larger issue for a man who's about to assume a lifetime job on the most powerful court in the country.
"He lies about what's in his yearbook," Gutiérrez said. "It's demonstrative of what he will do."