'Impeachment's' Annaleigh Ashford on 'Heartbreaking' Paula Jones Deposition Sketch Scene
Impeachment: American Crime Story is the latest instalment in the ACS anthology series. Episode 1 introduced the three key women at the heart of the Lewinsky-Clinton affair: Paula Jones (played by Annaleigh Ashford), Linda Tripp (Sarah Paulson), and Monica Lewinsky (Beanie Feldstein), which ultimately resulted in President Bill Clinton being impeached by the House of Representatives on December 19, 1998. He was acquitted by the Senate on February 12, 1999.
The first episode of Impeachment: American Crime Story centers around the case of Paula Jones, starting in 1994. Her story served as the catalyst for the exposure of the Lewinsky-Clinton affair, after both Clinton and Lewinsky falsely denied having "sexual relations" with one another in a deposition and affidavit, respectively.
Jones claimed Clinton sexually harassed her by exposing himself to her in a hotel room in May 1991, when Jones was working as an Arkansas State Employee at the Annual Governor's Quality Conference at the Excelsior Hotel in Little Rock and Bill Clinton was the Governor of Arkansas. Clinton has always dismissed Jones' version of events.
Three years later, Jones came forward with her story after an account was published in The American Spectator by David Brock, whereby a woman named "Paula" had allegedly agreed to become Clinton's mistress.
Jones opted to sue Bill Clinton in a civil lawsuit for sexual harassment. Her suit, known as Jones vs. Clinton, was filed on May 6, 1994, and came just two days before the expiration of the three-year statute of limitations rule.
As seen in the episode and revealed in great detail in Jeffrey Toobin's A Vast Conspiracy, Paula Jones was asked by Clinton's team to draw a sketch of Clinton's penis.
Speaking to Newsweek, actress Annaleigh Ashford shared: "There are many moments in this show that, that if you wrote them, and if this was fiction, you'd get a note from the studio and the network that 'that's too crazy, that would never happen in real life. We are really doing a re-enactment of real moments, and so that really did happen in a deposition."
Initially, Ashford laughed like a "seventh-grader" when she drew the sketch in front of her fellow cast mates and crew, and even had to google "how to draw a cartoon penis" for the scene.
"I couldn't believe that I was drawing the penis on a legal pad as my job - that was just funny to me. [...] I'm usually pretty good at art, too. I was surprised at how bad at drawing a penis I'd be, it's been a minute since I drew a penis."
But there was a conflict of emotions regarding the scene for Ashford personally. Setting all jokes aside, she stressed the incident was another "heartbreaking moment" for Paula Jones in the Jones vs. Clinton case. Ashford also pointed out the scene emphasized Jones' isolation, given she was consistently outnumbered by men during her case, with the power ultimately resting in their hands.
Ashford said: "There was another part of me that was just heartbroken for Paula Jones at that moment in real life, because she was the only woman in the room. And you'll notice throughout the series, the only time that a woman is in the room for these depositions is usually when it's the stenographer or a judge, just presiding over the proceedings. But there's no female on her legal counsel.
"Susan Carpenter-McMillan was sort of the only woman in her corner and she was, I mean, it's up to debate, but I sort of feel like Susan Carpenter-McMillan was using Paula for her own agenda as well. So, unfortunately, again, I think it was another heartbreaking moment for Paula Jones."
Audiences are yet to meet Susan-Carpenter McMillan in Impeachment: American Crime Story. The conservative commentator would go onto become Jones' press spokesperson.
In A Vast Conspiracy, Toobin described the sketch request as more of a "verbal sexual assault than a legal proceeding." He wrote: "The Clinton team felt it wasn't enough simply to show that Paula Jones' employment history was dismal and her story inconsistent—which were both perfectly appropriate subjects to explore in a deposition in a case of this kind.
"The next moments in the deposition show how grotesque this case became. Bennett's [Robert, an American attorney representing Clinton] promises notwithstanding, the next portion of the deposition reads more like a verbal sexual assault than a legal proceeding."
Clinton's lawyers proceeded to ask Jones if she had "ever taken anatomy classes" when she commented on the size of Clinton's penis, with one of his legal counsel, Bill W. Bristow, questioning: "I would gather then that your ability to discern distinctive characteristics about a male penis would be based on experience that you have had in your life where you have had the opportunity to view other male penises, is that correct?" to which Jones replied: "It—very few if there were."
The lawyers used the sketch as a segue into questions about Jones' sex life, particularly with her husband Stephen, all of which Jones' lawyers pointed out was "entirely irrelevant", details Toobin in A Vast Conspiracy.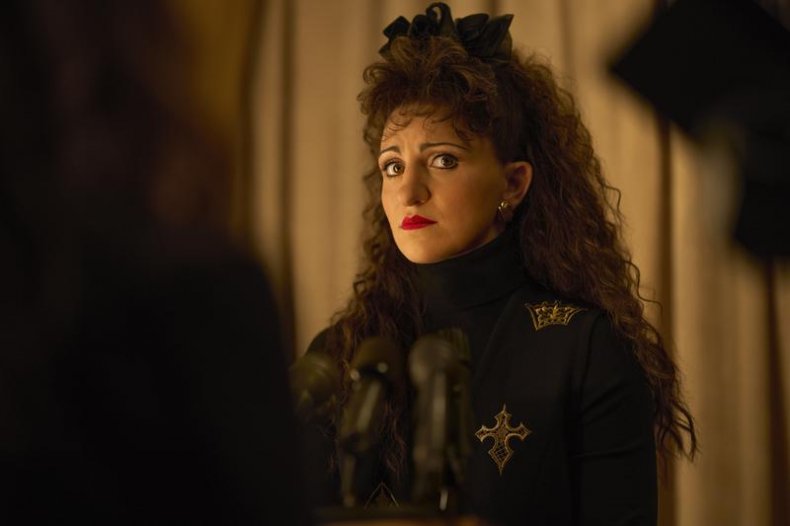 Reflecting on telling Jones' story, Ashford commented: "I think that this [Impeachment: American Crime Story] will be sort of a fascinating take on her, and people will get to see her origin story and have more empathy for Paula Jones than I think they would have imagined. I find that I have a great deal of empathy for the way that she was sort of pushed into the public eye in a way that I don't, I personally don't think she wanted, she would have asked for."
Ashford continued: "I would say that the women in this story faced such a moment of trauma in the time period that we are focusing on and they had really a lack of control over their own story over their own voice. And I hope that this revisit gives the audience an opportunity to see their point of view and for the first time really hear their voice on this, on this moment of history."
Impeachment: American Crime Story airs Tuesdays at 10 p.m. ET on FX