The House Judiciary Committee on Friday voted along party lines to advance two articles of impeachment against President Donald Trump to the full House after an abrupt postponing of the vote late Thursday night that ended a marathon day of debating and exchanging political barbs.
Both articles, charging Trump with abuse of power and obstruction of Congress, passed 23-17, marking the fourth time in United States history that the panel has approved impeachment articles against a sitting president.
"Today is a solemn and sad day," Judiciary Chairman Jerrold Nadler (D-NY) told reporters following the vote. "The House will act expeditiously."
The articles will now head to the full House for a final vote, which is expected to occur sometime next week, along with floor votes to pass a massive international trade deal known as the USMCA and spending bills in order to avert a looming government shutdown.
The articles will then head to trial in the Senate in January following a roughly 2-week Christmas recess, where it's expected that Senate Majority Leader Mitch McConnell (R-KY) will take the necessary steps to ensure the proceedings only last a few weeks.
The passage of the articles by the committee came a day later than originally planned after Nadler unexpectedly adjourned for recess at about 11:15 p.m. Thursday—more than 14 hours after they began—until 10 a.m. Friday, surprising lawmakers, aides and reporters, and infuriating Republicans.
The decision to delay was multi-pronged to put the blame on Republicans for offering five failed amendments that would have rendered the articles ineffective, which only prolonged the inevitable, a Democratic aide for the committee told Newsweek. By delaying the vote, Democrats prevented the ability for Republicans to claim they were trying to impeach the president in the dead of night, the aide said, and argued it was pertinent for members to cast their votes in the "light of day" for "transparency reasons."
Republicans chalked up the sudden delay to pure political gamesmanship, accusing their colleagues across the aisle of attempting to secure more TV coverage for their vote.
"They know it's all about games. They know it's all about these TV screens," ranking member Doug Collins (R-Ga.) told reporters Thursday night. "They want the primetime hit."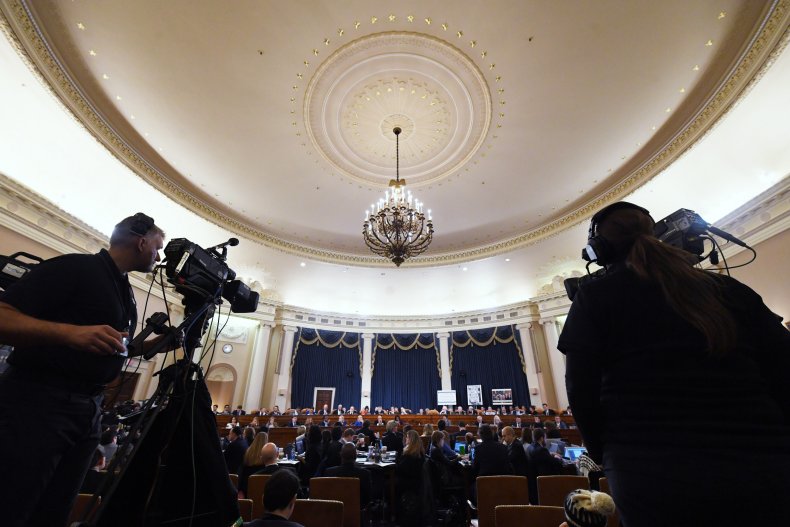 Democrats were able to secure the support of a swing district Democrat on the committee, who was among a small group of undecided and politically vulnerable members.
Rep. Lucy McBath, a moderate lawmaker from Georgia who narrowly flipped a Trump district last year, voted with her Democratic colleagues, further dwindling the number of holdouts within her party who have yet to state whether they back the articles of impeachment. McBath, who voted to launch the impeachment inquiry nearly a month ago, remained hesitant to publicly support the articles until Wednesday evening when the committee's members gave opening remarks before deliberations began.
"I am greatly saddened by what we have learned and I am forced to face a solemn conclusion: I believe the president abused the power of his office, putting his own interest above the needs of our nation, above the needs of the people that I love and I serve," McBath said Wednesday. "And for that, I must vote my conscious, and I do so with a heavy heart and a grieving soul. This is not why I came to Washington."
During Thursday's daylong debate, McBath declined to issue any public remarks from her seat on the dais.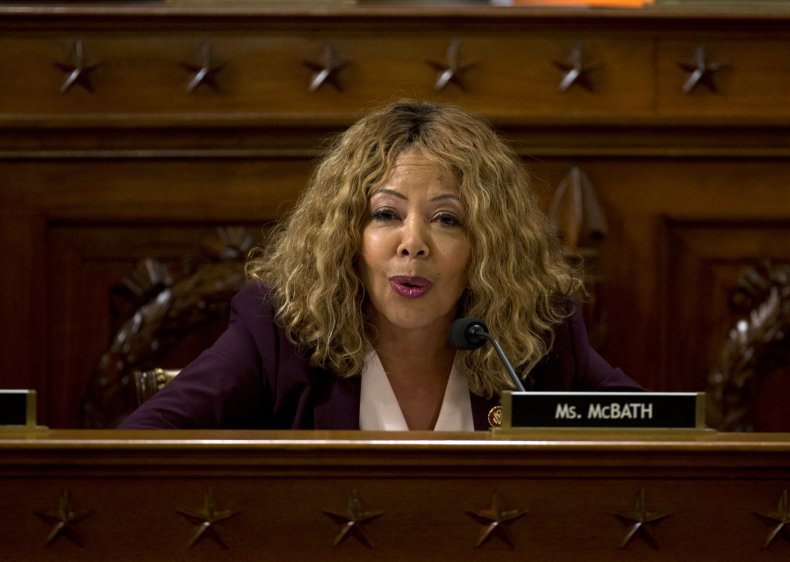 Republicans—to no avail—attempted to pass five amendments throughout debate that sought to kill both articles and insert the words "Burisma" and "Hunter Biden," among other things.
A tense moment came after Gaetz, who's had a DUI arrest that was later dropped, spoke extensively about Hunter Biden's past substance abuse issues and was immediately rebutted by Rep. Hank Johnson (D-Ga.).
"The pot calling the kettle black is not something that we should do," Johnson said. "I don't know what members—if any—have had any problems with substance abuse, been busted for DUI, I don't know. But if I did, I wouldn't raise it against anyone on this committee. I don't think it's proper."
Republicans rehashed the accusation that Democrats have sought to "impeach this president since he got elected," as Rep. Debbie Lesko (R-Ariz.) said.
"This committee is amazingly now such a clock and calendar process that [Democrats] don't care," said Rep. Doug Collins (R-Ga.), the panel's top Republican. "Facts be damned. They don't care."
Two members—Reps. Zoe Lofgren (D-Calif.) and Jim Sensenbrenner (R-WI)—made vastly different arguments for and against Trump's impeachment based on their past experiences serving on the Judiciary Committee during the impeachment of President Bill Clinton.
"Somehow, lying about a sexual affair is an abuse of presidential power but the misuse of presidential power to get a benefit somehow doesn't matter. If it's lying about sex, we could put Stormy Daniels' case before us," Lofgren said, referencing the adult film actress who Trump paid through his former attorney Michael Cohen before the 2016 election to keep quiet about an alleged extramarital affair.
"The important thing is Bill Clinton lied to a grand jury," Sensenbrenner responded. "That is a crime. That is not what is happening here—big difference."
The articles are expected to pass the full House with a handful of Democratic defectors. At least two moderate members—Reps. Jeff Van Drew (D-NJ) and Collin Peterson (D-MN)—will vote with Republicans against impeachment.
"This is a vote that people will have to come to their own conclusion on," House Speaker Nancy Pelosi (D-Calif.) said Thursday during her weekly press conference. She reiterated that leadership will not be whipping the vote to try and corral support from vulnerable members who've yet to state how they plan to vote.
"The facts are clear—irrefutable, in fact. The fact is that we take an oath to protect and defend the constitution of the United States," Pelosi added. "We want to defend that constitution, which has a republic in it. As Benjamin Franklin said, 'a republic, if you can keep it.' We see that as our responsibility: keep the republic."