Impeachment Is in the Constitution for Moments Like This | Opinion
Impeachment was put in the Constitution for moments like this.
As more and more evidence comes to light, it's become clear that Donald Trump abused his power as president and put his own political gain over the interests of the American people.
This past summer, Trump pressured the president of Ukraine to investigate a political opponent to help him win re-election. What's worse, Trump seemingly used about $400 million of American taxpayer dollars in the form of military aid as leverage to extort his Ukrainian counterpart to do him this "favor" (Trump's word, not mine).
This is an unmistakable case of President Donald Trump shilling for candidate Donald Trump, a line he's blurred past the point of recognition at every policy speech-cum-campaign rally he's held. But this time, he appears to have attempted to extort a foreign government into interfering in America's elections.
We don't need to get into the geopolitical ramifications of Trump's ego-centric foreign policy to agree that American democracy should be for Americans—and that asking a foreign government to undermine our elections is wrong for anyone, including the president. Especially the president.
By defying our country's commitment to free and fair elections, Trump is defying our entire democracy. After all, what is democracy if not the ability to freely and fairly elect your leaders and hold them accountable?
Some may see the impeachment inquiry as a sign of troubling times, but the truth is the trouble began almost as soon as Trump announced his candidacy.
If anything, the impeachment inquiry represents not despair, but hope—hope that we may be able to restore accountability into our political system. Just as the Watergate investigation and impeachment effort brought renewed accountability after President Richard Nixon abused the power of his office, this inquiry—if handled correctly—can also be used to right the ship.
Already, Americans are grasping for that opportunity. A majority of Americans support the impeachment inquiry, and that percentage seems to grow by the day. Even some prominent Republicans, like Senator Mitt Romney of Utah and Senator Rob Portman of Ohio, have pushed back against Trump's wrongdoing.
It's time for more Republicans to show which side they're on: country or party. Will they defend the American people or shield a crooked president? Neutrality is not an option. It's simply another way of permitting Trump's corruption, election interference and cover-ups to continue. And Republicans should know that the longer they fail to act, the more damage they will do to their party.
Although the Ukraine scandal induced the tide of the House to open the impeachment inquiry, let's not forget that Trump's wrongdoing began long ago. His abuses of power extend from illegal actions harming immigrant families, to using his office to generate personal profit, to all the cases of potential obstruction of justice documented by special counsel Robert Mueller and more.
Grassroots organizers have long been fighting to stop Trump's abuses, with the backing of a majority of people of color—who often experienced the harmful effects of his administration's policies first-hand. Lawmakers of color, including Representatives Maxine Waters of California, Al Green of Texas and Rashida Tlaib of Michigan, were among the first to call for impeachment and laid the groundwork for this inquiry.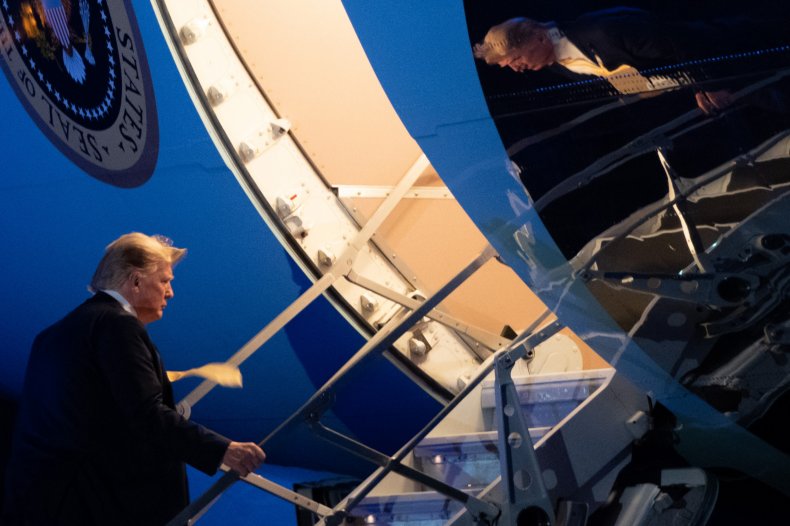 Yet if the Ukraine scandal is what convinces the Republican-led Senate that he should be impeached, then the Ukraine scandal is what the House should focus its proceedings on.
As for the American people, they have made their priorities clear: accountability. While the writers of the U.S. Constitution could not have predicted Trump's exact wrongdoing, they were able to imagine a scenario in which accountability was needed over the president—and that's why they created impeachment.
It's time to turn to our country's founding document and let it guide us back to a system of government defined by checks and balances, not corruption; by democracy, not demagoguery; and by free and fair elections, not foreign interference.
Karine Jean-Pierre is the chief public affairs officer for MoveOn and an NBC and MSNBC political analyst. Her professional experience has ranged widely, from presidential campaigns to grassroots activism, and from local politics to working in the White House.
The views expressed in this article are the writer's own.