Can Trump Be Impeached For Obstruction Of Justice? Congressman Calls For Removal Process On House Floor
Democratic Representative Al Green of Texas called for President Donald Trump's impeachment on the floor of Congress Wednesday at about 10:15 a.m. EST in a scathing speech referencing Martin Luther King Jr.
Green made official his charge that the president engaged in obstruction of justice and fired FBI Director James Comey to curb the investigations into former National Security Adviser Michael Flynn and Russia's meddling in the 2016 election.
"Once you weigh in, American people, there will be a difference in the attitudes about this," Green said in his speech. "I am a voice in the wilderness, but I assure you that history will vindicate me. I assure you that righteousness will prevail. I assure you that no lie can live forever, and truth crushed to earth shall rise again."
In an interview with MSNBC Tuesday, Green said, "You don't fire the person who is investigating you and then say, 'I did it, and I thought about the investigation at the time that I did it,' and then go on to tweet what may be an intimidating commentary. All of these things added together would cause one to conclude...this is subject to impeachment in the House.
"I would assure people that if this impeachment takes place, I believe that the president will be found guilty if we get it to the Senate," Green added.
Democratic politicians have been making the case for impeachment in the media ever since Trump's interview last week with NBC News's Lester Holt, when he said the decision to fire the FBI director was his alone and that he was considering "the Russia thing" when he handed down the dismissal directive via a letter delivered by the president's longtime security guard.
Related: Donald Trump is historically unpopular and it's getting worse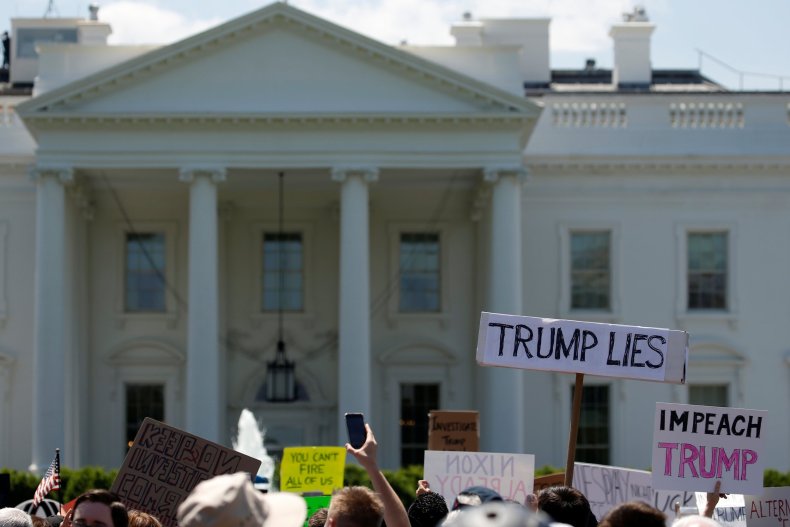 But Green's call for impeachment comes at a time when the president is historically unpopular, as his approval rating has sunk below 40 percent, according to most polls as of Tuesday.
"Regardless of recommendation, I was going to fire Comey," Trump said in an interview MSNBC aired last Friday. "When I decided to just do it, I said to myself, I said, You know, this Russia thing with Trump and Russia is a made-up story. It's an excuse by the Democrats for having lost an election they should have won."
That quote in and of itself, Green said Tuesday, is enough to consider Trump impeachable. Still, the process is a long and daunting one. The House must reach a majority vote in favor of impeaching Trump, as with any president, before a two-thirds majority vote in the Senate can remove him from the Oval Office.
In fact, most experts note the impeachment process could take well over a year—and after the 2018 midterm elections, in which 435 congressional seats and 33 Senate seats will be contested.
"The public will have the last word," Green said.