Impeachment Manager Lists All the Criminal Charges Trump Could Face After Acquittal
Former President Donald Trump could still face criminal charges despite being acquitted on an article of impeachment, said Delegate Stacey Plaskett of the Virgin Islands on Tuesday.
Trump, the only U.S. president to be impeached twice, faced an impeachment trial in the Senate for allegedly inciting violence against the U.S. government. Democrats pointed to Trump's repeated claims of voter fraud being a factor in President Joe Biden's win as helping to create the environment that caused Trump supporters to start a riot at the U.S. Capitol building in January.
Had Trump been convicted, he would have been prohibited from holding public office in the future. Plaskett, who served as a House impeachment manager, said Tuesday that Trump could still be brought up on charges.
"Let's hope that the many jurisdictions throughout the United States which are bringing up charges against the president—District of Columbia for inciting violence, Georgia for election tampering and election intimidation, New York going back to his finances—we were never able to find out issues related to violations of the Emoluments Clause while the president was in office," Plaskett said in an interview with MSNBC. "All of those things will continue to move forward."
Although no charges have been filed against Trump as a private citizen in the state-level cases referenced by Plaskett, investigations are underway.
Washington, D.C. Attorney General Karl Racine said in January that he was considering charging Trump with a misdemeanor in connection with the Capitol riot. Trump delivered remarks at a Stop the Steal really in D.C. before the riot began, which many critics saw as helping to incite the ensuing violence. Racine told MSNBC that Trump's "conduct prior to the mob storming the Capitol is relevant. I think his conduct during that time and immediately thereafter is also relevant."
During his rally remarks, Trump told the crowd of his supporters, "If we don't fight like hell, we're not going to have a country anymore."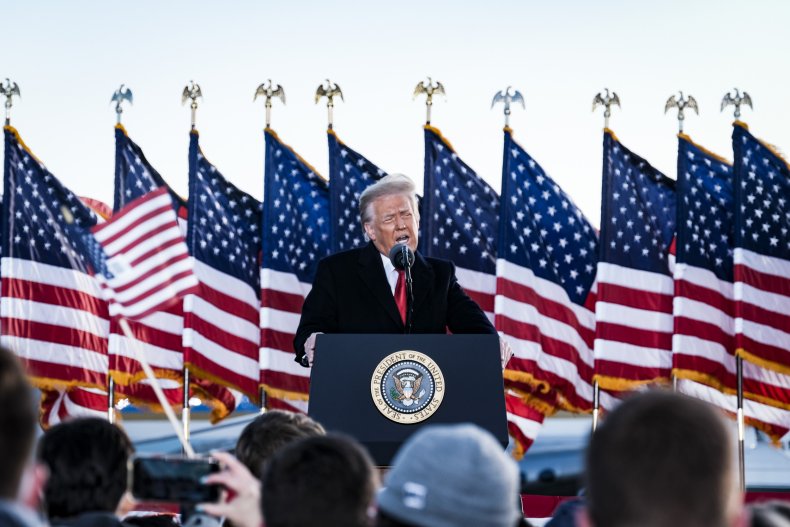 Fulton County District Attorney Fani Willis of Georgia said on Thursday that she was investigating Trump for his request that Georgia Secretary of State Brad Raffensperger "find" enough votes to overturn the state's election results in Trump's favor.
"All I want to do is just, I just want to find 11,780 votes, which is one more than we have," Trump allegedly told Raffensperger during a January phone call. "Because we won the state, Brad."
Willis told WSB on Thursday that she was approaching the Trump investigation with "an open mind" and that charges would be brought if the facts showed that Trump violated certain statutes.
"Anyone who violates the law will be prosecuted, no matter what their social stature is, no matter what their economics are, no matter what their race is or their gender," Willis said. "We're not going to treat anyone differently."
The Trump Organization, Trump's group that encompasses approximately 500 businesses, is also under investigation in New York by the Attorney General's Office for inflating the value of some of its assets in order to obtain tax breaks. In January, a New York State Supreme Court Judge ordered a law firm representing the Trump Organization to provide documents to the State Attorney's Office in relation to its civil investigation.
"Our investigation is ongoing," New York State Attorney Letitia James told NY1 in January.
According to Reuters, Manhattan District Attorney Cyrus Vance is looking into the Trump Organization on allegations of tax and insurance fraud. Vance's office subpoenaed Trump's accounting firm, Mazars USA, for 8 years worth of Trump's tax records in 2019. Trump's legal team moved to block the subpoena. The U.S. Supreme Court is expected to rule on the case in 2021.
In 2019, Democrats filed a lawsuit against Trump for allegedly violating the Emoluments Clause of the Constitution by allowing foreign entities to do business with properties owned by the Trump Organization. Judges for the U.S. Court of Appeals for the District of Columbia Circuit dismissed the lawsuit in February 2020.
Newsweek reached out to the offices of the Washington, D.C. Attorney General, the New York State Attorney General and the Trump Organization for comment.