Impeachment Manager Says Trump Tried to 'Assassinate' Pence, Challenges 'Manhood' of GOP Senators
House impeachment manager Delegate Stacey Plaskett of Virgin Islands strongly condemned Senate Republicans for failing to help Democrats convict Donald Trump and criticized former Vice President Mike Pence for remaining silent during the trial.
On Saturday, seven Republican senators joined Democrats in voting to convict Trump after he was impeached by the House on one charge of inciting the Capitol insurrection on January 6. But the 57-43 majority fell short of the two-thirds threshold—67 votes—needed for a conviction.
In an interview with CNN's Jake Tapper on Sunday morning, Plaskett defended the House managers' choice not to call witnesses during the trial, saying Democrats "needed more senators with spines" for a conviction.
"I know that people are feeling a lot of angst and believe that maybe if we had [a witness] the senators would have done what we wanted," she said. "To have individuals who were close to the president, former president, testify, would have required subpoenas."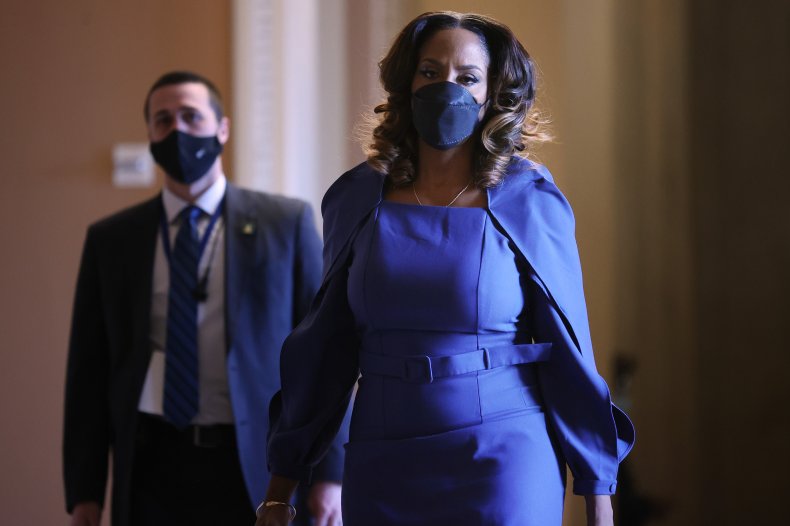 "Recall that we're still in court fighting over the [former White House counsel Don] McGahn testimony being admitted into the first impeachment trial. That's a year later we still do not have his testimony that we wanted and we knew that these were hostile witnesses, they were not going to testify."
Plaskett also faulted Pence for pulling a disappearing act during the trial. "Has anybody even heard from Vice President Pence?" she asked. "[Trump] tried to assassinate him and he still hasn't come forward."
Later on MSNBC, Plaskett reiterated her claim that Trump "came after" Pence and "tried to assassinate him," before challenging the manhood of Republican senators that voted to acquit.
"Kevin McCarthy has changed his story numerous times. Vice President Pence, his own president came after him and tried to assassinate him and we still haven't heard from him," she said. "What does that tell you about their fortitude, their loyalty, not only to the Constitution and the American public but to their own sense of honor and manhood, if I will even put that out there."
Some Senate Republicans, including Minority Leader Mitch McConnell, condemned Trump's actions, but refused to vote for a conviction due to their belief that the matter fell outside the jurisdiction of the upper chamber.
"There's no question, none, that President Trump is practically and morally responsible for provoking the events of the day," McConnell said on the Senate floor after the vote Saturday.
"The people who stormed this building believed they were acting on the wishes and instructions of their president. And having that belief was a foreseeable consequence of the growing crescendo of false statements, conspiracy theories, and reckless hyperbole which the defeated president kept shouting into the largest megaphone on planet Earth."
Newsweek reached out to McConnell's office for comment.